FOR IMMEDIATE RELEASE - September 7, 2018
PRESS CONTACTS
Leslie Unger - lunger@janm.org - 213-830-5690

JAPANESE AMERICAN NATIONAL MUSEUM ANNOUNCES ADDITIONS TO BOARDS OF TRUSTEES AND GOVERNORS
Los Angeles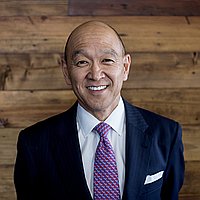 The Japanese American National Museum (JANM) has named Mark Okada to its Board of Trustees and Kazuo "Kaz" Koshi and W.D. "Denny" Minami to its Board of Governors. Trustees serve for three-year terms; governors serve two-year terms. In both roles, individuals may be re-elected for additional terms.
"I'm very pleased that Mark is joining JANM's Board of Trustees. He brings a wealth of knowledge and experience that will benefit the museum and its leadership in the years to come," said Norman Y. Mineta, Chair of the JANM Board of Trustees. "The additions of Kaz and Denny are also auspicious and I have great respect for them."
Okada is Co-founder and Co-Chief Investment Officer of Highland Capital Management, L.P., a multibillion-dollar global alternative investment firm. In his role, Okada oversees Highland's broad investment activities across the institutional and retail investment platforms. With more than 30 years of experience in credit markets, Okada is widely regarded as an industry innovator in alternative credit investing and is a pioneer in the development of the bank loan market. He is a regular guest on Bloomberg Television and CNBC, and is frequently quoted in the financial and business press. He is also devoted to a number of philanthropic and civic causes. He is chairman of the board of directors of Education Is Freedom, a Dallas-based nonprofit that provides college preparatory services for underserved students. Okada is also chairman of the board for Common Grace Ministries, Inc. and is a board member of the Japanese Evangelical Missionary Society. Additionally, he serves on the executive board of Dedman College Humanities and Sciences at Southern Methodist University and is a council leader at the U.S.-Japan Council.
Okada received a BA in both Economics and Psychology, cum laude, from the University of California, Los Angeles, and has earned the right to use the Chartered Financial Analyst (CFA) designation.
Koshi is Managing Executive Officer and serves in multiple distinct positions for Mitsubishi UFJ Financial Group (MUFG), and for MUFG Bank, Ltd., its commercial banking subsidiary. Since May 2017, as Deputy Regional Executive for the Americas, he has served as the second most-senior executive of the Americas operations for MUFG and MUFG Bank. In May 2018, he was named Regional Head for Latin America, MUFG Bank Ltd. He is also deputy executive in charge of the Global Financial Crimes Compliance Division. Koshi also serves on the Board of Directors of MUFG Americas Holding Corporation and MUFG Union Bank, N.A. He is based in New York, frequently traveling to Tokyo and throughout the Americas.
A native of Japan, Koshi earned a bachelor's degree from the University of Tokyo's Faculty of Engineering in 1985, and an MBA from the Wharton School, University of Pennsylvania, in 1990.
Minami has been Principal of Billy Casper Golf LLC since March 2012, having previously served as President of Billy Casper Golf, LLC (BCG) and Billy Casper Golf Management Inc. from 2003 to March 2012. He directed business development for BCG, focusing on the acquisition and leasing of golf courses. He was also responsible for oversight of BCG's finance, administrative, and asset management functions. Minami served as President of Charles E. Smith Residential Realty, Inc. from 2001 to 2002, Chief Financial Officer from 1997 to 2001, and Chief Operating Officer and Executive Vice President since February 2000 and October 2000, respectively. As President of Charles E. Smith Residential Realty, Inc., he was responsible for the development, construction, acquisition, and property management of over 22,000 high-rise apartments in five major US markets. He has held senior executive positions at several publicly traded communication and entertainment firms, including the NBA's Denver Nuggets and NHL's Colorado Avalanche franchises.
Minami earned his BA in Economics, with honors, from Grinnell College in 1978 and his MBA in Finance from the University of Chicago in 1980.
# # #
NOW ON VIEW AT JANM:
hapa.me – 15 years of the hapa project
Through October 28, 2018
Artist Kip Fulbeck continues his project, begun in 2001, of photographing persons who identify as "hapa"—of mixed Asian/Pacific Islander descent—as a means of promoting awareness and positive acceptance of multiracial identity. As a follow-up to kip fulbeck: part asian, 100% hapa, his groundbreaking 2006 exhibition, hapa.me pairs the photographs and statements from that exhibition with contemporary portraits of the same individuals and newly written statements, showing not only their physical changes in the ensuing years, but also changes in their perspectives and outlooks on the world. In addition, hapa.me includes portraits of hundreds of new participants and an interactive section where, on select days, viewers can join the community by having their portrait taken and writing their own personal statement.
Common Ground: The Heart of Community
Ongoing
Incorporating hundreds of objects, documents, and photographs collected by JANM, this exhibition chronicles 130 years of Japanese American history, from the early days of the Issei pioneers through the World War II incarceration to the present. In commemoration of the 30th anniversary of the Civil Liberties Act of 1988, the final section of Common Ground has been reimagined to further emphasize the redress movement, the landmark passage of the Act, and its relevance today. Two pages of the original Civil Liberties Act will be on display through September 23, 2018, on loan from the National Archives.
About the Japanese American National Museum (JANM)
Established in 1985, the Japanese American National Museum promotes understanding and appreciation of America's ethnic and cultural diversity by sharing the Japanese American experience. Located in the historic Little Tokyo district of downtown Los Angeles, JANM is a hybrid institution that straddles traditional museum categories and strives to provide a voice for Japanese Americans as well as a forum that enables all people to explore their own heritage and culture. Since opening to the public, JANM has presented over 80 exhibitions onsite and traveled 20 of its exhibitions to locations around the world, including the Smithsonian Institution and the Ellis Island Museum in the United States, and several leading cultural museums in Japan and South America.
JANM is located at 100 N. Central Ave., Los Angeles. Museum hours are Tuesday, Wednesday, Friday, Saturday, and Sunday from 11 a.m. to 5 p.m. and Thursday from noon to 8 p.m. General admission is $12 adults, $6 students and seniors, free for members and children under age five. Admission is free to everyone on Thursdays from 5 p.m. to 8 p.m. and every third Thursday of the month from noon to 8 p.m. General admission prices and free admission times may not apply to specially ticketed exhibitions. Closed Monday, 4th of July, Thanksgiving, Christmas, and New Year's Day. For more information visit janm.org or call 213.625.0414.