FOR IMMEDIATE RELEASE - December 12, 2018
PRESS CONTACTS
Leslie Unger - lunger@janm.org - 213-830-5690

JAPANESE AMERICAN NATIONAL MUSEUM MOURNS THE PASSING OF RODNEY KAGEYAMA
Los Angeles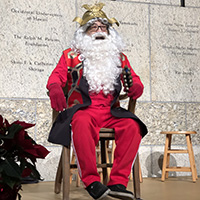 The Japanese American National Museum mourns the passing of museum volunteer and Little Tokyo icon Rodney Kageyama, who died December 9, 2018, at the age of 77.
Kageyama's volunteer work at JANM started in 2000. He was a cherished storyteller for school groups visiting the museum and at other programs, including some exclusively for JANM members featuring ghost stories in conjunction with Halloween. He also served as an emcee for JANM events and was scheduled to act as Shogun Santa for the annual staff and volunteer holiday celebration this Friday.
"Rodney was beloved at the museum, throughout Little Tokyo, and within the entire Japanese American community of Southern California," said Ann Burroughs, President and CEO of JANM. "His seemingly limitless energy and desire to participate—even in the face of difficult health issues—was more than inspiring. The outpouring of messages from many of those whose lives he touched is testament to his legacy; he will not be forgotten. Our hearts go out especially to his husband, Kenny, his partner of more than 30 years."
# # #
About the Japanese American National Museum (JANM)
Established in 1985, the Japanese American National Museum promotes understanding and appreciation of America's ethnic and cultural diversity by sharing the Japanese American experience. Located in the historic Little Tokyo district of downtown Los Angeles, JANM is a hybrid institution that straddles traditional museum categories and strives to provide a voice for Japanese Americans as well as a forum that enables all people to explore their own heritage and culture. Since opening to the public, JANM has presented over 80 exhibitions onsite and traveled 20 of its exhibitions to locations around the world, including the Smithsonian Institution and the Ellis Island Museum in the United States, and several leading cultural museums in Japan and South America.
JANM is located at 100 N. Central Ave., Los Angeles. Museum hours are Tuesday, Wednesday, Friday, Saturday, and Sunday from 11 a.m. to 5 p.m. and Thursday from noon to 8 p.m. General admission is $12 adults, $6 students and seniors, free for members and children under age five. Admission is free to everyone on Thursdays from 5 p.m. to 8 p.m. and every third Thursday of the month from noon to 8 p.m. General admission prices and free admission times may not apply to specially ticketed exhibitions. Closed Monday, 4th of July, Thanksgiving, Christmas, and New Year's Day. For more information visit janm.org or call 213.625.0414.