FOR IMMEDIATE RELEASE - February 20, 2019
PRESS CONTACTS
Leslie Unger - lunger@janm.org - 213-830-5690

ANN CURRY ANNOUNCED AS FEATURED SPEAKER AT JAPANESE AMERICAN NATIONAL MUSEUM'S GALA DINNER
Los Angeles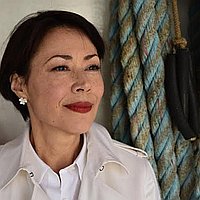 Award-winning journalist and photojournalist Ann Curry will be the featured speaker at the Japanese American National Museum's Gala Dinner and Silent Auction on April 13, 2019, at the InterContinental Los Angeles Downtown.
Curry, a former NBC News anchor and international correspondent, has reported on conflicts and humanitarian disasters all over the world. She has conducted a long list of exclusive and news-breaking interviews with foreign leaders as well as US presidents, secretaries of the state, and first ladies. She also has reported and executive produced a twelve-hour documentary series about transformative world events for PBS and is the anchor and executive producer of an upcoming series crowdsourcing doctors worldwide to help undiagnosed patients.
In October 2018, as a featured writer for National Geographic Magazine, Curry wrote about the mass incarceration of people of Japanese ancestry during World War II and the racism and prejudice that gave rise to it. The article touched upon how she, as a teenager, first learned about the government's actions during the war and how racism had touched her family, especially her mother. Among the photographs that accompanied her article were several that are currently on view at JANM as part of Gambatte! Legacy of an Enduring Spirit, which pairs historical images of individuals who were forcibly removed with contemporary photos of the same people, or their direct descendents, taken by Pulitzer Prize winner Paul Kitagaki Jr.
"Ann Curry is a highly accomplished professional who has brought thoughtfulness, sensitivity, and clarity to a wide range of subjects and difficult situations during her career, including the unlawful and tragic incarceration of Japanese Americans during World War II," said Ann Burroughs, President and CEO of JANM. "We feel privileged to have her as a featured speaker at our 2019 Gala Dinner and we know attendees will be moved and inspired by her remarks."
Curry was honored by JANM in 1997 with its Award of Excellence. She has won seven national news Emmys and numerous Edward R. Murrow Awards, Gracie Allen Awards, and National Headliner Awards. She also has been honored by the NAACP and Women in Communications, and is the recipient of several humanitarian awards.
The Gala Dinner's theme will be Vision and Commitment: Our Journey of Renewal. It will pay tribute to the museum's charter members—the first individuals and families to see and believe in the importance of the museum and its enduring role in our democratic society.
The event is co-chaired by Ernest Y. Doizaki, Kansas Marine Company; JANM Trustee Leslie Furukawa, Esq., Gomez & Furukawa; and JANM Governor Gene S. Kanamori, Keiro.
The Gala Dinner evening will include JANM's popular Lexus Opportunity Drawing, for which a new 2019 Lexus RX 350L vehicle will be the prize. Opportunity Drawing entries are $25 each, $100 for five entries, and $500 for thirty entries. They can be requested by calling 213.830.5641, sending an email to galadinner@janm.org, or downloading an order form from janm.org/dinner2019.
Sponsorship and underwriting opportunities for the Gala Dinner are available. Send an email to galadinner@janm.org for details. Individual tickets for the event will go on sale in late February; the event is expected to sell out. Information is also available at janm.org/dinner2019.
# # #
NOW ON VIEW AT JANM:
Kaiju vs Heroes: Mark Nagata's Journey through the World of Japanese Toys
Through March 24, 2019
In California in the 1970s, Mark Nagata was living an all-American childhood when an aunt and uncle serving on a US military base in Japan sent him a box filled with some of that country's most popular toys. They were kaiju and heroes, and these gifts inspired him to zealously collect vintage Japanese vinyl toys over the course of his entire life. Kaiju translates to "strange creature" in English but has come to mean "giant monster" referring to the creatures like Godzilla and Mothra that inhabited the postwar movie and television screens of Japan. The advent of these monsters brought about the creation of characters to combat them—hence the emergence of pop-culture heroes like Ultraman and Kamen Rider. Kaiju vs Heroes: Mark Nagata's Journey through the World of Japanese Toys showcases hundreds of dazzling vintage and contemporary Japanese vinyl toys, providing a feast for the eyes and the imagination.
Gambatte! Legacy of an Enduring Spirit
Through April 28, 2019
Gambatte! Legacy of an Enduring Spirit features modern and historical photographs documenting the stories of Japanese Americans who were forcibly incarcerated during World War II. Large-format contemporary photos taken by Pulitzer Prize-winning photojournalist Paul Kitagaki Jr. are displayed next to images shot 75 years ago by such noted photographers as Dorothea Lange, Ansel Adams, and others; each pairing features the same individuals, or their direct descendants, as the subject matter. Inspired by the Japanese concept of gambatte—to triumph over adversity—the exhibition chronicles the strength and legacy of a generation of Japanese Americans who persevered over unimaginable hardship.
Common Ground: The Heart of Community
Ongoing
Incorporating hundreds of objects, documents, and photographs collected by JANM, this exhibition chronicles 130 years of Japanese American history, from the early days of the Issei pioneers through the World War II incarceration to the present. In commemoration of the 30th anniversary of the Civil Liberties Act of 1988, the final section of Common Ground has been reimagined to further emphasize the redress movement, the landmark passage of the Act, and its relevance today.
About the Japanese American National Museum (JANM)
Established in 1985, the Japanese American National Museum promotes understanding and appreciation of America's ethnic and cultural diversity by sharing the Japanese American experience. Located in the historic Little Tokyo district of downtown Los Angeles, JANM is a hybrid institution that straddles traditional museum categories and strives to provide a voice for Japanese Americans as well as a forum that enables all people to explore their own heritage and culture. Since opening to the public, JANM has presented over 80 exhibitions onsite and traveled 20 of its exhibitions to locations around the world, including the Smithsonian Institution and the Ellis Island Museum in the United States, and several leading cultural museums in Japan and South America.
JANM is located at 100 N. Central Ave., Los Angeles. Museum hours are Tuesday, Wednesday, Friday, Saturday, and Sunday from 11 a.m. to 5 p.m. and Thursday from noon to 8 p.m. General admission is $12 adults, $6 students and seniors, free for members and children under age five. Admission is free to everyone on Thursdays from 5 p.m. to 8 p.m. and every third Thursday of the month from noon to 8 p.m. General admission prices and free admission times may not apply to specially ticketed exhibitions. Closed Monday, 4th of July, Thanksgiving, Christmas, and New Year's Day. For more information visit janm.org or call 213.625.0414.