FOR IMMEDIATE RELEASE - May 20, 2019
PRESS CONTACTS
Leslie Unger - lunger@janm.org - 213-830-5690

DISCOVER NIKKEI CALLS FOR STORIES OF NIKKEI HEROES
Los Angeles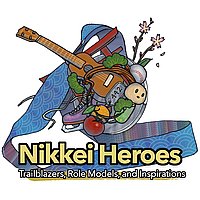 Discover Nikkei, a multi-lingual online resource of the Japanese American National Museum, has launched the eighth edition of Nikkei Chronicles, an annual theme-driven online journal with an open call for writings. This year's theme is Nikkei Heroes: Trailblazers, Role Models, and Inspirations.
"Hero" can mean different things to different people. Perhaps it's a relative that someone admires or looks up to. Perhaps it's an athlete who inspires people to work harder. Maybe it's a celebrity or an industry trailblazer who serves as a role model. This edition of Nikkei Chronicles asks, who is your hero? What is their story? How have they influenced your Nikkei identity or your connection to your Nikkei heritage?
Through its rich multimedia website, Discover Nikkei strives to promote a more profound understanding of the complex histories and insights of multicultural, multiracial, and multinational people of Japanese descent around the world. Previous editions of Nikkei Chronicles have explored the ways Nikkei express their culture, whether through food, language, or tradition. This edition turns a slightly different lens on the Nikkei world by looking at Nikkei aspirations and the many different forms that they take.
Submission subjects must be Nikkei or have some meaningful connection to the Nikkei community. They can be well-known celebrities or historical figures, or they can be significant only to the writer. They can be single individuals or groups of individuals, such as the Issei generation or the 442nd Regimental Combat Team. This call is also presented as an opportunity to honor someone not well-known but who is important to the writer, or who the writer feels deserves more recognition for their accomplishments.
Personal stories, essays, memoirs, academic papers, book reviews, and other prose works will be accepted until September 30, 2019, at 6 p.m. PDT. Multiple entries are welcome. All submissions that meet the project guidelines and criteria will be published in the Discover Nikkei Journal on a rolling basis as part of Nikkei Heroes: Trailblazers, Role Models, and Inspirations.
For more information and to read already published Nikkei Heroes stories, visit 5dn.org/heroes.
# # #
About Discover Nikkei
DiscoverNikkei.org is a major online resource that brings together the voices and experiences of Nikkei (Japanese emigrants and their descendants), who have created communities throughout the world. The multilingual website—available in English, Japanese, Spanish, and Portuguese—documents Nikkei history and culture and provides learning and networking tools for Nikkei around the world. At the same time, it seeks to explore the diverse and ever-changing meaning of the term Nikkei. The site's rich multimedia content includes excerpts from life history interviews, first-person stories and essays, journalistic profiles, research papers, opinion pieces, short fiction, lesson plans, and listings for events worldwide. In operation for more than ten years, Discover Nikkei has published articles by nearly 1,000 writers worldwide and presented excerpts from over 170 video life history interviews. The content currently spans 15 countries around the globe, and continues to grow.
About the Japanese American National Museum (JANM), a Smithsonian Affiliate
Established in 1985, the Japanese American National Museum promotes understanding and appreciation of America's ethnic and cultural diversity by sharing the Japanese American experience. Located in the historic Little Tokyo district of downtown Los Angeles, JANM is a hybrid institution that straddles traditional museum categories and strives to provide a voice for Japanese Americans as well as a forum that enables all people to explore their own heritage and culture. Since opening to the public, JANM has presented nearly 100 exhibitions onsite and traveled 20 of its exhibitions to locations around the world, including the Smithsonian Institution and the Ellis Island Museum in the United States, and several leading cultural museums in Japan and South America.
JANM is located at 100 N. Central Ave., Los Angeles. Museum hours are Tuesday, Wednesday, Friday, Saturday, and Sunday from 11 a.m. to 5 p.m. and Thursday from noon to 8 p.m. General admission is $12 adults, $6 students and seniors, free for members and children under age five. Admission is free to everyone on Thursdays from 5 p.m. to 8 p.m. and every third Thursday of the month from noon to 8 p.m. General admission prices and free admission times may not apply to specially ticketed exhibitions. Closed Monday, 4th of July, Thanksgiving, Christmas, and New Year's Day. For more information visit janm.org or call 213.625.0414.
NOW ON VIEW AT JANM:
Kaiju vs Heroes: Mark Nagata's Journey through the World of Japanese Toys
Through July 7, 2019
In California in the 1970s, Mark Nagata was living an all-American childhood when an aunt and uncle serving on a US military base in Japan sent him a box filled with some of that country's most popular toys. They were kaiju and heroes, and these gifts inspired him to zealously collect vintage Japanese vinyl toys over the course of his entire life. Kaiju translates to "strange creature" in English but has come to mean "giant monster" referring to the creatures like Godzilla and Mothra that inhabited the postwar movie and television screens of Japan. The advent of these monsters brought about the creation of characters to combat them—hence the emergence of pop-culture heroes like Ultraman and Kamen Rider. Kaiju vs Heroes: Mark Nagata's Journey through the World of Japanese Toys showcases hundreds of dazzling vintage and contemporary Japanese vinyl toys, providing a feast for the eyes and the imagination.
Common Ground: The Heart of Community
Ongoing
Incorporating hundreds of objects, documents, and photographs collected by JANM, this exhibition chronicles 130 years of Japanese American history, from the early days of the Issei pioneers through the World War II incarceration to the present. In commemoration of the 30th anniversary of the Civil Liberties Act of 1988, the final section of Common Ground has been reimagined to further emphasize the redress movement, the landmark passage of the Act, and its relevance today.