FOR IMMEDIATE RELEASE - November 22, 2019
PRESS CONTACTS
Japanese American National Museum - mediarelations@janm.org - 213-625-0414

STATEMENT ON THE PASSING OF WATARU "WAT" MISAKA
Los Angeles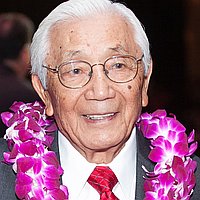 On behalf of the Trustees, Governors, staff, volunteers, and supporters of the Japanese American National Museum, I want extend our condolences and deepest sympathies to the family of Wataru "Wat" Misaka, who passed away this week in Utah at the age of 95.
In 2000, JANM's relationship with Wat crystalized as he was one of the profiled sports stars in our groundbreaking exhibition, More Than a Game: Sport in the Japanese American Community. Only five-foot, seven inches tall, Wat led his University of Utah basketball team to the NCAA championship in 1944 and the New York Invitational Tournament title in 1947. He then was drafted by the New York Knickerbockers and played in three games.
Our exhibition highlighted Wat's unique accomplishments along with the fact that he became the first person of color to play professionally in the league that would become the National Basketball Association (NBA). After 2000, the NBA acknowledged Wat's historic role and the Knicks would later honor him as a pioneer.
The son of Japanese immigrants, Wat showed that given a fair opportunity, he could reach the highest levels of his sport through hard work, unselfishness, and shrewd play. Yet he was always modest and self-effacing. Today with thousands of Japanese Americans playing organized community basketball, he is a role model for the greater Nikkei community. JANM recognized Wat Misaka at our annual Gala Dinner in 2014. His lasting legacy will be as an American sports pioneer, a legacy that we at the Japanese American National Museum will maintain and share.
Ann Burroughs
President and CEO
Japanese American National Museum
# # #
About the Japanese American National Museum (JANM), a Smithsonian Affiliate
Established in 1985, the Japanese American National Museum promotes understanding and appreciation of America's ethnic and cultural diversity by sharing the Japanese American experience. Located in the historic Little Tokyo district of downtown Los Angeles, JANM is a hybrid institution that straddles traditional museum categories and strives to provide a voice for Japanese Americans as well as a forum that enables all people to explore their own heritage and culture. Since opening to the public, JANM has presented nearly 100 exhibitions onsite and traveled 20 of its exhibitions to locations around the world, including the Smithsonian Institution and the Ellis Island Museum in the United States, and several leading cultural museums in Japan and South America.
JANM is located at 100 N. Central Ave., Los Angeles. Museum hours are Tuesday, Wednesday, Friday, Saturday, and Sunday from 11 a.m. to 5 p.m. and Thursday from noon to 8 p.m. General admission is $16 adults, $7 students and seniors, free for members and children under age five. Admission is free to everyone on Thursdays from 5 p.m. to 8 p.m. and every third Thursday of the month from noon to 8 p.m. General admission prices and free admission times may not apply to specially ticketed exhibitions. Closed Monday, 4th of July, Thanksgiving, Christmas, and New Year's Day. For more information visit janm.org or call 213.625.0414.