FOR IMMEDIATE RELEASE - August 10, 2020
PRESS CONTACTS
Joseph Duong - jduong@janm.org - 213-830-5690

ARTIST RUTH ASAWA, WHOSE LIFE, WORK RECOGNIZED BY JANM, HONORED BY U.S. POSTAL SERVICE WITH STAMPS OF HER WIRE SCULPTURE
Los Angeles, CA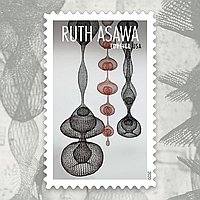 The late artist Ruth Asawa, whose work and life have been documented by the Japanese American National Museum (JANM), will be recognized by the United States Postal Service (USPS) by presenting her distinctive wire sculpture on a series of Forever stamps at a special virtual unveiling on Thursday, Aug. 13, 2020, at 1:30 p.m. EDT. The virtual stamp event will be hosted on the USPS Facebook and Twitter pages.
The dedication ceremony will feature JANM Trustee and Chair Emeritus, George Takei; Sharon Owens, vice president, Pricing and Costing, U.S. Postal Service, and Jonathan Laib, Director, David Zwirner, and Paul Lanie, son of Ruth Asawa. USPS described Asawa's work as "sensual and organic" which created "a dynamic interplay between interior and exterior surfaces." Ten of her sculptures are featured in the series of stamps.
Takei, who was incarcerated in the same US incarceration camp during WWII as Asawa, stated: "We take great pride in the life and art of Ruth Asawa and congratulate her family on being honored by the U.S. Postal Service with a Forever stamp. May this stamp live long and prosper."
JANM highlighted Asawa's art in the exhibition, The Sculpture of Ruth Asawa: Contours in the Air, in 2007. In 2019, Asawa's life and work were among those of five Japanese American artists highlighted in JANM's Watase Media Arts Center's documentary, Masters of Modern Design: The Art of Japanese American Experience. The film, which won a Los Angeles Emmy Award, was developed in partnership with KCET for its Artbound series.
Asawa, who was born in Norwalk in 1926 and raised on a farm by her Issei, or first generation Japanese American, parents, Umakichi and Haru, was 15 when World War II began. She and her family were forced to leave their farm and home to live in the Santa Anita racetrack along with thousands of Japanese Americans by the U.S. government. Asawa, who liked to draw, was influenced by three Japanese American Disney animators—Tom Okamoto, Chris Ishii and James Tanaka—who taught art classes at Santa Anita. The Asawas were then sent to an incarceration camp in Rohwer, Arkansas, where Takei and his family were also imprisoned.
After graduating from high school, Asawa left camp to attend a teachers' college in Milwaukee, only to be told that no one would hire her because she was "Japanese". Her fellow students encouraged Asawa to attend art classes at the Black Mountain College in North Carolina, where she was taught drawing by Joseph Albers and met Buckminster Fuller. Her unique style of wire sculpture began at Black Mountain, an artistic pursuit she followed throughout her life as a mother of six and as an educator and activist in San Francisco.
According to the USPS, "Since her death in 2013, public and critical appraisal of her work has continued to reach wider audiences, with much-lauded exhibitions and publications organized by major museums and galleries across the country."
Interested individuals may purchase stamps and other philatelic products through the Postal Store at usps.com/shopstamps, by calling 800-STAMP24 (800-782-6724), by mail through USA Philatelic, or at Post Office locations nationwide.
# # #
Established in 1985, the Japanese American National Museum promotes understanding and appreciation of America's ethnic and cultural diversity by sharing the Japanese American experience. Located in the historic Little Tokyo district of downtown Los Angeles, JANM is a hybrid institution that straddles traditional museum categories and strives to provide a voice for Japanese Americans as well as a forum that enables all people to explore their own heritage and culture. Since opening to the public, JANM has presented over 70 exhibitions onsite and traveled 17 of its exhibitions to locations around the world, including the Smithsonian Institution and the Ellis Island Museum in the United States, and several leading cultural museums in Japan and South America. For more information visit janm.org or follow us on social media @jamuseum.
# # #