FOR IMMEDIATE RELEASE - December 22, 2020
PRESS CONTACTS
Joseph Duong - jduong@janm.org - 213-830-5690

ON THE PASSING OF ROSE MATSUI OCHI
Los Angeles, CA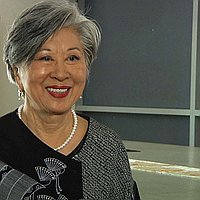 The Japanese American National Museum was saddened to hear of the recent passing of Takayo "Rose" Matsui Ochi, a long-time supporter of JANM whose life and career broke down barriers and who influenced both the Japanese American redress campaign and the designation of Manzanar as a historic site.
Born in East Los Angeles in 1938, young Takayo and her family were unlawfully incarcerated in a government-run concentration camp in Rohwer, Arkansas, during World War II, where a teacher gave her the name Rose. The Matsui family eventually returned to Los Angeles and after Rose earned degrees from UCLA and California State University, Los Angeles, she taught secondary school. She then earned her law degree from USC as a Reginald Heber Smith Fellow, where she was co-counsel on a landmark educational law reform case, Serrano v. Priest.
Her public service career was marked by her work under Los Angeles City Mayor Tom Bradley, her appointment by President Jimmy Carter to the Select Commission on Immigration and Refugee Policy and her term as assistant attorney general under President Clinton. As the first Asian American to hold that position, she advised the President on race relations.
The long-time pro bono counsel for the Manzanar Committee, Rose was mentioned specifically by President Reagan during the signing ceremony for the Civil Liberties Act of 1988 for helping to persuade the President to sign the redress bill. As the director of the U.S. Department of Justice Community Relations Service Center, she supported JANM's traveling exhibition to Ellis Island when officials wanted to change its exhibition title.
As JANM Chief Curator and then exhibition curator Karen Ishizuka recalled, "In addition to her many contributions to Japanese America and this country at large, I will always remember her behind the scenes effort in ensuring our being able to mount America's Concentration Camps at Ellis Island amidst efforts to censor the term 'concentration camp' from the title."
JANM's Discover Nikkei recorded an interview with Rose, which preserves many of the details of her distinguished career and her life of service to her community. Please go to http://www.discovernikkei.org/en/interviews/profiles/151/ to watch the interview.
On behalf of the JANM leadership, staff and volunteers, we send our deepest sympathies and condolences to the family of Rose Matsui Ochi and thank her for contributions to our community and our nation.
Secretary Norman Y. Mineta
Chairman, Board of Trustees
Japanese American National Museum
# # #