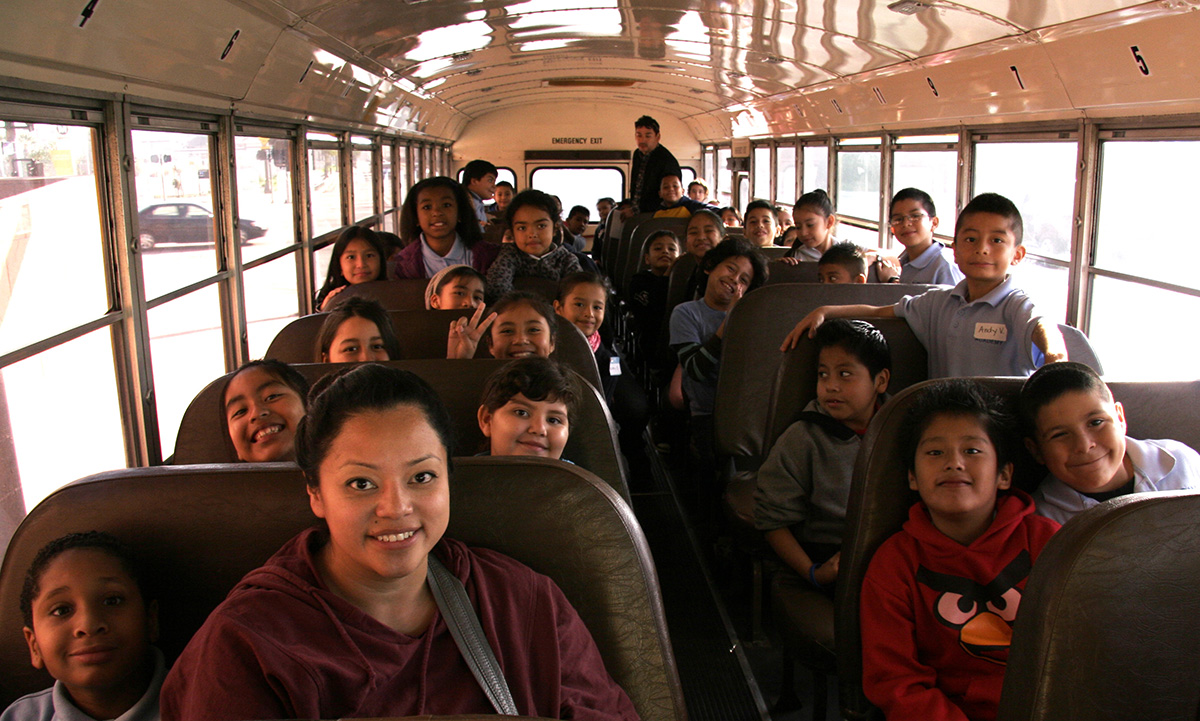 Photo by Gary Ono
Frequently Asked Questions
How do I qualify for free admission and transportation to the Japanese American National Museum (JANM)?
In order to qualify for JANM's free admission and transportation grants, groups must be Title I or be able to demonstrate financial need. Groups must make advanced reservations for guided and facilitated visits and grants are subject to strict rules. Grants are limited and available on a first come, first served basis. Click here for more information and to apply.
Does my group qualify for group rates?
To qualify for student group rates ($5/student, $7/adult chaperone), school groups must make reservations for a guided group visit. Self-guided and/or unreserved school groups do not qualify for group discounts.
Do you have a place where we can eat lunch?
JANM does not have group dining facilities at this time. Groups are welcome to sit on the plaza outside of the museum to enjoy their lunches or go to any number of restaurants in the Little Tokyo area. A list of restaurants can be provided upon request.
How many chaperones do I need when I visit the museum?
JANM's volunteer docents rely upon chaperones to monitor students during programs so that they can concentrate on conveying information. Regardless of how well-behaved a group of students may be, one adult (21 years and older) must accompany every 10 students and remain with them for the duration of the visit. Additional adults are always welcome. Click here for more information about chaperones requirements.
Do you have docents who are veterans or former inmates that my students can talk to?
Many of our tour docents have first-hand experience with the American concentration camps. We cannot guarantee, however, that your group will be led by a WWII veteran or former camp inmate. All of our docents are well-trained and will be able to provide their own unique perspectives. We are not able to arrange for individual interviews. To access oral histories online, visit DiscoverNikkei.org.
Do you have Japanese-speaking docents?
Yes, JANM has docents who speak Japanese and they can be made available if requested in advance. Please let us know if you need a Japanese-speaking docent when making your reservation.
Will this visit be age appropriate for my students?
Museum visits are designed to meet the needs of 1st–12th grades plus adult and college groups. Please tell us as much information as possible (what your students are studying, what books/materials they have read, etc.) when booking your reservation. We will be happy to make sure that your visit is tailored to the appropriate grade/age level.
Do you have pre- or post-activities that I can do with my students?
What happens if my group arrives late?
Please contact us at 213.830.5601 as soon as you become aware of a delay. We understand that due to traffic or other unforeseen delays, your group may arrive late. Our schedule is normally fully booked; we may not be able to accommodate your group if you arrive more than 20 minutes late.
Do you have a cancellation policy?
JANM would like to continue its practice of not charging a cancellation fee; however, each year many groups do not show up or cancel their reservation. Please cancel your reservation one week in advance if you can no longer come to the museum. Not only will this allow us to refrain from instituting a cancellation fee but it will also give other educators the opportunity to bring their students to JANM in your place. Failure to cancel your reservation in advance may make your school ineligible for future free admission and transportation grants.
Why does the JANM use the term "concentration camp" when speaking of the World War II incarceration of Japanese Americans?
The terms used to describe what happened to 120,000 Japanese Americans during World War II—relocation, evacuation, incarceration, internment, or concentration camp—vary among scholars, government officials, and even Japanese Americans themselves. While most people associate "concentration camp" with the Holocaust and many Americans feel more comfortable with milder terms like internment camps, JANM uses the term "concentration camp" because by definition a concentration camp is a place where people are imprisoned not because they are guilty of any crimes, but simply because of who they are. The US government, including President Franklin D. Roosevelt, used the phrase "concentration camp" in speeches and written documents during World War II.
What other things can I do or see with my students in Little Tokyo?
Little Tokyo is filled with shops, restaurants, monuments, public art, and plazas. There are many organizations that you can visit within walking distance of JANM:

The Go For Broke National Education Center—Book tours or learn more about educational programs. goforbroke.org


Museum of Contemporary Art—The Geffen Contemporary. 213.626.6828, moca.org


The James Irvine Garden—Japanese American Cultural & Community Center Japanese garden, admission free. 213.628.2725, jaccc.org


George J. Doizaki Gallery—Japanese American Cultural & Community Center exhibition gallery. 213.628.2725, jaccc.org


Chinese American Museum—Book tours or learn more about educational programs. 213.473.5306, camla.org


El Pueblo de Los Angeles Historical Monument, Olvera Street—213.628.1274

JANM provides these suggestions for your convenience and is not affiliated with the organizations listed here. Please contact organizations directly for more information. JANM Transportation Grants do not not cover transportation to and from organizations other than JANM.