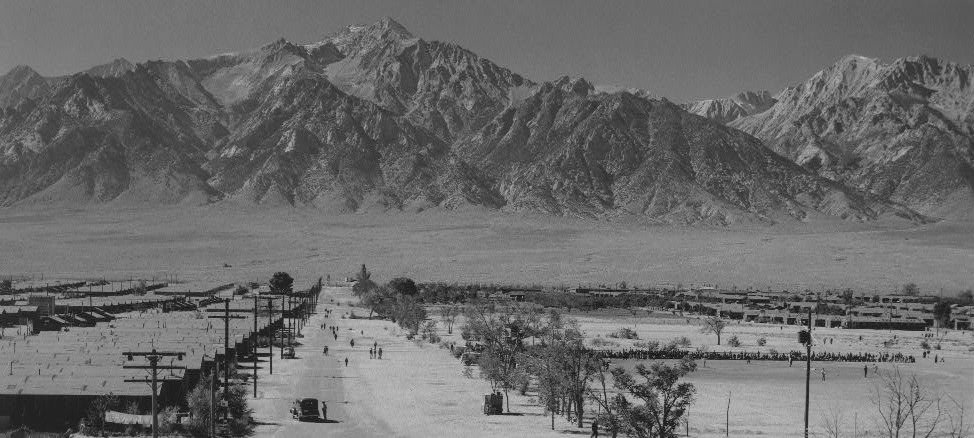 After the bombing of Pearl Harbor in 1941, both the Canadian and American governments incarcerated citizens of Japanese descent who were living in the western coastal regions. Nearly 120,000 Japanese Americans and 22,000 Japanese Canadians were affected. In the United States, concentration camps to house the citizens were scattered throughout the interior. In Canada, the BC Security Commission was established to oversee the transportation of citizens to hastily planned camps in British Columbia's interior, or to work and road camps in other parts of the country.
Two Views: Photographs by Ansel Adams and Leonard Frank presents a compelling collection of documentary images by two renowned 20th-century photographers, who captured distinctive views of the Japanese American and Japanese Canadian incarcerations. The exhibition features 40 photographs taken at the Manzanar War Relocation Center by Ansel Adams in 1943 and 26 prints by Leonard Frank recording the movement of Japanese Canadians in British Columbia in 1942. Together, the images provide an opportunity to reflect on the nature of forced separation and uprooting and the effects they have on their victims. 
Ansel Adams (1902–1984) is well known as a landscape photographer who captured the American West in masterful images that blend drama and contemplation. From 1943 to 1944, angered by what he heard about the American government's policy towards citizens of Japanese descent, Adams made a number of trips to Manzanar War Relocation Center. His powerful photographs captured the harsh daily life and resilience of the 10,000 Japanese Americans incarcerated there during World War II. When he offered the collection to the Library of Congress, Adams wrote, "The purpose of my work was to show how these people, suffering under a great injustice, and loss of property, businesses and professions, had overcome the sense of defeat and despair by building for themselves a vital community in an arid (but magnificent) environment."
Born in Berne, Germany, Leonard Frank (1870–1944) moved to Vancouver in 1917 and quickly became the leading commercial/industrial photographer in the city. His body of work captures the growth of industries in Vancouver and British Columbia between the world wars. In 1942, Frank was hired by the BC Security Commission to document the removal of Canadians of Japanese descent from the coast of British Columbia. He visited temporary holding areas as well as several camps in the interior of BC. The resulting photographs, which tend to focus on buildings and structures rather than individual people, are both stark and shocking, depicting the movement of humans within bureaucratic systems. 
Two Views: Photographs by Ansel Adams and Leonard Frank is a traveling exhibition organized by the Nikkei National Museum.