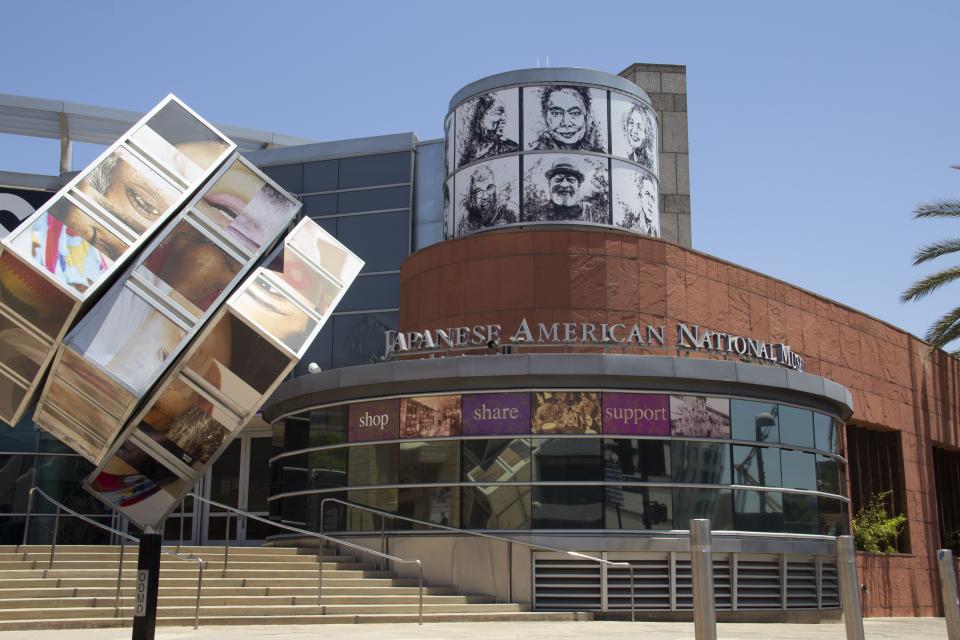 Body 1
Volunteering at JANM
JANM's allure rests not only in its award-winning design and exciting exhibitions, but in the warmth and beauty of its heart. The heart of the Museum is found in our volunteers. Here you will find a welcoming community of men and women of diverse ages and backgrounds who uniformly share a commitment to JANM and its mission. The Museum exists to promote understanding and appreciation of America's ethnic and cultural diversity by sharing the Japanese American experience.
We extend our personal invitation to you to step into this worthwhile tradition of service. JANM volunteers gain an even greater appreciation for our community as it exists within the broader tapestry of cultures and peoples that make up our nation.
Learn how you can contribute your time and experience in service to the museum and the community at large.
What Can I Do?
Find out about what types of volunteer roles exist at JANM.
How do I volunteer?
Find out about the process for applying and becoming a volunteer.
FAQ
Have questions? Here are answers to the most common inquiries.
Anchor Tag
volunteer-opportunities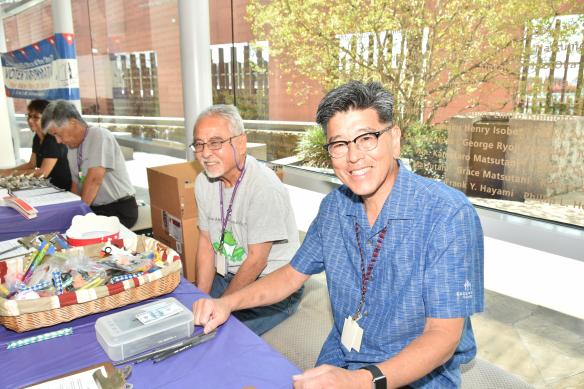 What Can I Do?
Volunteers are sometimes portrayed as those who staple papers and stuff envelopes. That is a fairly limited view of what JANM's Volunteer Program has to offer. YES, we do stuff envelopes and make copies, but the work of the volunteer goes far beyond this.
JANM volunteers participate in all aspects of museum operations. As a volunteer you will find yourself in a personally rewarding atmosphere of art and historical exhibitions, arts & crafts classes, musical and stage performances, film and video screenings, panel discussions, special volunteer previews of exhibitions, and much more. You will quickly discover that JANM maintains a busy schedule of activities.
Volunteer Opportunities
Our weekday group tour facilitators share the Japanese American story with our diverse audience of students in grades 1-12. They facilitate interactive school group experiences of our core exhibition Common Ground: The Heart of Community and, alongside our Origami Docents, craft with students one of the Museum's four designated origami pieces.
Prior experience is not needed. You will receive knowledge in classroom settings and through active learning. Familiarity with Japanese American history is a plus but not required. On-going learning opportunities are available through volunteer and staff led sessions, JANM public programs, and online resources.
Facilitators are needed for morning hour shifts of 4 hours on Tuesdays, Wednesdays, and Fridays. An annual average of eight volunteer hours per month (96 hours per calendar year) is requested.
Click on the link below to learn more about the Group Visits Program.
Origami Docents are needed to assist in hands-on activities with school groups (elementary through high school). Training will be provided in a classroom setting for Museum orientation and Japanese American History. Hands-on training in the four official Museum origami pieces is provided along with a brief history of origami in America and how it relates to the JANM's mission.
Origami Docents are needed on Tuesday, Wednesday, or Friday mornings (9:30 a.m. to 1:30 p.m.), with particular need on Fridays. Weekly (preferred) or twice per month.
Watch video tutorials of some of the origami activities:
Writing, Editing & Translating
JANM's Discover Nikkei project is a community-based web project that shares the stories and perspectives of Nikkei around the world in four languages—English, Japanese, Spanish, and Portuguese. Volunteers write about JANM exhibitions and upcoming programs; interview authors, artists, filmmakers, and others; review books and films; and more.
Other volunteer opportunities include translations, transcribing oral history interviews, video editing, guest hosting Nima Voices episodes, assisting with multilingual social media posts and responding to inquiries, and programming (must be proficient in Python/Django).
Most Discover Nikkei volunteers work remotely and communication and coordination is primarily done through e-mail or through Slack. All volunteers must be able to communicate in writing and verbally in English or Japanese. Writers/editors/translators must submit samples that demonstrate fluency and skill in the language they will be writing/translating into.
Additional volunteer opportunities are available.
Volunteer Photos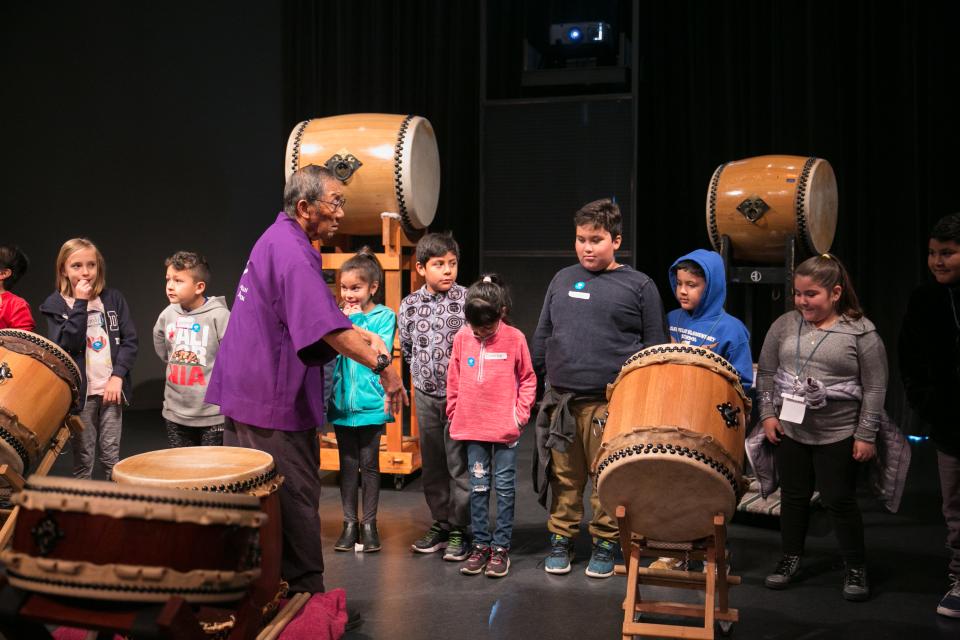 Volunteers lead energetic hands-on taiko demonstration for our weekday school groups.
Photo by Tracy Kumono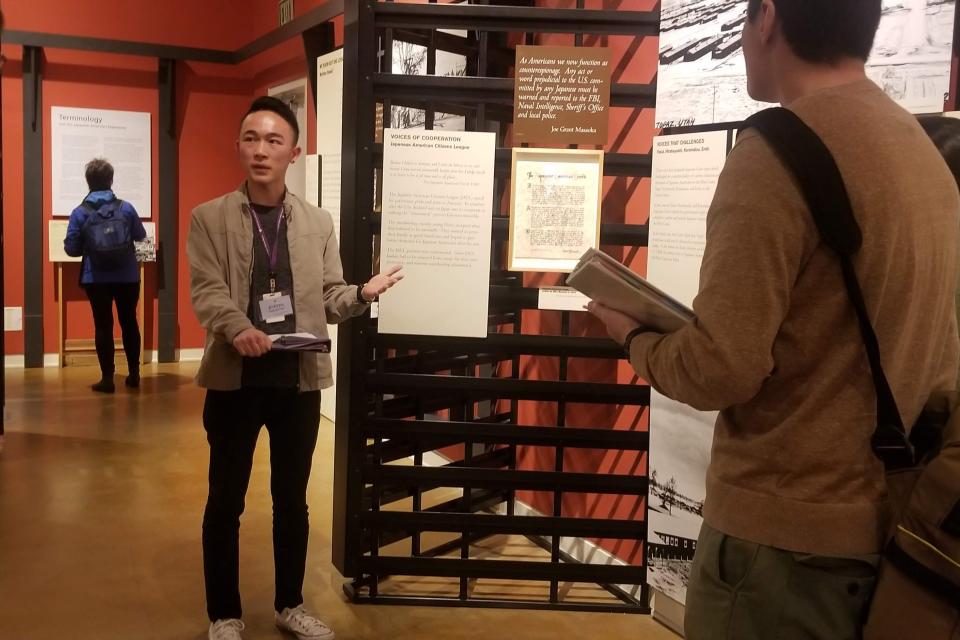 Volunteer Facilitators converse with our visitors in the galleries.
Photo by Julia Murakami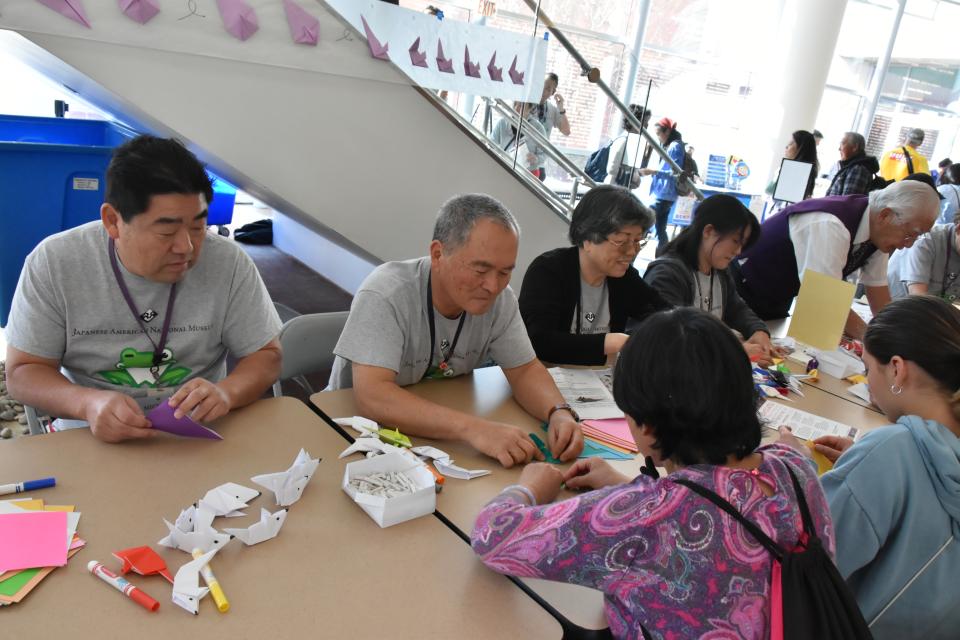 On our family days, admission is free and our volunteers delight Museum visitors who learn to make an origami piece based on the theme for the day.
Photo by Richard Watanabe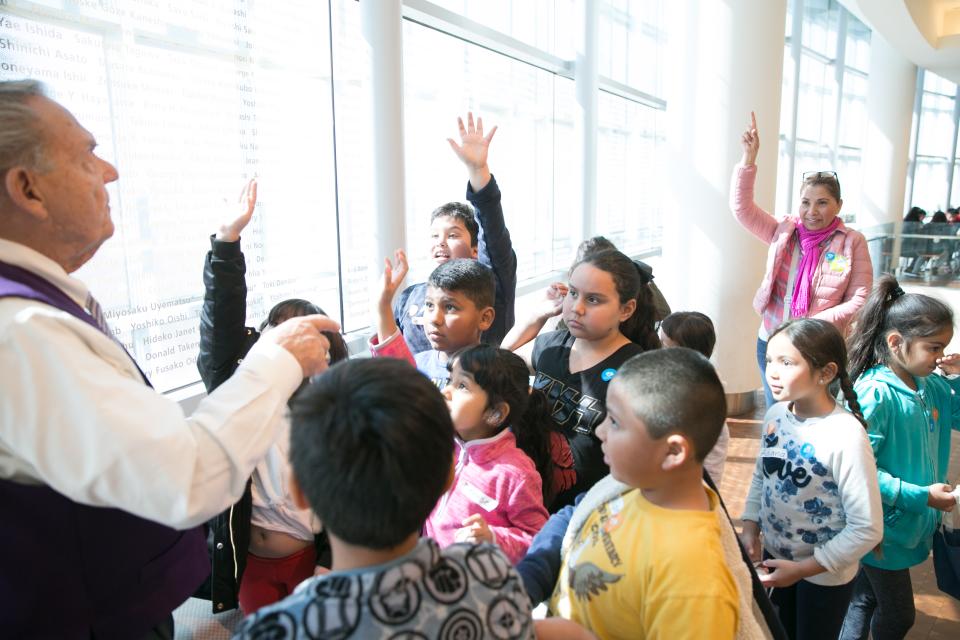 School visits facilitators engage with students in our core exhibit.
Photo by Tracy Kumono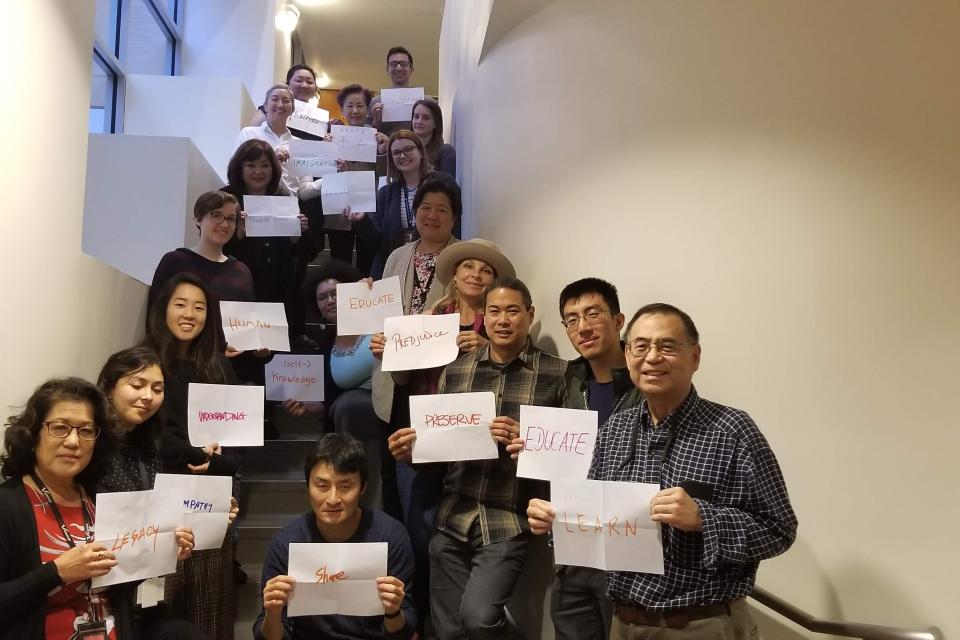 New volunteers and staff attend JANM orientation class.
Photo by Julia Murakami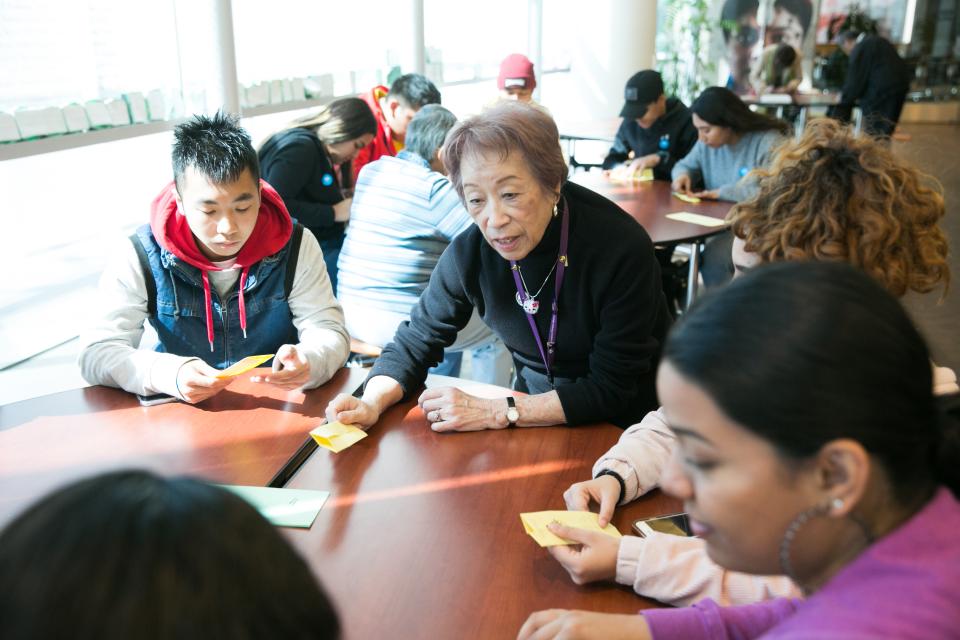 Assist in hands-on origami demonstration by becoming an Origami Docent.
Photo by Tracy Kumono
How do I become a JANM volunteer?
What is your availability?
Consider your available schedule to work as a volunteer. Many volunteers work one day a week. To maintain status as an active volunteer, a monthly commitment of a minimum of six hours is required.
Submit an Application Form
Complete and submit a Volunteer Application Form.
Application deadlines are October 31 and March 31, respectively, for our January and June new volunteer groups.
Visit the link below to download the form or you may also call, e-mail, or visit JANM to receive an application form.
Once your application is received by the Volunteer Office, a member of our team will call to discuss our program requirements and answer any questions you may have.
The next step is meeting with one of our volunteer interviewers.
Once you have been accepted into the Volunteer Program, you will be notified with training dates.
Complete the training and orientation period for new volunteers. Our orientation period is 6 months, during which you will attend four classroom sessions and receive on-the-job training for your selected volunteer assignment. JANM new volunteer orientation is offered twice each year. We intake a Winter cadre in January and a Summer cadre in June.
All JANM volunteers are required to be current JANM members. Confirm your membership is current prior to the start of your first orientation class.
Body 1
Continuing Education is offered and encouraged for all JANM volunteers. These take place not only in classroom settings but through our vibrant schedule of public programming.
Your partnership in the Volunteer Program of the Japanese American National Museum can begin today with a phone call, visit, or an email to the Volunteer Program office. Upon completion of the Volunteer Application Form together with your JANM membership enrollment, additional information regarding orientation and training sessions will be sent to you.
For further information, please contact the Volunteer Services Department at the Japanese American National Museum by phone to 213.830.5645 or send email to volunteer@janm.org.
FAQ
Do I need to be Japanese American to volunteer?
No, Japanese ancestry is not a requirement. The Japanese American National Museum is committed to diversity. All those who work for or on behalf of JANM understand and support the mission. The Museum is committed to embracing diversity and understanding of different abilities, experiences, perspectives, and styles within the institution.
What happens after I submit my volunteer application?
We will confirm by email receipt of your application. That email will include the next steps towards acceptance into our Volunteer Program that includes a phone call to review our program requirements followed by a face-to-face meeting with one of our volunteer interviewers. If your volunteer interest meets the Museum needs, you will receive an acceptance letter outlining our new volunteer training program.
What if I'm not a Museum member?
Volunteering at JANM is a privilege of membership so you'll be required to be a member upon entry into our volunteer training program and active membership is required as long as you're a volunteer at the Museum.
How long is the new volunteer orientation period?
The orientation period is a 6-month period during which you will:
Participate in four classroom sessions totalling 11.5 hours.
An initial orientation class + two courses in Japanese American history start your orientation and training period.
After your initial orientation class, you may begin on-the-job training in your selected volunteer area while under supervision of a staff member or an experienced volunteer.
A fourth class is at the end of your 6-month orientation and training period.

What kind of help do I get as a volunteer trainee?
Each new volunteer is assigned a mentor. Our mentors are experienced volunteers who are available to answer questions and to guide you in completing your training and orientation period. If you elect to become a facilitator, you'll also work with education staff or their designee in learning how to facilitate group visits.
How do I become an active JANM volunteer?
In order to attain "Active" volunteer status at the end of your 6-month orientation period,
the Volunteer Office will:
Ask our Membership Department to confirm your JANM membership
Verify you've completed of all required orientation & training courses
Verify you've volunteered for at least 20 hours
Confirm your commitment to a volunteer job and a regular schedule
What is required for me to maintain Active volunteer status?
Active volunteers must:
Be a JANM member
Volunteer no less than 72 hours during a calendar year
Is it possible for me to volunteer in more than one area?
Yes! We very much encourage cross-training. Many of our volunteers like to help the Museum in more than one area. It not only helps the Museum but keeps things more interesting for our volunteers.
Do I need to commit to a regular volunteer schedule?
We are a commitment based program model meaning that we ask all our volunteers to come in on a regular schedule by selecting day or days and times during which they'll volunteer. We ask for a minimum of 72 volunteer hours per calendar year and an average of 6 hour per month to maintain active status. For our facilitators we ask for 8 hours per month to accommodate our school tours.