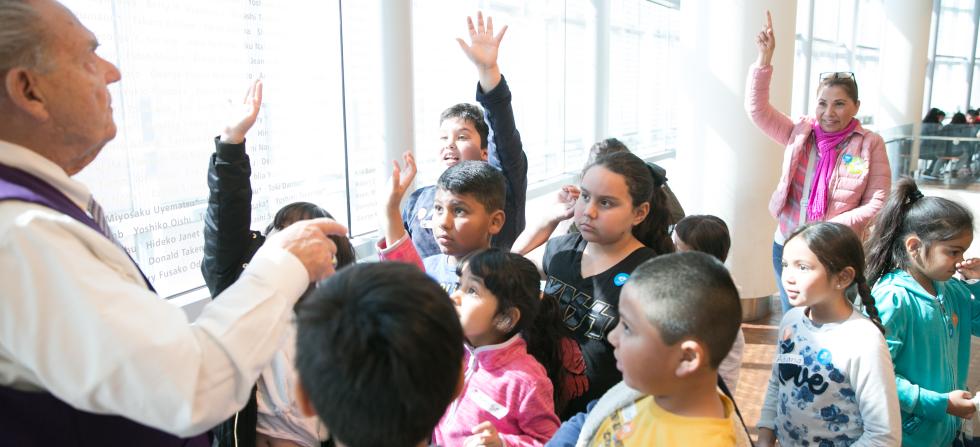 GALA DETAILS
InterContinental Los Angeles Downtown and live-streamed on YouTube
Bid for Education
Body 1
The Japanese American National Museum's Bid for Education program was officially launched at the 2000 Gala Dinner by the late US Senator Daniel K. Inouye in response to state budget cuts that threatened bus transportation for school field trips. Since then, it has become a galvanizing force behind the Museum's School Visits program, making field trips to JANM possible for more than 12,000 primary and secondary school students and teachers every year.
Thanks to many generous donors, Bid for Education raises thousands of dollars annually.
Funds raised by the Bid for Education are earmarked to support bus transportation and museum admission for primary and secondary school students from Title I schools and groups who have demonstrated financial need. Both school buses and public transportation are eligible for funding. Bid for Education funds also supports staff and resources for K–12 educator workshops, the development of free printed and digital educational materials, docent recruitment and training, and many other educational initiatives allowing us to expand our local and national reach.
Since 2020, JANM has initiated a virtual visit program and professional development for educators that increases access to thousands of new participants each year on a national scale. With your help, the Museum will continue its programmatic reach by developing a new Mobile Outreach Program in 2023. 
Please consider a donation today in support of these important initiatives! 
Although the Bid for Education receives much of its support through its annual fundraiser, donations can be made at any time.
If you would prefer not to donate online, you can donate by mail to:
Japanese American National Museum
ATTN: 2023 Bid For Education
100 N. Central Ave.
Los Angeles, CA 90012
Donate by phone using a credit card at 213.830.5658 during our business hours.
Body 1
2022 Bid for Education Donors
Thank you to the following individuals and organizations who made gifts to our 2022 Bid for Education program. These Bid for Education gifts enable the museum to share the important lessons of the Japanese American experience with students and educators across the nation.
BID FOR EDUCATION LEADERS $10,000 and above
Body 1
Earle K & Katherine F Moore Foundation
Nikki Kodama & Family
Members of the Yuki Family
GIFTS BETWEEN $5,000–$9,999
Body 1
Capital Group
DF Foundation
Bob & Carolyn Fujioka
Ken & Jo Ann Hamamura 
Stephen L. Kagawa
Gary & Suzette K. Kawaguchi
Mr. & Mrs. Frank S. Kawana
Paul J. Kosasa 
Yoshio Nakamura
Janis & Jim Peck
Jay Shiba
Wendy Shiba & Lawrence Pittman
Scott Sugino
George & Brad Takei
GIFTS BETWEEN $1,000–$4,999
Body 1
Kathryn A. Bannai • Steve Bloom • Noriko H. Chen • Tracey & Mark Doi • Ford & Mari Fujii • William T. Fujioka & Darlene Kuba • Fukumura Family • Leslie K. Furukawa & John H. Hayashi • Ito Properties • Gene & Vickie Kanamori • Karen Kihara • Aidan Kosaka • Randall R. Lee & Stella M. Jeong • Ms. Jenny Machida & Ms. Hedwig Aerts • Mike & Debbie Madokoro • Jennifer & Mark McCormick • Wesley D. Minami & Ida K. Nakano-Minami • Jim & Claire Morey • Susan Morita & Alan Matsumoto • Edward & Phoebe Morimoto • Penny Morimoto & Family • Richard & Masako Murakami • Kari L. Nakama • Rod & Elsie Nakamoto • Yoshio Nakamura • Robert Miyamoto & Debra Nakatomi • Mia Natsume & Niko Van Eimeren • Jeanne S. Nelson • Nori Nishida • Kristine Nishiyama & Barry Schwebs • Nancy K. Oda • Michael T. Okabayashi • Michael G. Okamura • Cindy M. Omiya • Kelly Saito, Gerding Edlen Development • Roy & Eileen Sakamoto • Bryan Sapanza • Dr. & Mrs. Gordon H. Sasaki • Floyd & Ruth Ann Shimomura • Helen & Jeffrey S. T. Sperber • Don & Lisa Nose Sugimoto • N. Jeanne Sultan Stevenson • Sushi Gen • Dr. Richard M. Watanabe • Christine & Don Wilkinson • Mr. & Mrs. Harvey H. Yamagata • Gordon Yamate • Herbert & Barbara Yuki
GIFTS BETWEEN $500–$999
Body 1
Cynthia Abrams • Lynn A. Miyamoto • Tom & Lisa Bode • Robert Chan • Cindy Ensworth • Beverly Iba • Tom & Yuki Jimbo • Yuko Kaifu • Sidney K. Kanazawa & Millicent N. Sanchez • Winfield & Deann Kato • Merv Kato & June Tanaka • Keiro • Amy M. Klosterman • Mr. & Mrs. Kei Kodani • Akemi & Misako Kurokawa • Dr. & Mrs. Stephen K. Kurumada • Bob Lindquist • Warren H. Maruyama & Karen M. Chittenden • Carol M. Miyahira • Sheri Miyamoto & Rory Mazur • Stephanie T. Nagami • Irene Nakagawa • David & Lily Nakatani • Daniel A. Nishikawa • Gilbert & Penny Nishimura • Mr. & Mrs. Michael J. Odanaka • John M. Otera • Dr. & Mrs. Robert G. Scharf • Bill & Christy Seki • Randy Shiozaki • Mr. & Mrs. Randall A. Tamura • Carole Yamakoshi
GIFTS UP TO $499
Body 1
Douglas & Ana María J. Anderson • Linda Ando • June M. Aoki • Ashley Arikawa & Cory Estes • Aon/John Barrett • Suzanne & John Basalla • Rose & Chan Loui • Andrew Chen • Kim Dailey • Susan Drews • Joanne Y. Erceg • John T. Esaki & Amy E. Kato • Kimiko Ferraro • Mark Fischer-Colbrie • Dana Fitzgerald • Teresa Funke • Dina A. F. Furumoto • Anonymous • Linda & Eric Hattemer • Lee Hayashi • Kristen T. Hayashi • James E. Herr • Marcia H. Hirasaki • Patricia Hirata • In memory of Dean & Eva Hoshide • In memory of Toshio & Doris Hoshide • Sara K. Hutter • David T. Ikegami • Bryce Ikemura • Robert J. Inadomi • Patricia Ishida • In honor of Irene Hirano Inouye • Kisa Ito • Sharon & Kamegai-Cocita • Susan Kamei • Atsuko Kanai • Kristine Kawaguchi • Keiko Kojima • Lis Komae • Chris Komai & Qris Yamashita • Carol M. Komatsuka • Masa Komoriya • Kondo Wealth Advisors • Makoto Kotani • David & Kranz • Vicki Kubota • Teri Lim • Myrna Ling • Paola Longino • Catherine K. Lum • Jeff MacIntyre • Mardy Maehara • Michael Maekawa • Susan P. Maki • Gene & Joanne Masuda • Alyctra Joy M. Matsushita • Susan Mencinger • Nobuko Miyamoto • Robert & Akiko Moriguchi • Joanne Motoike • In Memory of Raymond Murakami • Emily M. Murase • Wayne K. Nagao • John & Shirley Nakaki • Cayleen Nakamura • Lacey Nakashima • David & Lily Nakatani • Laura Ann Newburn • Debbie & Garland Nicklaus • Mark & Yoshiko O'Connor • Michael Okuda • Roger Omae • Russell & Diana Ono • Jason Otoshi • Steve R. Sakaguchi • Christine Sakamoto • Kenneth T. Shiba • Grace A. Shiba • Yumiyo Shiino • Mitchell C. Homma & Stephanie A. Stone • Robert & Carin Taira • Brandon A. Takahashi & Family • Cory Takahashi & Reinis Berzins • Susan Tamura • Teri E. Tanimura • Calvin & Terada • William K. Teragawa • Kathleen J. Tokudomi • Evelyn Tokuyama • Jae Toyota • Lynde & Bryan Trussell • Mayumi Tsubakimoto • Ms. Raina R. Tsuda • Robert & Blossom Uyeda • Sharon Uyeda • Julie Uyehara • Matsuko U. Uyeno • David & Grace Uyeshima • Marion K. Wada • Wendy Watanabe • Amy Watanabe • Allyne Winderman • CyVan Yamamoto • Grace A. Yamamura & Michael W. Clark • Steven K Yoda • Charlene Yoritsune • Joyce Yu