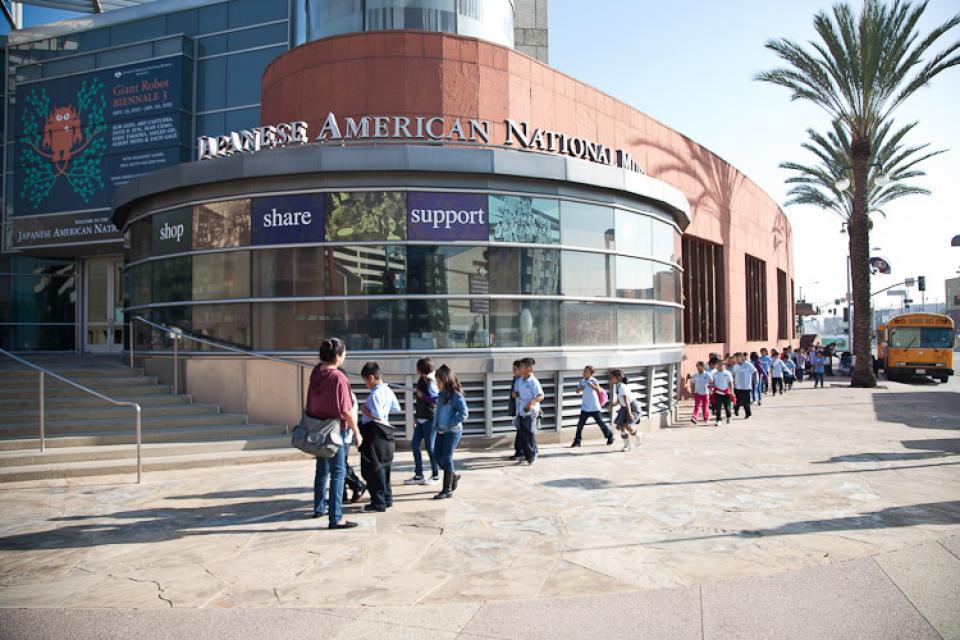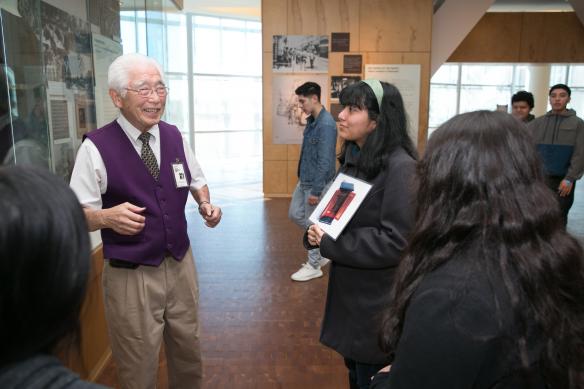 Sharing the richness of the Japanese American experience
The School Visits Program at JANM supports the museum's mission to promote understanding and appreciation of America's ethnic and cultural diversity by sharing the Japanese American experience. Our school group visits and virtual tours encourage students to build personal connections, to think critically, and to engage in participatory learning. On-site and virtual experiences complement classroom learning by exploring the richness of Japanese American history.
Planning your visit
Plan your school's JANM visit to explore stories about the Japanese American experience.
FAQ
Have questions? Here are answers to the most common inquiries.
Financial Assistance
Financial assistance is available to qualifying schools while funds last.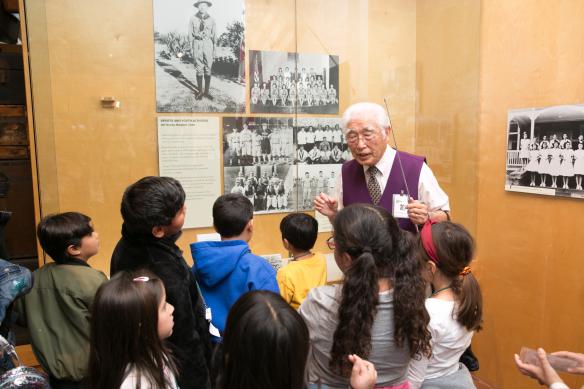 All school visits must be booked at least three weeks in advance. School group visits are available Tuesday through Friday beginning at 10 a.m. To book your group visit reservation, you must reserve using the online reservation form.
Please note that availability, pricing, requirements, and options are subject to change.
If you have any questions, please email us at groupvisits@janm.org. We are happy to help you!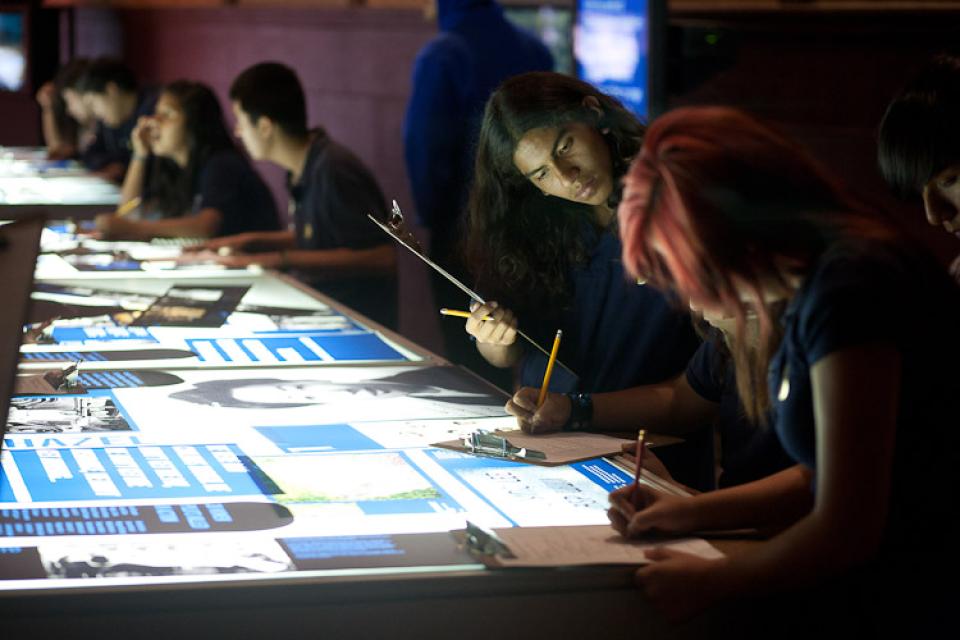 Students learn what it means to fight for democracy in a visit to the National Center for the Preservation of Democracy.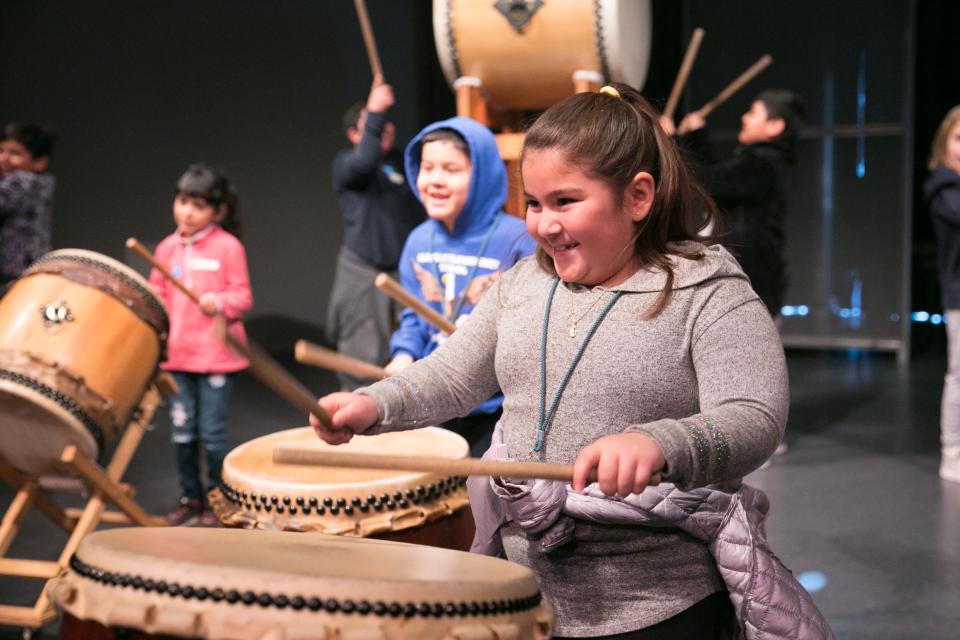 Lessons in the art of taiko drumming teach students about Japanese American culture while having a blast.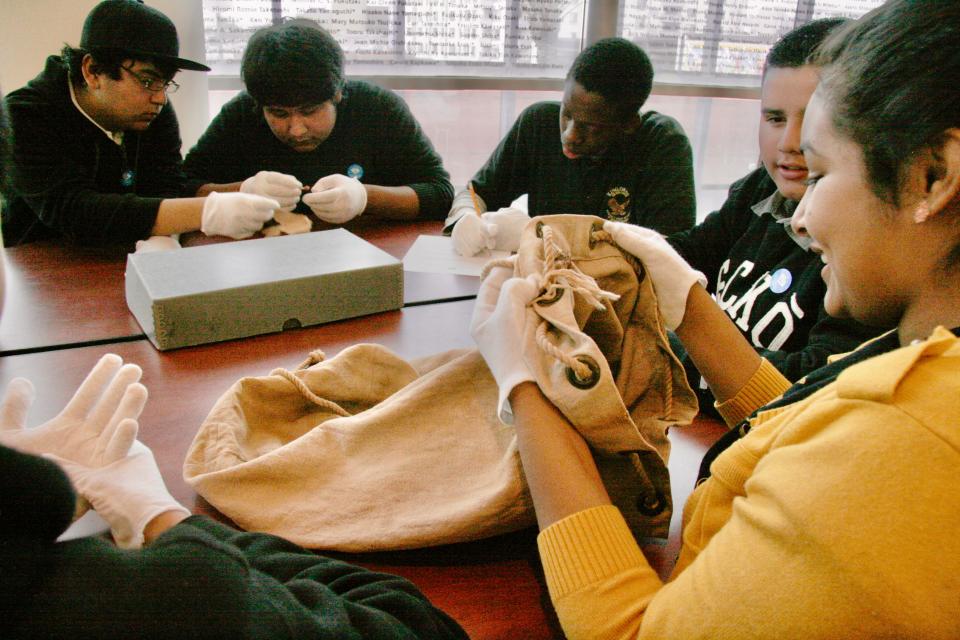 Hands-on activities like History Detectives allow students to explore JANM's collection of artifacts and documents.
More Ways to Visit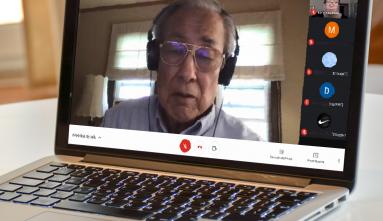 Virtual Visits
Designed for age-appropriate engagement, students will interact with JANM staff and/or volunteers to learn about Japanese American stories that give meaning to history.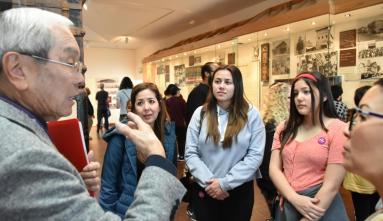 Group Visits
Book a self-guided group visit for seniors, adults, collegians, or students.
Anchor Tag
school-visits-policy
School Visits' Policies and Visiting Information
JANM relies upon chaperones to closely monitor students during on-site visits. Adult chaperones must accompany all student groups (1st–12th grade) at all times. We require one adult (21 years or older) chaperone for every ten students. Without the appropriate number of chaperones, school groups may not be admitted to the museum. Special exhibitions/programs may require additional chaperones. When visiting the JANM Store, one adult chaperone is to accompany every five students.
It is the responsibility of teachers and adult chaperones to stay with their students and monitor their behavior. Download a Letter to Chaperones (PDF) for distribution to all chaperones prior to your visit. Groups who are deemed to be disruptive by Museum Security or Visitor Services may be asked to leave the museum.
To qualify for student group rates ($7/student, $9/adult chaperone), school groups must come for a visit scheduled through the Education Unit. Admission rates are subject to change. Cash, checks, and credit cards are accepted. Group payment is due upon arrival. See the "Bid for Education" page for information about free admission grants for school groups.
Call 213.625.0414 or email groupvisits@janm.org.
Contact the Education Unit immediately if your group must cancel. If you cancel well in advance, your spot can be offered to another educator on our waiting list. Please note that tour options and availability are subject to change based on evolving circumstances.
Please contact us at 213.625.0414 or groupvisits@janm.org as soon as you become aware of a delay. We understand that due to traffic or other unforeseen delays, your group may arrive late. We may not be able to accommodate your group if you arrive more than 20 minutes late.
A bus loading zone is located directly in front of the museum on First Street. Bus parking is available on Alameda Street and Central Avenue. Parking for cars is available at nearby public parking lots for a nominal fee. See the "Bid for Education" page for information about free transportation grants for school groups.
JANM is easily accessible by public transportation, including the Dash and Metro lines. Union Station is a 15-minute walk or a short ride on a Dash bus. Contact your local public transportation agency for bus routes, times, and fees: ladottransit.com/dash, metro.net. Due to ongoing construction of the Metro Regional Connector, there may be changes to schedules and routes. Please check their websites for updated information.
The Japanese American National Museum is fully accessible. Please notify the Education Unit of any special needs when you make your reservation.
FAQ
Do you have a place where we can eat lunch?
JANM does not have group dining facilities. Groups are welcome to sit on the plaza outside of the museum to enjoy their lunches or order food from any number of restaurants in the Little Tokyo area. A list of restaurants can be provided upon request.
Personal belongings—including backpacks and large bags—are not allowed in exhibition areas. We encourage students/guests to leave these items at school or on the bus. Temporary storage bins will be provided for scheduled groups to store any food, drink, or backpacks upon arrival.
Do you have docents who are veterans or former inmates that my students can talk to?
At this time, on-site experiences will be primarily facilitated by JANM staff. Our volunteer docents and facilitators may not be on-site for your visit. If you wish to speak to a volunteer through a virtual platform, please submit a reservation request for a Virtual Visits experience.
Many of our docents have first-hand experience with the American concentration camps. We cannot guarantee, however, that your group will be led by a WWII veteran or former camp inmate. All of our volunteers are well-trained and will be able to provide their own unique perspectives. To access oral histories online, visit DiscoverNikkei.org.
Do you have Japanese-speaking docents?
Guided tours of the Common Ground exhibition are available with Japanese-speaking guides. Please note that the availability of these tours is extremely limited. To inquire about a guided visit in Japanese, please complete the online reservation form. We will inform you of the availability.
Will this visit be age appropriate for my students?
Museum experiences are designed to meet the needs of 1st–12th grade students. Please tell us as much information as possible (what your students are studying, what books/materials they have read, etc.) when booking your reservation. We will be happy to make sure that your experience is tailored to the appropriate grade/age level.
Do you have pre-, post-, or digital activities that I can do with my students?
Students who come to JANM with a basic understanding of the Japanese American story have a better and deeper experience while they are here. Click on the link below for lesson plans and resources that may be of use.
Why does JANM use the term "concentration camp" when speaking of the World War II incarceration of Japanese Americans?
The terms used to describe what happened to 120,000 Japanese Americans during World War II—relocation, evacuation, incarceration, internment, or concentration camp—vary among scholars, government officials, and even Japanese Americans themselves. While most people associate "concentration camp" with the Holocaust and many Americans feel more comfortable with milder terms like internment camps, JANM uses the term "concentration camp" because by definition a concentration camp is a place where people are imprisoned not because they are guilty of any crimes, but simply because of who they are. The U.S. government, including President Franklin D. Roosevelt, used the phrase "concentration camp" in speeches and written documents during World War II.