With mighty fangs, menacing horns, and iridescent gold scales, the lizard monster Drazoran crushes an imaginary city while Captain Maxx, wearing a bright red suit, flies in to save the day. Drazoran and Captain Maxx are two of the monsters and heroes that emerged from the creative mind of Mark Nagata, a toy designer and fervent toy collector. At JANM, Drazoran and Captain Maxx join hundreds of dazzling vintage and contemporary Japanese vinyl toys on display in Kaiju vs Heroes: Mark Nagata's Journey through the World of Japanese Toys.
In California in the 1970s, Mark Nagata was living an all-American childhood. When he was nine, an aunt and uncle serving on a US military base in Japan sent him a box filled with colorful figures packaged with art-laden header and backing cards featuring alien-looking beings—kaiju and heroes—engaged in battle. These Japanese toys would eventually change Nagata's life forever. That seemingly simple gift sparked a passion for Nagata that continues this day. Those toys and the artwork of their packaging inspired him to study art, to zealously collect vintage Japanese vinyl toys, and to become a toy designer himself.
Kaiju translates to "strange creature" in English but has come to mean "monster" or "giant monster" referring to the characters that became popular on Japanese film and television soon after World War II. The anxiety surrounding the lasting physical effects of radiation after the bombings of Hiroshima and Nagasaki no doubt helped give birth to super-sized monsters like Godzilla, Mothra, Ghidorah, and Rodan, and the advent of these monsters brought about the creation of characters to combat them. Hence the emergence of pop-culture heroes like Ultraman, Kamen Rider, and Kikaida. 
After the war, the United States closely monitored the types of industries allowed to revive in Japan. The toy industry was one of the first to be enabled to reinvent itself, and the kaiju films and television shows helped fuel it. Additionally, the toy industry helped stimulate Japan's economy during the early postwar reconstruction period. These new artistic and economic factors fused with kaiju and hero characters to set the stage for a golden age of Japanese popular culture—one that Nagata first became enamored with as a nine-year-old boy.
Nagata's pursuit of these Japanese toys took him on an unexpected journey that brought new realizations about his cultural identity as an American of Japanese ancestry. As a Sansei (third-generation Japanese American), Nagata once felt removed from his Japanese heritage. After the incarceration experience of the Issei (first generation) and Nisei (second generation), there was an unspoken shedding of openly Japanese cultural practices in America. Proving one's "Americaness" meant pursuing and embracing a Euro-centric American lifestyle. The children of Nisei were encouraged to follow this path, with only cursory participation in Japanese culture (mostly eating food and celebrating holidays). 
Nagata's story mirrors that of many of his generation, who sought to recover their ethnic heritage and reconnect with their ancestral homelands by studying Japanese, living in Japan as college exchange students, or participating in cultural pursuits such as bon odori dancing and taiko drum ensembles. One of the most accessible sources of a Japanese American connection for youth was through toys and popular culture. It was through this connection that Nagata entered a world that would eventually lead him to explore his cultural roots. Now, we invite you to immerse yourself in the same colorful universe of kaiju and hero toys that inspired one Sansei to delve into his cultural connections.
Major Sponsor: The Freeman Foundation
Associate Sponsor:

Media Sponsor:

Exhibitions Images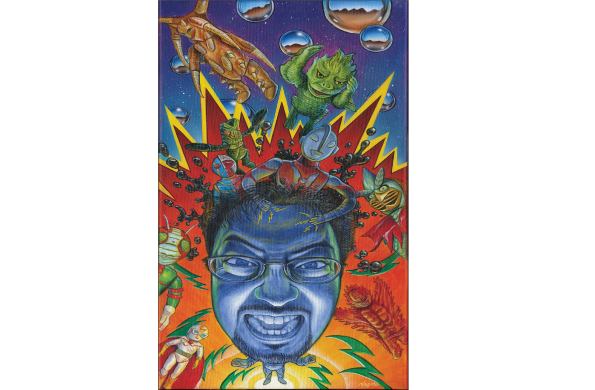 My Mind Was Blown Away, acrylic on canvas, 2002
Mark Nagata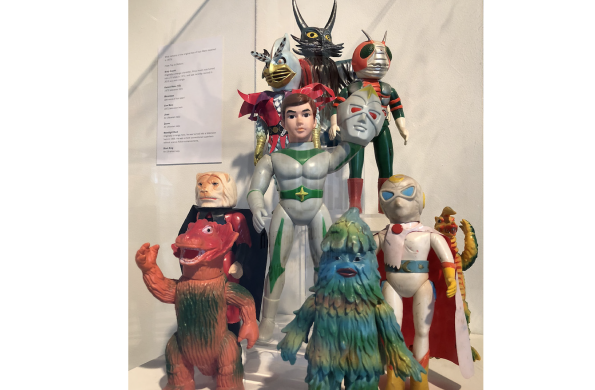 Some of the original toys received by Mark Nagata in 1973 that sparked his passion for toys and art.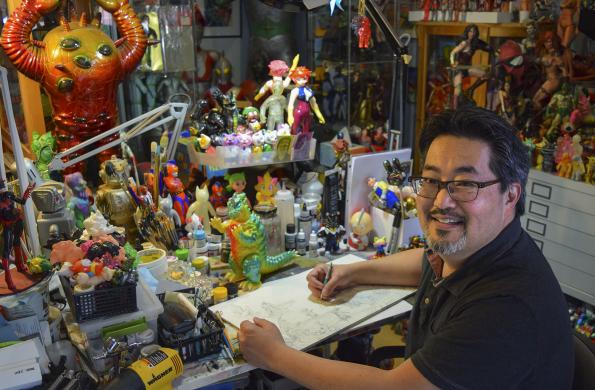 Mark Nagata in his studio.
Gary van der Steur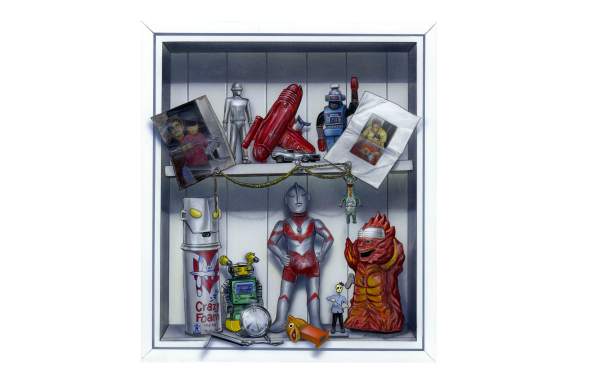 Memories, acrylic on board, 2005
Mark Nagata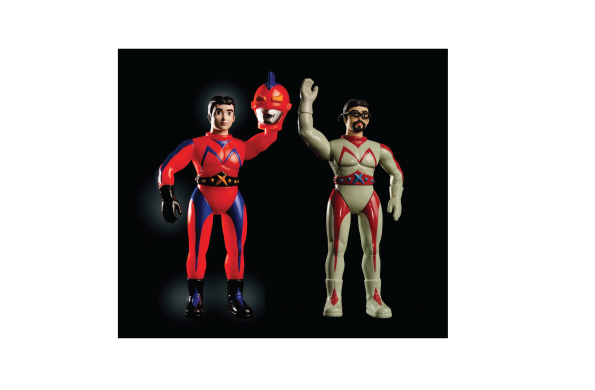 Captain Maxx and Captain UltraMark vinyl toys by Mark Nagata.
Gary van der Steur