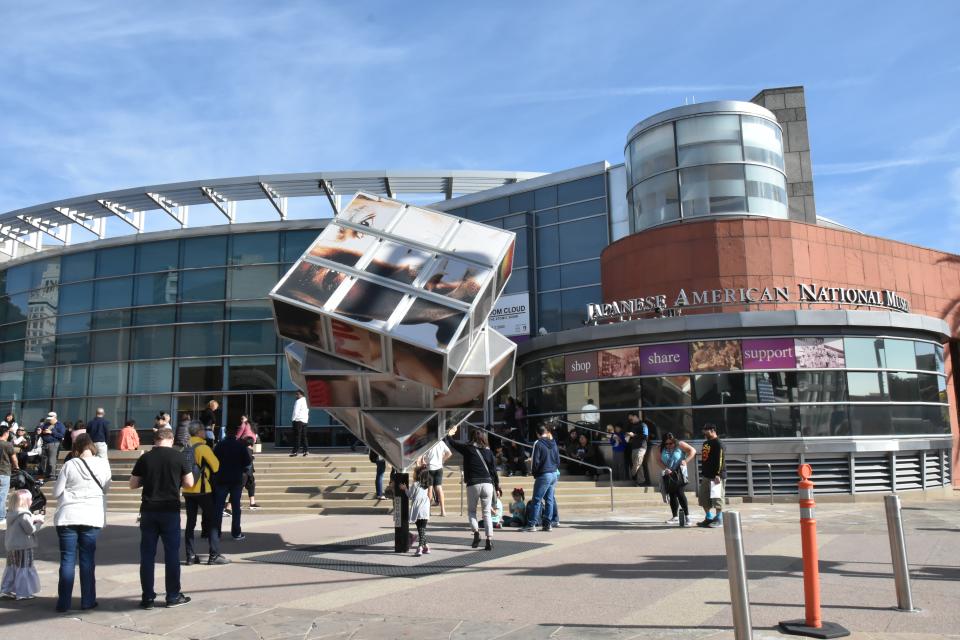 History of the Japanese American National Museum
The Japanese American National Museum (JANM) was founded to preserve and share the history of Japanese Americans. Its mission evolved to enhance appreciation for America's ethnic and cultural diversity by documenting the stories of Americans of Japanese ancestry as an integral component of U.S. history. Incorporated in 1985 through the combined efforts of a band of Japanese American World War II veterans and a group of Little Tokyo businessmen, JANM progressed from a small nonprofit to a national organization that raised almost $60 million to renovate a historic former Buddhist temple building in 1992 and to construct an adjacent modern Pavilion in 1999. An official affiliate of the Smithsonian Institution, JANM was the recipient in 2010 of the National Medal for Museum and Library Services, America's highest honor for museums.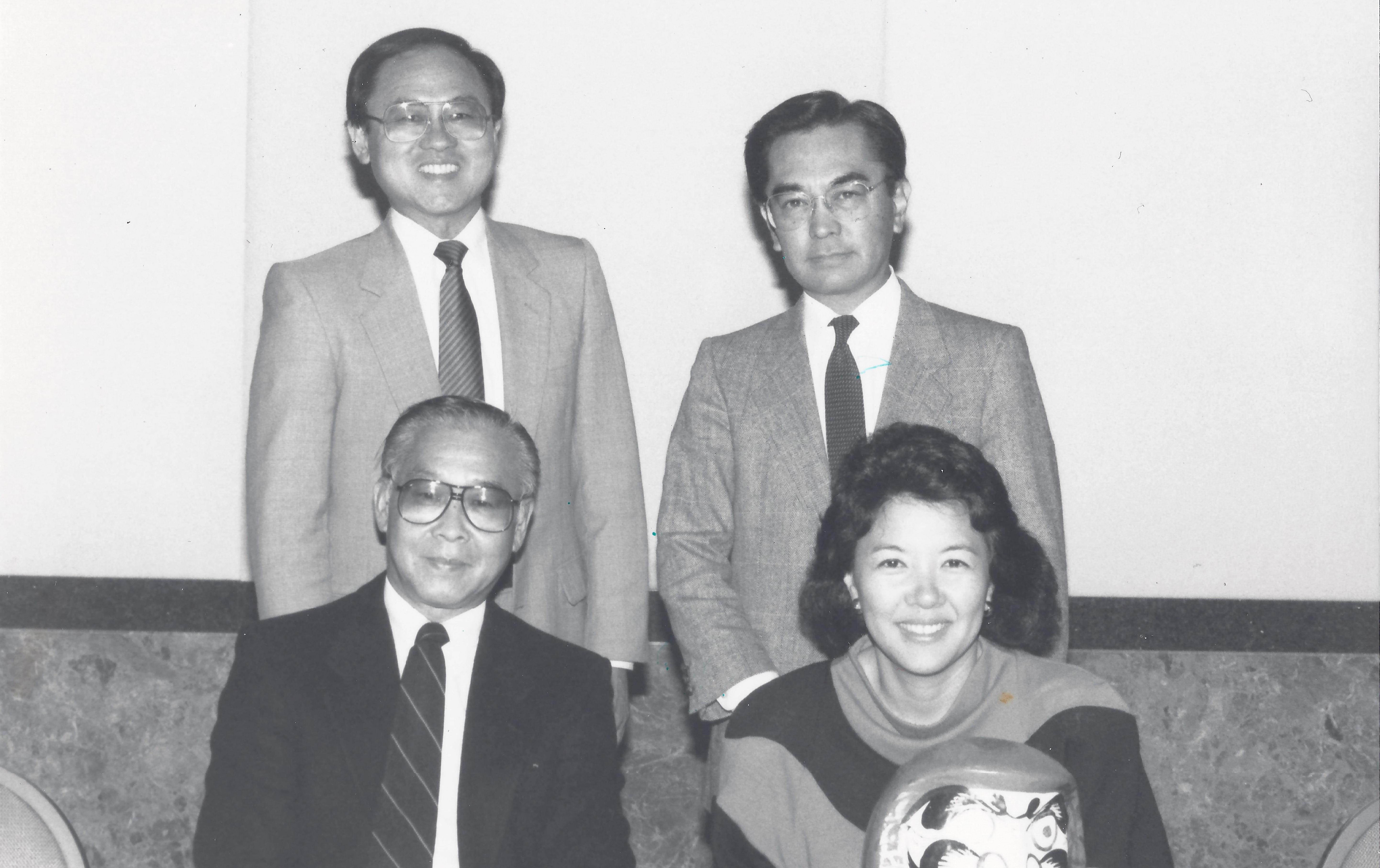 Fearing that their own stories were not being preserved, the veterans' group led by Young Oak Kim and Buddy Mamiya organized the Japanese American Soldier exhibition which was installed at the Los Angeles County National History Museum in 1982. Seeking a permanent home, the veterans connected with the business group headed by Bruce Kaji, who wanted to construct a Japanese American history museum as part of a proposed development in Little Tokyo. After the two groups combined in 1985, they hired their first employee, Nancy Araki. In 1986, JANM gained financial support from the State of California, thanks to State Senator Art Torres, while leasing the former Hompa Hongwanji Buddhist Temple building from the City of Los Angeles' Community Redevelopment Agency with the intent to refurbish the structure so it could house its exhibitions and its collection.
After hiring Akemi Kikumura Yano as an exhibition curator in 1987 and Irene Hirano as its Executive Director in 1988, JANM established a national Board of Trustees with representatives from Hawaii, California, Oregon, Washington, Colorado, Illinois, Texas, and New York. Along with fundraising, JANM reached out to regional Nikkei communities to build relationships and to uncover artifacts in preparation for its opening.
The Early Years: 1992–1998
Despite having its dedication disrupted by the civil unrest after the first Rodney King trial, JANM opened to the public in May of 1992. Beginning with its inaugural exhibition, Issei Pioneers: Hawai`i and the Mainland, 1885–1924, the Museum has dedicated itself to documenting and presenting the core Japanese American experience from the point of view of the participants. That approach, articulated by JANM Chief Curator Dr. James Hirabayashi, was embedded in the Museum's popular public programs, its innovative school tours, and its award-winning media presentations.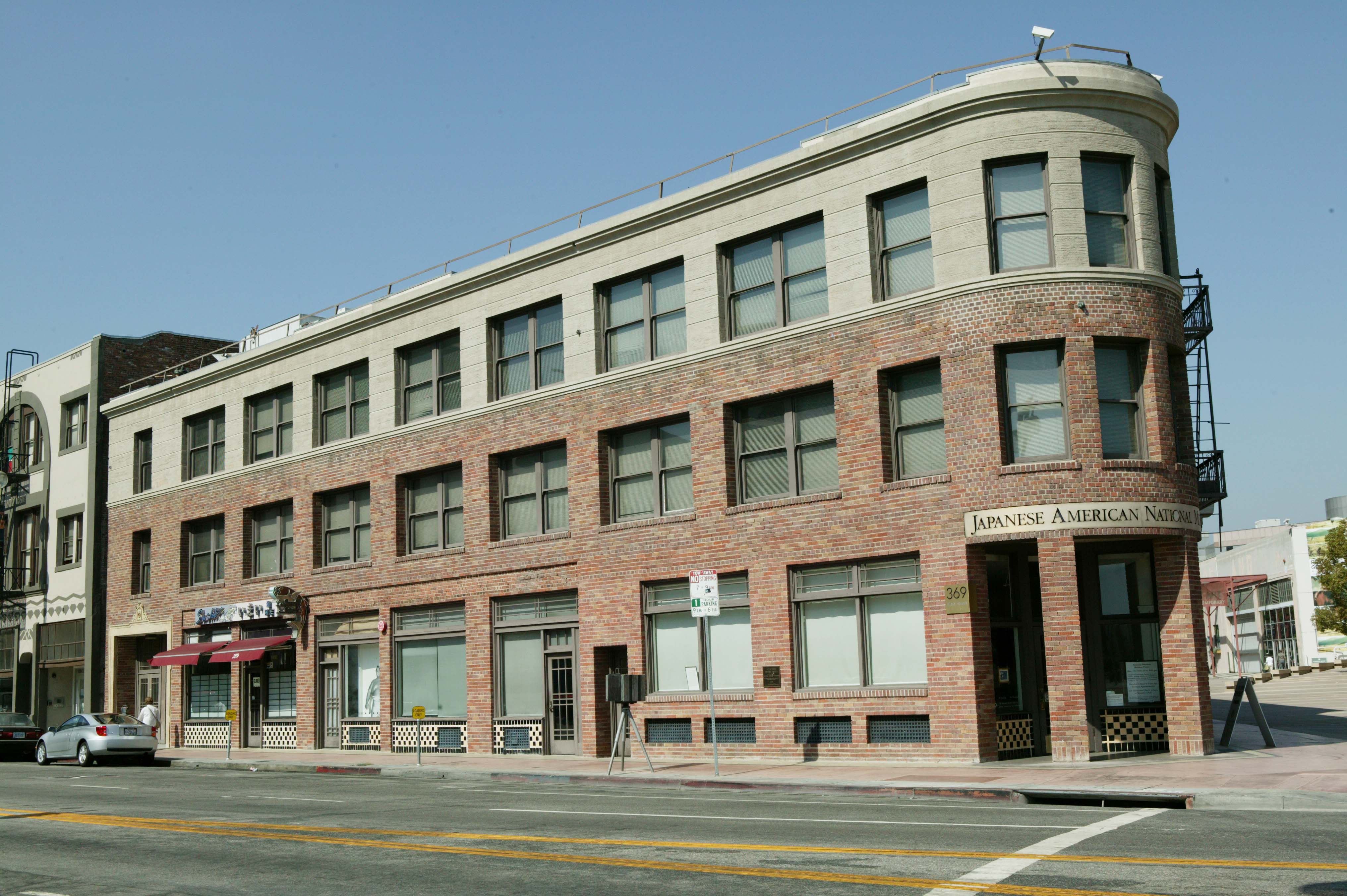 Recognizing that arts and culture are essential elements of the Japanese American story, JANM opened its first art exhibition, The View from Within: Japanese American Art from the Internment Camps, 1942–1945, at the Wight Art Gallery at UCLA in October of 1992. Embodying the goal to take JANM shows to the greater Nikkei community, this exhibition traveled to San Jose, California; Salt Lake City, Utah; and Honolulu, Hawai`i in 1994.
That same year, Their Imperial Majesties Emperor Akihito and Empress Michiko of Japan visited JANM and were the last visitors to tour the Issei Pioneers exhibition. In November, JANM premiered America's Concentration Camps: Remembering the Japanese American Experience, a groundbreaking exhibition that drew record crowds, including thousands of former inmates. The exhibition encouraged visitors to interact with large-scale maps of 11 government-run camps and to fill out information sheets about themselves, their families, and their camp memories. It screened edited home movies footage and displayed a fragment of an original barracks building recovered by staff and volunteers from Heart Mountain, Wyoming that was installed in the nearby parking lot.
In conjunction with the opening of the exhibition focused on another core community story, Fighting for Tomorrow: Japanese Americans in America's Wars, JANM organized the "National Salute to Japanese American Veterans" in November of 1995. It brought together more than 5,000 people to the Los Angeles Convention Center for dinner and a program. In 1997, From Bento to Mixed Plate: Americans of Japanese Ancestry in Multicultural Hawai`i opened at the Bishop Museum in Honolulu. It became JANM's most traveled show, installed at the Smithsonian and several venues in Japan. America's Concentration Camps went to the Ellis Island Immigration Museum in New York City in 1998 and The Kona Coffee Story: Along the Hawai`i Belt Road was displayed in Brazil.
The International Nikkei Research Project (INRP), funded by The Nippon Foundation, began its four-year endeavor in 1998 to gather research on the stories of Japanese in the United States, Canada, Mexico, Brazil, Peru, Paraguay, and Argentina. It expanded JANM's landscape of Nikkei stories and histories. The project produced two books and led to the development of the website, Discover Nikkei, also funded by The Nippon Foundation.
The Pavilion: 1999–2012
In January of 1999, JANM opened its Pavilion, a modern 85,000-square-foot structure designed by Gyo Obata, principle of Hellmuth, Obata and Kassabaum (HOK). Besides more public spaces for exhibitions and for the Manabi and Sumi Hirasaki National Resource Center, the Pavilion contains back-of-the-house work spaces for collections and the Frank H. Watase Media Arts Center. Its George and Sakaye Aratani Central Hall became a community gathering area for Day of Remembrance, public programs, Museum receptions, private parties, and even wedding receptions. JANM premiered Common Ground: The Heart of Community, its core Japanese American history exhibition, which includes rare artifacts and photographs, art installations, historic home movie footage, a scale model of the Manzanar camp, and the fragment of a barracks building from Heart Mountain.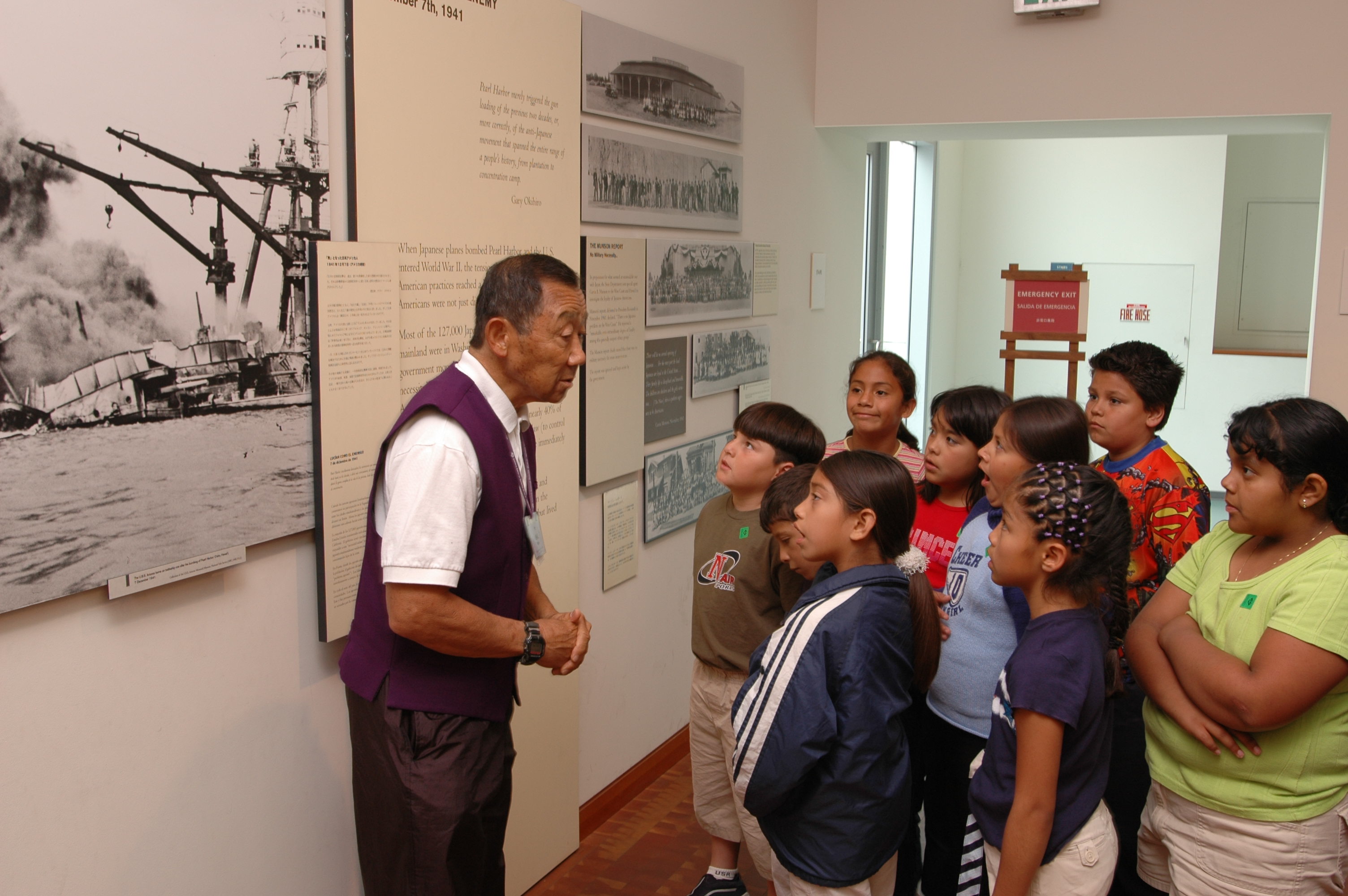 With its expanded gallery rooms, JANM could accept shows from other institutions. It installed two prestigious traveling exhibitions in 2004: Isamu Noguchi and Modern Japanese Ceramics, from the Arthur M. Sackler Gallery, Smithsonian Institution; and September 11: Bearing Witness to History, from the National Museum of American History, Smithsonian Institution. JANM continued to highlight the arts and culture by collaborating with photographer kip fulbeck (kip fulbeck: part asian, 100% hapa), publisher Eric Nakamura (Giant Robot), and musician Mike Shinoda of Linkin Park for a series of art shows starting in 2006 and running through 2012. Other popular exhibitions included Year of the Rabbit: Stan Sakai's Usagi Yojimbo (2011) and Folding Paper: The Infinite Possibilities of Origami (2012).
The National Center for the Preservation of Democracy (NCPD) opened in 2005 in JANM's historic building, with its exhibition, Fighting for Democracy: Who is the "We" in "We, the People"? The Tateuchi Democracy Forum, a new 200-seat theater, provided a new space for live music, lectures, and film screenings.
JANM began developing unique programs for its annual gala dinners that recognized community sports figures (2000), multi-generational family businesses (2003), teachers who worked in the World War II concentration camps (2005), and representatives of the organizations that made Japanese American redress possible (2008). The dinner programs become important platforms to honor cultural arts teachers, writers, artists, and pioneers before audiences of more than 1,000 patrons.
In 2002, JANM organized the All-Camps Summit in Los Angeles, a gathering of former inmates, oral historians, and representatives from preservation organizations to share projects and resources and to build new collaborations. JANM presented similar national conferences in Little Rock, Arkansas (2004); Denver (2008); and Seattle (2013), which drew national participants from diverse communities to focus on preserving and sharing the Japanese American World War II experience.
Expanding Programs: 2013–Present
JANM continued to grow its programming with new thematic exhibitions such as Perseverance: Japanese Tattoo Tradition in a Modern World (2014); Dodgers: Brotherhood of the Game (2014); and, Hello! Exploring the Supercute World of Hello Kitty (2014). These shows and others brought in new audiences.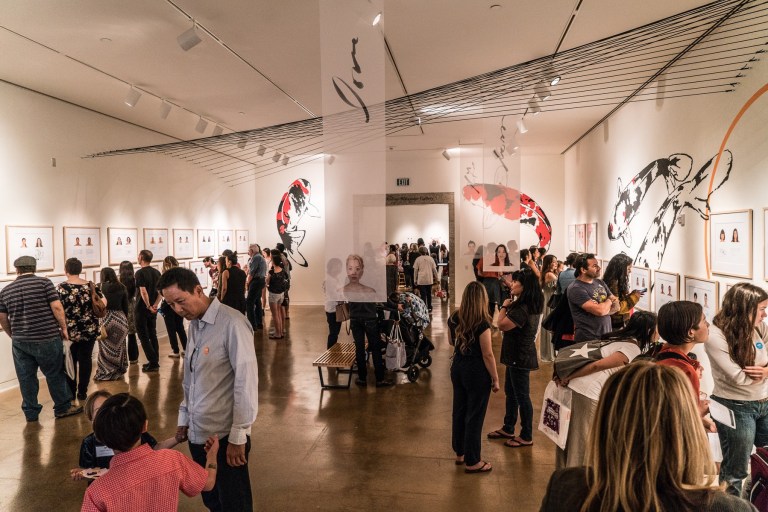 Perseverance became a traveling exhibition, visiting four different states as well as Australia and New Zealand, while Hello! was installed in Seattle. Fighting for Democracy was sent to the Arab American Museum in Dearborn, Michigan and then visited Wisconsin and North Carolina. kip fulbeck: part asian, 100% hapa was welcomed in Houston and then Canada. JANM installed hapa.me – 15 years of the hapa project in 2018, the follow up to the original show.
In 2017, JANM began a series of collaborative exhibitions, starting with Instructions to All Persons: Reflections on Executive Order 9066. Partnering with the National Archives, this show displayed the original documents that led to the forced removal and mass incarceration of thousands of Japanese Americans during World War II. The show was funded by the Eli and Edythe Broad Foundation. That same year, Transpacific Borderlands: The Art of Japanese Diaspora in Lima, Los Angeles, Mexico City, and São Paulo opened as part of Pacific Standard Time: LA/LA. The show, made possible by the Getty Foundation, highlighted artists of Japanese ancestry born, raised, or living in either Latin America or predominantly Latin American neighborhoods of Southern California. The Arab American National Museum traveling exhibition, What We Carried: Fragments & Memories from Iraq & Syria (2018), brought out the parallels between the millions of Syrian and Iraqi refugees and Japanese American World War II experience.
JANM's annual Gala Dinners recognized key figures in its own development, beginning with former Secretary Norman Mineta and the late U.S. Senator Daniel Inouye. Board Chair Emeritus George Takei, former JANM President and CEO Irene Hirano Inouye, and Watase Media Arts Center founders Robert Nakamura and Karen Ishizuka all received awards for their contributions at different gala events.
After a public outcry, JANM acquired the Allen Hendershott Eaton collection of 400 Japanese American artifacts from an auction house in 2015. The Eaton collection was put up for auction, raising objections from the Japanese American community. Thanks to the support of George Takei and JANM leadership, the artifacts became part of the JANM's permanent collection. In 2018, JANM unveiled Contested Histories: Art and Artifacts from the Allen Hendershott Eaton Collection. The show traveled in 2019 and 2020.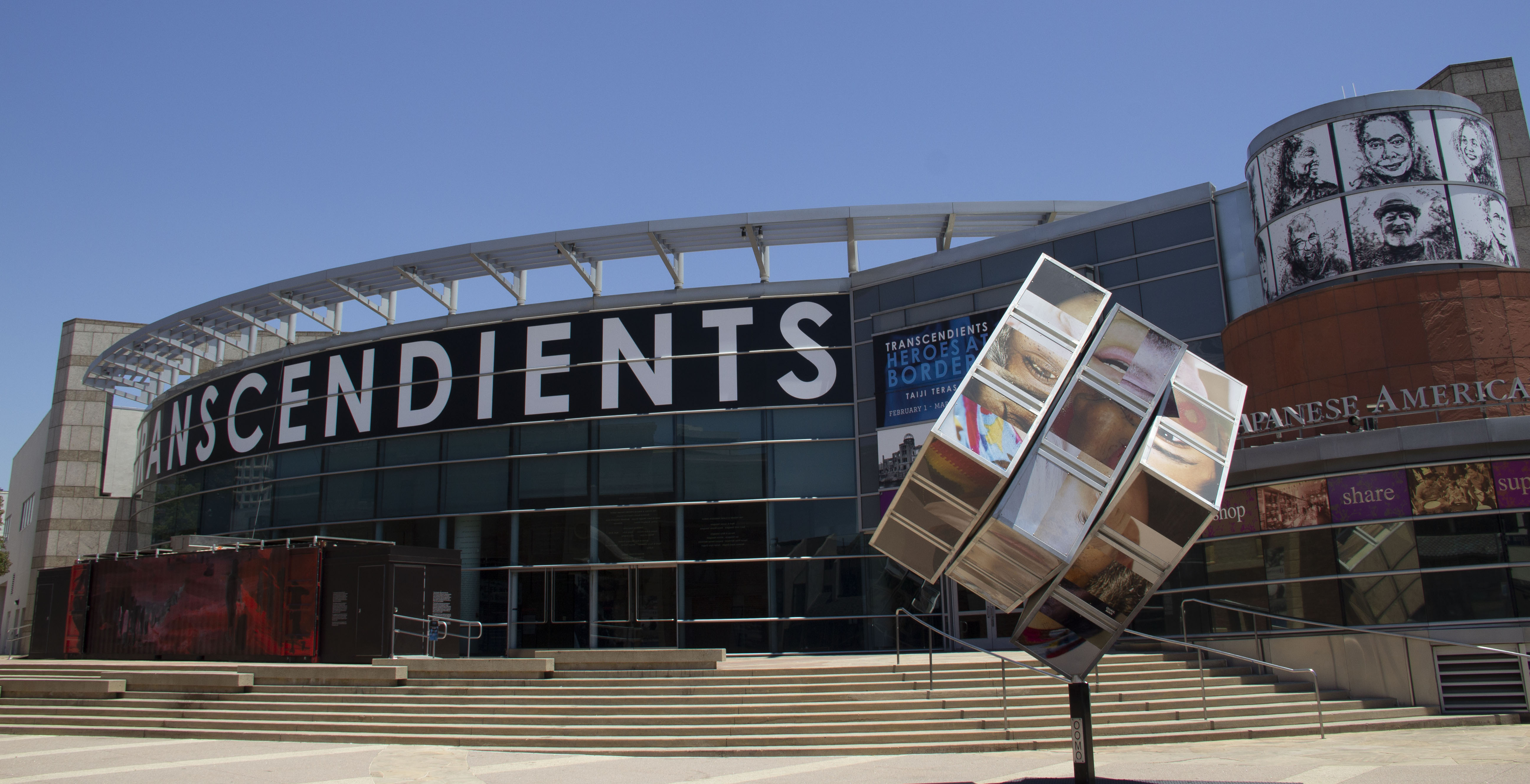 JANM also continued to add to its permanent collection with the acquisition of 240 oil paintings, 200 water color paintings, woodblock prints, and diaries of artist Henry Sugimoto in 2015. All the items were donated by Sugimoto's daughter, Madeleine. In 2001, JANM premiered Henry Sugimoto: Painting an American Experience, based on a previous donation by the Sugimoto family. In conjunction with the exhibition, New Frontiers: The Many Worlds of George Takei (2017), Takei donated an assortment of his memorabilia, including scripts, photographs, correspondence, campaign materials from his 1973 run for Los Angeles City Council, and family heirlooms in 2016.
The special display, American Heroes: Japanese American World War II Nisei Soldiers and the Congressional Gold Medal (2013), and the Before They Were Heroes: Sus Ito's World War II Images exhibition (2015) continued JANM's exploration of the military experience of Japanese Americans.
In 2019, JANM partnered with Visual Communications for the exhibition, At First Light: The Dawning of Asian Pacific America. The multimedia show highlighted the beginning of community activism and the goal of Visual Communications to create documentaries about Asian Pacific Americans by Asian Pacific Americans.
On-site events for families continued to be a priority, with the on-going series of JANM Free Family Days as well as the annual Oshogatsu Family Festival for New Year's and the Natsumatsuri Family Festival in August. Beginning in 2014, JANM has hosted Okaeri: A Nikkei LGBTQ Gathering every two years. The events have included workshops, plenaries, and presentations. Numerous public programs were presented in the Tateuchi Democracy Forum, highlighted by events such as the book release of poet, essayist, activist, and foremother of Asian American feminism Mitsuye Yamada and her collection of poetry, Full Circle: New and Selected Poems, in 2019.