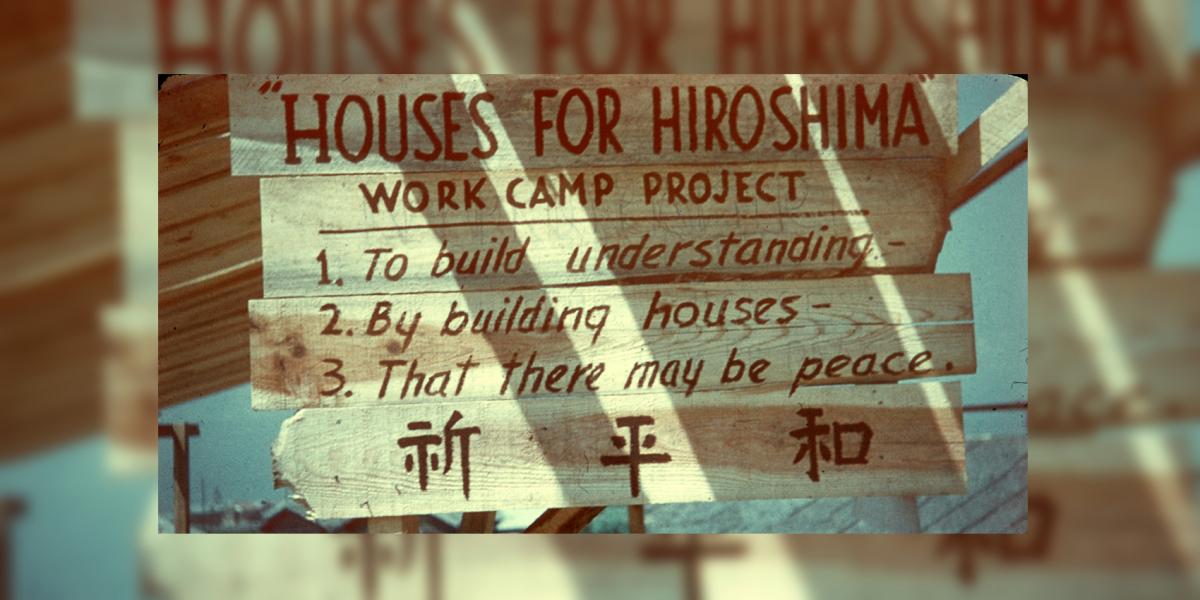 FREE
Wednesday, August 5:
7 P.M. (PDT) | 4 p.m. (HST)
Thursday, August 6: 11 a.m. (JST)
In commemoration of the 75th anniversary of the end of World War II, join a conversation on what today's audiences can learn and build on from the story of Floyd Schmoe, a lifelong grassroots activist for peace. The conversation will build on the documentary Houses for Peace (2018), that tells the story of Schmoe, who traveled with a diverse group of volunteers to the atomic-bombed city of Hiroshima over 70 years ago to build houses for survivors of the atomic bomb and their families.
The panel and Q&A will be moderated by Dr. Gail Nomura, Professor at the University of Washington, and feature 75-year-old atomic bomb survivor Koko Kondo, who spent time with Schmoe as a young girl, as well as Kumiko Ogoshi Takai, the documentary's director. They will be joined by Clement Hanami, VP of Exhibitions and Art Director at JANM, Takuo Takigawa, Director of Hiroshima Peace Memorial Museum, and Mike Carr, CEO of the Battleship Missouri Memorial.
The documentary is available to stream now on NHK WORLD-JAPAN's video on demand service.
This program is FREE, but RSVPs are required using the Zoom link below. The program will be available in with simultaneous audio interpretation in both English and Japanese. Contact publicprograms@janm.org if you have any additional questions or specific access concerns.
本イベントは日/英の同時通訳で行われます。参加は無料ですが、事前登録制です。「RSVP」ボタンからZOOMウェビナーへの事前登録をお願いします。
Image: Donated by Tomiko Y. Schmoe. Entrusted by the Group for Learning from Floyd Schmoe. Courtesy of Hiroshima Peace Memorial Museum.
Funding has been provided by California Humanities and the National Endowment for the Humanities (NEH) as a part of the Coronavirus Aid, Relief and Economic Security (CARES) Act economic stabilization plan of 2020.
This program is presented in partnership with NHK WORLD-JAPAN, and with cooperation from the Hiroshima Peace Memorial Museum and the Battleship Missouri Memorial.