FREE
Join ceramics artist Joan Takayama-Ogawa and award-winning filmmaker Renee Tajima-Peña for a conversation about using their anger at injustice to create powerful art that inspires social change. This conversation is presented in conjunction with the new exhibition, Joan Takayama-Ogawa: Ceramic Beacon, at the Craft in America Center.
Image courtesy of Joan Takayama-Ogawa. "Joan Takayama-Ogawa, Racial Profiling: Japanese American Relocation Camps, 2000-2001."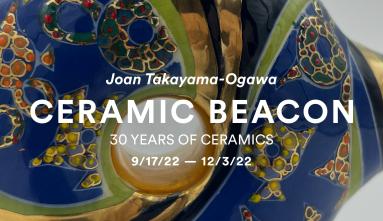 About "Joan Takayama-Ogawa: Ceramic Beacon" on view at the at the Craft in America Center:
Known for conveying her candid and prophetic take on contemporary life through playful and witty narratives in ceramics, the exhibition will include roughly 30 sculptures made over three decades. Ceramic Beacon will be the first significant survey of this respected Pasadena born and based artist's work thus far. Unequivocally tackling issues ranging from the housing crisis and global overfishing, to the pandemic, Internment camps, and human-induced species loss, Takayama-Ogawa makes objects that embody her world view and life experience. She draws the viewer into her intricate sculptures and initiates a conversation because they are a pleasure to behold. She tackles the core issues that define our contemporary society, from the political, to the historical, social, and environmental. Channeling fury into artistic power, she creates works that respond to the most pressing demands of the 21st century.
This exhibition is on view at the Craft in America Center from September 17, 2022 to December 3, 2022.