Join us at JANM for the launch of An American Vocabulary: Words to Action on Saturday, October 8, 2022 from 3 p.m.–6 p.m. The event includes live performances from rapper jason chu, percussionist Gingee, and DJ Grace Ktown. 
Visual artist Audrey Chan will facilitate an interactive art project connected to the flash cards that encourage participants to honor their own community histories. There will also be opportunities to learn more about local community organizations and how to get involved.
An American Vocabulary: Words to Action consists of twenty-one multilingual flash cards that portray figures, events, and actions illustrating the four themes of voice, ancestor, persistence, and care as well as discussion questions from JANM. The cards symbolize the way Asian American, Native Hawaiian, and Pacific Islander communities translate their inimitable American histories across linguistic, cultural, and imaginative barriers.
This event is free and outdoors but RSVPs are recommended. The first 300 RSVPs will receive a flashcard set! Click on the upcoming event below to RSVP.
Past Events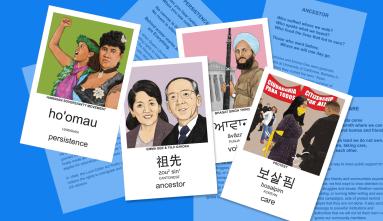 Democracy Center
Workshops & Classes
Bringing An American Vocabulary: Words to Action into the Classroom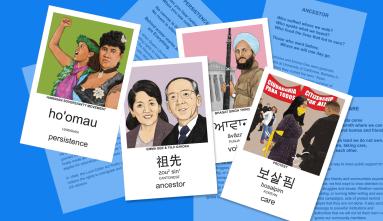 Partner Event
Performances
An American Vocabulary: Words to Action