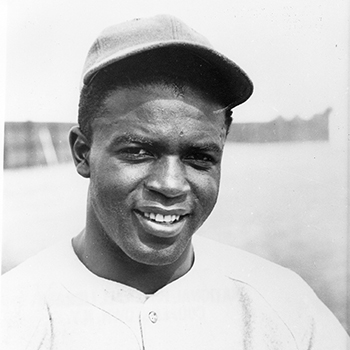 Jackie Robinson
Jackie Roosevelt Robinson made a historic entrance into Major League Baseball in 1947 as the first African American player of the 20th century. Robinson won Rookie of the Year honors, an award which today bears his name.
But beyond the Hall of Fame statistics and on-field success which helped Brooklyn reach the World Series in six of Robinson's 10 seasons, Robinson—an alumnus of Pasadena's Muir High School, Pasadena City College, and UCLA—changed American society. Robinson's character and talents challenged the traditional aspects of segregation, which then marked many other aspects of American life.
Playing with the Kansas City Monarchs of the Negro Leagues in 1945, the infielder was scouted by the Dodgers and team president Branch Rickey signed him in October 1945. Robinson spent the 1946 season at the Dodgers' Triple-A Montreal affiliate. Later two African American players were signed by Brooklyn after Robinson. They were catcher Roy Campanella and pitcher Don Newcombe, who were teammates on the Dodgers' 1946 Class-B Nashua affiliate in the New England League.
"If Jackie had failed, there's no telling where baseball would have gone to," Newcombe said. "Jackie and then Roy and I—and the ones that followed us—we all worked and couldn't fight back. Branch Rickey said, 'If Jackie fails, the deal is closed. No other owner in baseball will pick it up.'"
In 1971, Sport magazine named Robinson the most significant athlete of the previous quarter century. Robinson passed away at the age of 53 in 1972, but his legacy continues through the work of his widow Rachel and the Jackie Robinson Foundation.
Major League Baseball retired Robinson's uniform No. 42 on April 15, 1997, the 50th anniversary of his Dodger debut. Robinson has been honored three times by the United States Postal Service in 1982, 1999, and 2000. In 1984, President Ronald Reagan posthumously awarded Robinson the Presidential Medal of Freedom.
CAREER HIGHLIGHTS:
Named baseball's first Rookie of the Year in 1947
National League Most Valuable Player in 1949, leading the N.L. in batting average (.342) and stolen bases (37); also had 16 home runs and 124 RBI in 156 games
Six-time All-Star compiled a .311 lifetime batting average from 1947-1956
Elected to the National Baseball Hall of Fame in 1962 in his first year of eligibility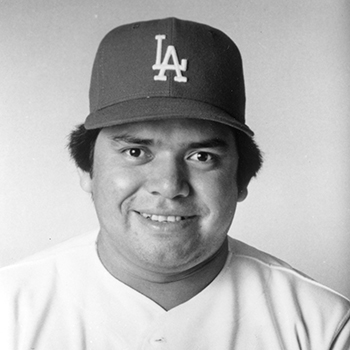 Fernando Valenzuela
In 1981, a soft-spoken and unknown rookie pitcher from Mexico captivated the hearts and minds of baseball fans around the world. Although the Dodgers would eventually post a series of stirring comebacks during the 1981 playoffs en route to a World Championship, "Fernandomania" during the first six weeks of the season remains one of the most memorable periods in Major League Baseball history.
Left-hander Fernando Valenzuela hurled five shutouts in his first eight starts, including a 2-0 gem on Opening Day when the 20-year-old Valenzuela made his first major league start in front of a sellout crowd at Dodger Stadium because of injuries to veterans Jerry Reuss and Burt Hooton. By mid-May, Valenzuela was the toast of the majors with an 8-0 record—eight complete games—and a 0.50 ERA in 72 innings. Off the field, Valenzuela visited President Ronald Reagan at the White House and also attended a reception by Mexican President Jose Lopez Portillo.
Valenzuela started the All-Star Game in Cleveland and became the first person to win both the Rookie of the Year and Cy Young Award in the same season.
"I don't think there's another player who created more baseball fans than Fernando," said Hall of Fame broadcaster Jaime Jarrin, who served as Valenzuela's interpreter during press conferences. "People here in the United States grew up with baseball; they played at school and knew the sport. But for three or four million Hispanics in Southern California, most of them grew up with soccer and were indifferent to baseball. But thanks to Fernando, they became baseball followers."
Valenzuela won 141 games in 11 seasons with Los Angeles, including his only career no-hitter against the St. Louis Cardinals at Dodger Stadium on June 29, 1990. He rejoined the Dodgers in 2003 as a broadcaster.
CAREER HIGHLIGHTS:
Only major league player since 1945 to win his first eight major league starts
First player to win both the Rookie of the Year and Cy Young Awards in the same season
Eight shutouts as a rookie which tied the major league record set by Ewell Russell of the 1913 Chicago White Sox; and was the first rookie since Herb Score of the 1955 Cleveland Indians to lead the league in strikeouts
Recorded his only career no-hitter on June 29, 1990, against the St. Louis Cardinals
Six-time National League All-Star struck out five consecutive batters in the 1986 Mid-Summer Classic in Houston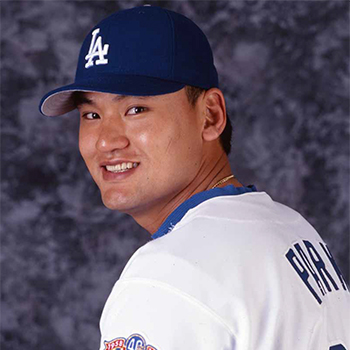 Chan Ho Park
In 1994, Dodger right-hander Chan Ho Park became the first South Korean-born player in major league history. Park was a sophomore at Hanyang University, Seoul, in 1994 when he was signed by Los Angeles as an amateur free agent. The Dodgers originally spotted Park during an international tournament in 1991 at Dodger Stadium.
Park holds the all-time record for most major league victories by an Asian pitcher. He compiled a 124-98 record while playing for the Dodgers, Texas Rangers, San Diego Padres, New York Mets, Philadelphia Phillies, New York Yankees, and Pittsburgh Pirates. Internationally, he played for the Orix Buffaloes in Japan and the Hanwha Eagles in South Korea.
Park enjoyed a breakout season in 1997 when he became a full-time starter. He tied for the team lead in victories and posted a 14-8 record and 3.38 ERA in 32 appearances. After a 15-9 record with the Dodgers in 1998, Park led the South Korean national team to a gold medal in the Asian Games, beating Japan in the final match.
"He's a unique and different person," Dodger pitching coach Jim Colborn said of Park in 2001. "He's sensitive and introspective. He likes spiritual things and philosophy. He really has a deep inner side to him that's intriguing once you get to know it. It's no wonder that he was the first Korean to play Major League Baseball. A pioneer like that has to have deep character, and he does."
Park's status as a national hero in South Korea was celebrated in 2013 during an art exhibition at Seoul Museum titled, The Hero That is We. It featured sculptures, statues, paintings, and memorabilia, all themed on Park's baseball career. Inside a baseball cap, Park wrote the phrase: "Just one aggressive attack to target. I Can Do It. So Just Do It."
CAREER HIGHLIGHTS:
First South Korean-born player in major league history
Compiled a 124-98 record with 1,715 strikeouts in 476 games with seven teams from 1994-2010
Winningest Asian pitcher in Major League Baseball history
Member of the 1998 South Korean gold-medal winning team at the Asian Games
National League All-Star in 2001 with the Dodgers, going 15-11 with 3.50 ERA
Represented South Korea in the 2006 World Baseball Classic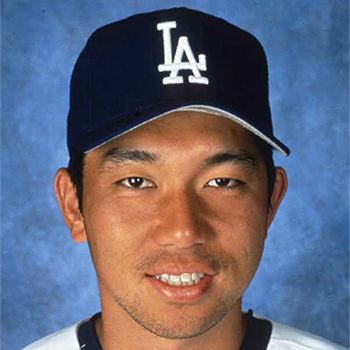 Hideo Nomo
After dominating the competition during his four All-Star seasons with the Kintetsu Buffaloes in the early 1990s, pitcher Hideo Nomo looked to the United States for his next baseball challenge. Although no Japanese player from Japan's professional leagues had appeared in a major league game in 30 years, Nomo signed a minor league contract with the Dodgers on February 13, 1995.
"He just had that presence about him, the presence of a winner," said Fred Claire, the Dodgers' executive vice president and general manager from 1987-1998. "Here's a guy who had everything. He put everything on the table—fame, fortune, and all the conveniences anyone would ever want. What he was saying was, 'I'm willing to risk everything just to go up against the best.' Perhaps the most memorable thing he said to me is, 'I haven't proven anything yet. I've done nothing.' That impressed me a lot."
Nomo made his Major League Baseball debut at San Francisco's Candlestick Park on May 2, 1995, pitching five scoreless innings against the Giants. It was the start of a memorable Rookie of the Year campaign for Nomo, who posted a 13-6 record and 2.54 ERA in 28 starts. Nomo set a single-game Dodger rookie record with 16 strikeouts at Pittsburgh on June 14. His homeland watched and rooted for him every start on giant-screen televisions placed on buildings and on street corners in 13 cities.
During his 12-year Major League Baseball career with seven teams, Nomo went 123-109 with a 4.24 ERA in 323 games. He is one of five players in history to pitch a no-hitter in both the National and American League. At the age of 45 in 2014, Nomo became the youngest person elected to the Japanese Baseball Hall of Fame and only the third elected in his first year of eligibility, following Victor Starffin (1960) and Sadaharu Oh (1994).
CAREER HIGHLIGHTS:
Became the first Japanese-born player in 30 years to appear in the major leagues after playing professionally in Japan's Central or Pacific Leagues
Named National League Rookie of the Year in 1995, posting a 13-6 record with a 2.54 ERA in 28 games with a league-leading 236 strikeouts
One of five players in Major League Baseball history to pitch a no-hitter in each league (with the Dodgers in 1996, Boston Red Sox in 2001). The others are Cy Young, Jim Bunning, Nolan Ryan, and Randy Johnson
With the Kintetsu Buffaloes, he led the Pacific League in strikeouts in each of his first four professional seasons (1990-1993); and reached the 1,000 career strikeouts plateau faster than any other player in the history of professional baseball in Japan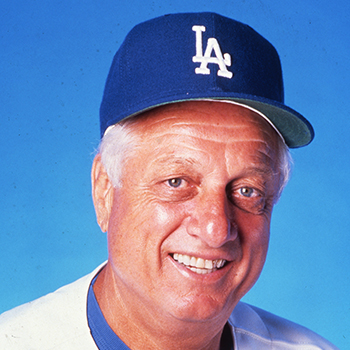 Tommy Lasorda
The rarest real estate in the world is the blank space on the walls of Tommy Lasorda's office at Dodger Stadium—photos, mementos, and trophies reflecting a life dedicated to baseball. The Hall of Fame manager is the only person in history to lead both a World Series championship team and an Olympic gold medal-winning team.
Lasorda marks his 65th season with the Dodgers in 2014. The native of Norristown, Pennsylvania, has become baseball's goodwill ambassador and is recognized around the world as a master motivator and for his boasts of "bleeding Dodger blue." Lasorda has visited 28 countries in his lifetime, and he served as Official Ambassador of both the 2006 and 2009 World Baseball Classic tournaments. He has spoken to troops at more than 40 military bases around the world.
During his 20-year tenure as Dodger manager, Lasorda compiled a 1,599-1,439 record and won two World Series, four National League pennants, and eight division titles. His 16 wins in 30 National League Championship Series games managed were the most of any manager at the time of his retirement in 1996. He is only one of five managers to pilot the same team for 20 years or more, joining Walter Alston, Connie Mack, John McGraw, and Bobby Cox.
Lasorda was a pitcher during his playing career and a member of the Brooklyn Dodgers' 1955 championship team. As a Dodger scout in 1965, he traveled to Japan and conducted baseball clinics with the Yomiuri Giants. In 1993, Lasorda's Dodgers visited Japan and Taiwan following the regular season. In 2000, he returned to Japan as an advisor to the Orix Buffaloes. In 2008, the Emperor of Japan awarded Lasorda the Order of the Rising Sun, Gold Rays with Rosette for his contributions to Japanese baseball.
CAREER HIGHLIGHTS:
Former left-handed pitcher was a member of the 1955 World Champion Brooklyn Dodgers
During his 20-year managerial career, he led the Dodgers to two World Series titles and four National League pennants
Uniform No. 2 was retired by the Dodgers upon his election to the National Baseball Hall of Fame in 1997
Coached Team USA to a gold medal in the baseball competition at the 2000 Summer Olympics in Australia