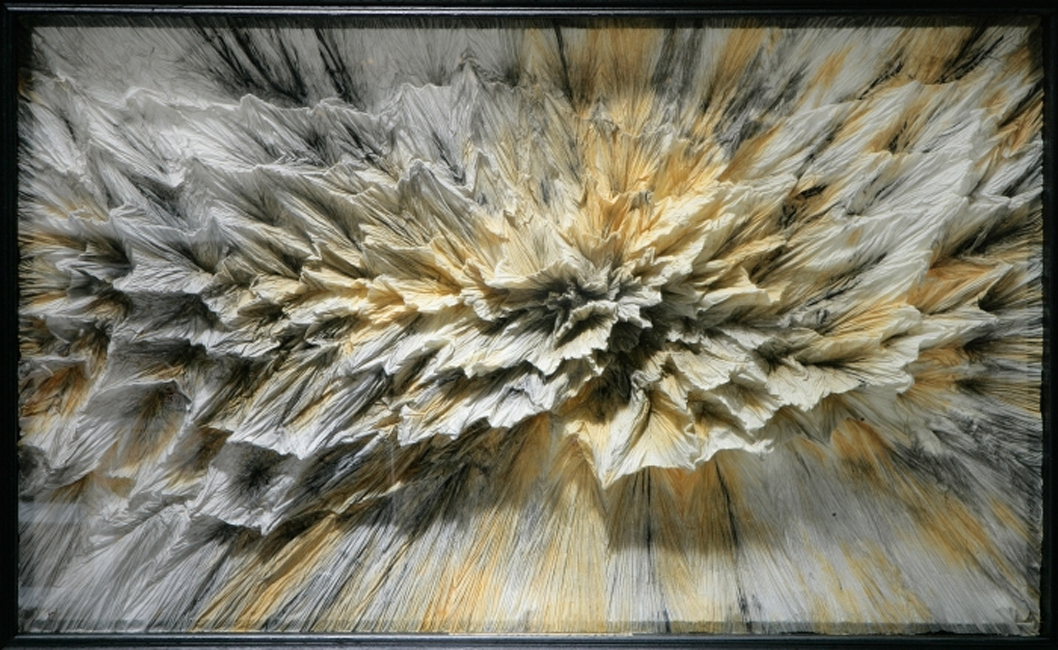 Gallery Activities
Give origami a try with hands-on activities in the galleries that will give you an opportunity to learn how origami has connections to art, math, and more!
Make or take a paper crane to share wishes for peace, hope, and longevity
Fold an origami penguin like the one displayed in the exhibition
Try your hand at modular origami
Put your math skills to use with some simple origami math
Exhibition Videos
A selection of origami related videos are playing in the exhibition:
Telescope Lens video (2003), 20 seconds. Based on an algorithm by Robert J. Lang. Courtesy of Lawrence Livermore National Laboratory.
Airbag Deployment video (1999), 8 seconds. In 1999, Robert J. Lang was contacted by EASi Engineering (now carhs gmbh) to help with software that simulates airbag deployment. Lang developed an airbag-flattening algorithm based on origami. Courtesy of Robert J. Lang and Rainer Hoffman.
Building Architecture: The Temporary Chapel, St. Loup (La Chapelle Ephémère St. Loup) video (2011), 12 minutes. Directed by Stéphanie Barbey. Produced by SRG SSR idée suisse. This documentary explores the inspiration behind the construction of a temporary chapel for a community of nuns in the Swiss foothills. The architect who was commissioned for the project created a structure modeled on origami folding and translated it into an exquisite building where the nuns could worship while their main chapel was under renovation.
ASICS Commercial—"60 Years in Pursuit of Perfection" (2007), 5 minutes. Designed by Sipho Mabona and Nordpol Hamburg+. The German advertising company Nordpol Hamburg+ asked Sipho Mabona to help them make an animated origami commercial that tells the story of the Japanese sports brand ASICS. He spent the following six weeks designing approximately 20 origami models for the video and consulting with the computer animators. The worldwide corporate movie has won numerous awards. Courtesy of Nordpol Hamburg+.
Robert J. Lang Folding a Turtle (2003), approx. 10 minutes. Courtesy of Robert J. Lang and Indigo Video & Image Services, Redding, CA.
Between the Folds (excerpt from the feature-length documentary) (2010). Directed by Vanessa Gould. Between the Folds is a documentary film exploring connections between art, science, and creativity through the eyes and experiences of the world's best paper folders. Courtesy of Vanessa Gould, Green Fuse Films/PBS, USA.
Origami Resources
Download the origami resources list produced for the exhibition (PDF).
Origami on Discover Nikkei
DiscoverNikkei.org is an award-winning web project of the Japanese American National Museum that provides an interactive space for sharing Nikkei-related community and personal stories, events, and resources.
Journal Articles:
Nikkei Album:
Share your own stories and photos on Discover Nikkei!
Guide by Cell
FREE AUDIO TOUR
Enhance your experience of Folding Paper with the FREE audio cell phone tour (no cost except your cell phone minutes).
Hear information and commentary by curator Meher McArthur. Hang up and call back as often as you'd like before, during, and after your visit. The Cell Phone Audio Tour Guide will be accessible from March 10 through August 26, 2012.
Prompt 200: Exhibition introduction
Prompt 201: Major figures who helped spread origami
Prompt 202: Complex creatures
Prompt 203: How many sheets?
Prompt 204: Naturalistic origami
Prompt 205: Modular origami and connected cranes
Prompt 206: Tessellations
Prompt 207: Abstract sculpture
Prompt 208: Contemporary applications of origami
Prompt 209: The installation art of Sipho Mabona