Gambatte! Legacy of an Enduring Spirit features modern and historical photographs documenting the stories of Japanese Americans who were forcibly incarcerated during World War II. Large-format contemporary photos taken by Pulitzer Prize-winning photojournalist Paul Kitagaki Jr. are displayed next to images shot 75 years ago by such noted photographers as Dorothea Lange, Ansel Adams, and others; each pairing features the same individuals or their direct descendants as the subject matter. Inspired by the Japanese concept of gambatte—to triumph over adversity—the exhibition chronicles the strength and legacy of a generation of Japanese Americans who persevered over unimaginable hardship.
On February 19,1942, President Franklin D. Roosevelt issued Executive Order 9066, which allowed for the designation of military areas "from which any or all persons may be excluded." Just days later, two such areas were designated. The United States government then established the War Relocation Authority (WRA) to manage the forced removal and incarceration of 120,000 Japanese Americans. During the WRA's existence, it commissioned photographers—Dorothea Lange, Clem Albers, Tom Parker, Francis Stewart, and others—to document the treatment of these Americans during the process of forced removal, at assembly centers, and at America's concentration camps.
In the late 1970s, Kitagaki learned that Lange had photographed his family in 1942 as they waited for a bus in Oakland, California, to take them to the Tanforan Assembly Center, a designated detention facility at the time. Since this discovery, Kitagaki has been on a mission to identify, seek out, and document other individuals captured in WRA-era photographs. 
"As I examined Lange's work, I realized that every photograph represented an untold story that was quietly buried in the past," said Kitagaki. "I had many questions and few answers. Most importantly, I wanted to know how Executive Order 9066 forever changed the lives of these incarcerees who unjustly lost their homes, businesses, and sometimes, their families."
To date, Kitagaki has created contemporary images of more than 60 individuals initially photographed by WRA staff and others. In homage to his predecessors, Kitagaki uses a 4" x 5" camera, similar to the equipment used by photographers in the 1940s, with black-and-white film. Illuminating a very dark time in American history as well as the legacy of its survivors, these large-format images tell personal and heartfelt stories, stories that should not be forgotten. While Japanese American incarceration occurred more than 75 years ago, current events and contemporary political rhetoric demonstrate that racism and prejudice still exist. The stories told in this exhibition may be more relevant now than ever.
Exhibition Images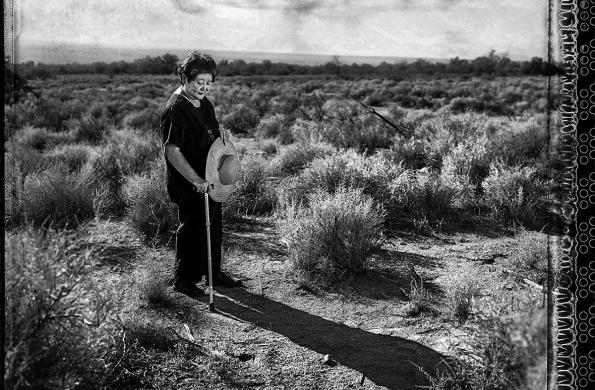 Yukiko Okinaga Llewellyn (née Hayakawa) at Manzanar, California, 2005.
Paul Kitagarki Jr.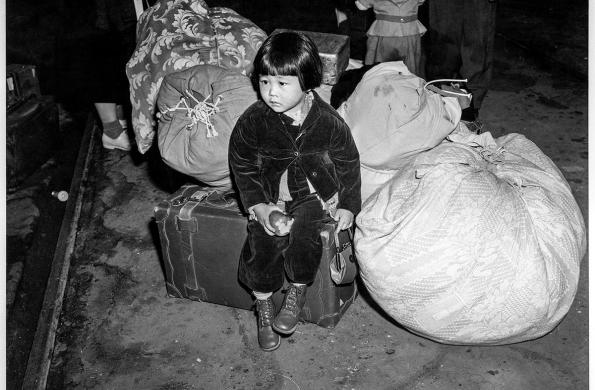 Yukiko Okinaga Llewellyn (née Hayakawa) was sent to the Manzanar concentration camp with her single mother during World War II.
Clem Albers, Los Angeles, 1942.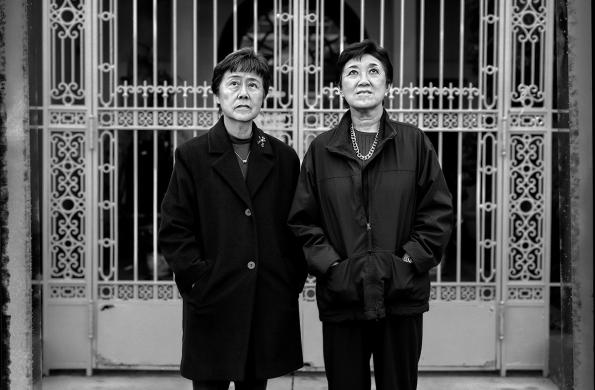 Helene Nakamoto Mihara and Mary Ann Yahiro at Rosa Parks Elementary School in 2007 (formerly the Raphael Weill School) in San Francisco, California).
Paul Kitagaki Jr.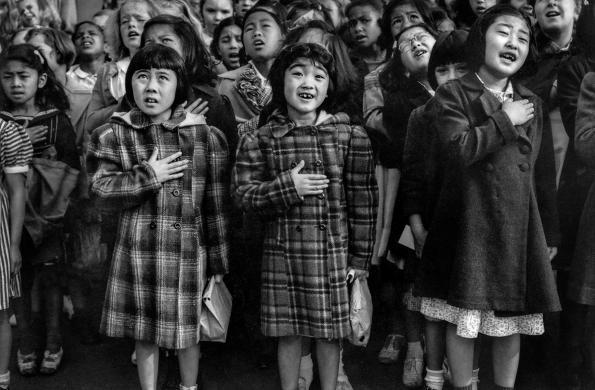 Helene Nakamoto Mihara and Mary Ann Yahiro at Raphael Weill School in San Francisco, California, in 1942.
Dorothea Lange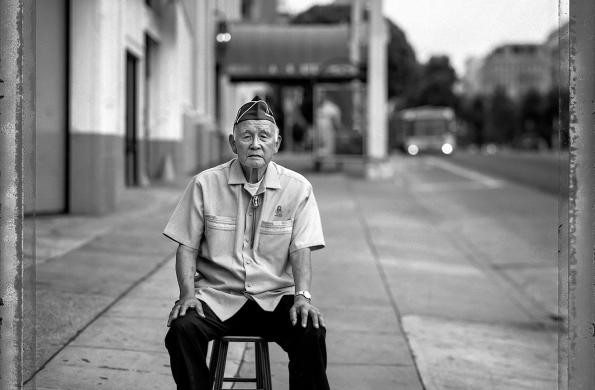 Mitsunobu "Mits" Kojimoto, 2008
Paul Kitagaki Jr.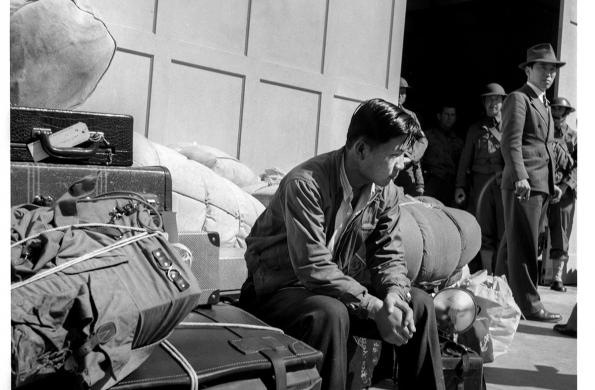 Mitsunobu "Mits" Kojimoto outside the building on Van Ness Avenue in San Francisco where he waited in 1942 for a bus to take him to the Santa Anita Assembly Center.
Dorothea Lange