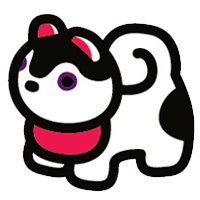 40 innovative contemporary artworks inspired by Hello Kitty and her world for the exhibition were created for the exhibition by artists across the United States and in Japan, United Kingdom, and Ireland.
APAK • Asuka Satow • Audrey Kawasaki • becca • Ben Venom • Brandi Milne • Buff Monster • Colin Christian • D*Face • Edwin Ushiro • Eimi Takano • Gary Baseman • Hikari Shimoda • Jason Woodside • Jeni Yang • Jonathan Stein • Julia Sh • Junko Mizuno • Kazuki Takamatsu • Kevin Earl Taylor • Konatsu • kozyndan • Kristin Tercek • Marc Dennis • Mark Nagata • Mark Nixon • Martin Hsu • Michael Courville • Nicole Maloney • Nina Jun • Oddjob • Osamu Watanabe • Paul Frank • Scott Scheidly • Simone Legno for tokidoki • Souther Salazar • TADO • Yarns and Noble • Yis "Nosego" Goodwin • Yoskay Yamamoto
Portland, Oregon
APAK is the husband and wife team of Aaron and Ayumi Piland. Their paintings, prints, and whimsical objects depict the adventures of fanciful beings in otherworldly environments.
Tokyo, Japan
Asuka Satow began making ballpoint pen artwork at the age of 18. Her playful and richly detailed drawings, prints, and product designs capture worlds of minutiae in a single image.
Los Angeles, California
With a precise technique influenced in equal parts by manga comics and Art Nouveau, Audrey Kawasaki creates lush, graphic paintings that evoke both innocence and eroticism.
Austin, Texas
Becca Midwood, who simply signs her works "becca," has carved a name for herself in the heavily male-dominated world of street art. Before moving to Austin, she produced many popular works on the streets of Los Angeles, often depicting 1950s-style images of women and girls in unexpected urban settings.
San Francisco, California
Ben Venom's unique creations juxtapose traditional handmade crafts, such as quilts, with B-movie elements borrowed from vintage tattoos, the occult, and motorcycle gangs. 
Huntington Beach, California
Brandi Milne's rustic, melancholy scenarios recall classic European Gothic paintings while simultaneously expressing deeply personal narratives of growth and struggle.
Brooklyn, New York
After making a name for himself by putting up hand-silkscreened posters across Los Angeles, Buff Monster built a creative empire that includes paintings, prints, stickers, vinyl toys, and plush. His saturated bubblegum landscapes, populated by alien and animal-like creatures, are influenced by heavy metal music, ice cream, and Japanese culture. 
Riverview, Florida
A native of London, Colin Christian moved to the U.S. in 1992, where a small business making latex clothes for fetish stores led to a blossoming interest in creating original sculptures. Today he works full-time on his art, which takes inspiration from old sci-fi movies, pinup girls and supermodels, anime, ambient electronic music, and H.P. Lovecraft.
London, England
Dean Stockton, more commonly known as D*Face, has been a leading figure in British street art. Heavily influenced by graffiti art and skateboard culture, Stockton made a name for himself on the streets of London using spray paint, stickers, posters, and stencils. He also founded London's first street art gallery, Outside Institute, which operates today as Stolen Space Gallery.
Culver City, California
Edwin Ushiro's ink and acrylic works are filled with the fantastic stories, both natural and supernatural, that he grew up with in his native state of Hawaii. In addition to exhibiting his original work in museums around the world, Ushiro also works in the entertainment industry as an artist and designer.
Tokyo, Japan
Eimi Takano creates paintings and plush sculptures that embody the Japanese kawaii aesthetic as well as a Hello Kitty-like philosophy of spreading happiness. Her work, in which inanimate objects such as cupcakes have smiling faces, is informed by her traditional Japanese belief that all things in the universe have souls.
Los Angeles, California
In addition to his whimsical, circus-like paintings and sculptures, which are exhibited and collected throughout the world, Gary Baseman is also known as the creator of the award-winning Teacher's Petanimated television series and the artistic designer of the popular board game Cranium.
Nagano, Japan
Hikari Shimoda's otherworldly paintings and drawings critique the chaos of society by portraying children and small animals as disturbing, alien creatures. Shimoda paints in the irasuto style (i.e. inspired by manga and anime), which she says was shaped by the Japanese pop culture she grew up with.
New York, New York
Jason Woodside's hyper-stylized geometric abstractions have appeared on painted canvases as well as on the walls of commercial establishments and museums. He has exhibited widely and his collaborations and commissions have included OBEY Clothing, The New Museum, Mother NYC, and Michel Roux.
Burbank, California
Jeni Yang's passion for animals, nature, and food leads her to create a multitude of whimsical illustrations, drawings, paintings, sculptures, and animations. Born and raised in Taiwan, Yang is often influenced by folk art, as seen in her contemporary takes on parquetry and its Japanese variation, yosegi.
Coral Springs, Florida
Sometimes known as "the pop artist with a message," Jonathan Stein always begins with a strong concept which he then develops through layers of narrative and reference. An illustrative portraitist, mixed media fine artist, and filmmaker, Stein's off-kilter works confront social injustices while also making viewers laugh.
Los Angeles, California
Julia Sh is a Swedish-born visual artist working primarily in photography. Her often collaborative practice, in which she explores the human body as a sculptural medium, is inspired by fine arts, dancing, and architecture.
San Francisco, California
Born and raised in Tokyo, Junko Mizuno is a self-taught manga artist who is known for her "Gothic kawaii" style and powerful and erotic female imagery. In addition to her comics, she designs T-shirts, calendars, postcards, and other collectibles. 
Sendai, Japan
Kazuki Takamatsu's haunting images explore dark narratives related to mortality and social conformity. His unique depth-mapping technique combines classic mediums such as drawing, airbrush, and gouache painting with computer graphics to produce an ethereal, high-tech look.
San Francisco, California
Kevin Earl Taylor's paintings are striking tableaus that incorporate naturalistic wildlife and geometric abstraction. Though primarily an oil painter, he also explores time-based art forms such as performance, sound, video, and installation.
Tokyo, Japan
Konatsu is an illustrator and digital artist. She is best known for inventing the very popular soft vinyl cat monster figure Negora, which she has developed and released under her own soft vinyl toy brand, Konatsuya.
Los Angeles, California
kozyndan is the husband-and-wife team of Kozue and Dan Kitchens, who work collaboratively to create highly detailed paintings and drawings for both commercial and fine art outlets. Their works often reflect their mutual obsession with the ocean and nautical life.
Jackson, New Jersey
Kristin Tercek started making plush dolls as a hobby under the name Cuddly Rigor Mortis LLC. She soon moved on to painting and expanded her cast of characters to include food, botanicals, and real and imaginary animals. The core of her aesthetic, which combines cuteness with creepiness, remains the same.
Brooklyn, New York
Marc Dennis explores the charged subjects of beauty, pleasure, and power through hyper-realistic, staged and voyeuristic images of contemporary American culture. His stark paintings engage the transformative possibilities of familiar tropes and icons.
San Francisco, California
Mark Nagata is best known as the founder of Max Toy Company, a maker of collectible toys and artwork inspired by vintage and contemporary Japanese toys. Named after Nagata's son, Max Toy Company specializes in custom and limited edition kaiju (Japanese monster) toys and artwork.
Dublin, Ireland
Mark Nixon is an award-winning portrait photographer specializing in editorial and advertising photography. His personal projects include Much Loved, a popular series of portraits of much loved soft toys, with accompanying stories and remembrances from their owners.
San Francisco, California
During his childhood in Taiwan, Martin Hsu was surrounded by characters like Hello Kitty, Tuxedo Sam, and Little Twin Stars. Today, nostalgia for these iconic designs informs his professional work for animation companies as well as his more personal creations, which include the popular Dragon Boy vinyl figurine and a variety of paintings and prints.
Los Angeles, California
As an accomplished prop master, Michael Courville has created props and set decorations for films, television shows, theater groups, and Sanrio's Puroland theme park in Japan. Courville is also a self-taught mixed-media artist whose dramatic works draw inspiration from life experiences, dreams, and travel.
Los Angeles, California
Photographer Nicole Maloney makes works that carry a message of tolerance and inclusivity. Her current project, OOMO (Out of Many One)—a kinetic, interactive cube of photographs of everyday people—can be seen on the plaza outside of JANM.
Orange, California
Nina Jun's ceramic balloons and pillows are an attempt to preserve the innocence and happiness of childhood. The appealing objects, which combine levity and gravity, also contribute to expanding the role of ceramics in contemporary art.
Tokyo, Japan
Oddjob is a creative studio and artist agency with clients ranging from streetwear brands to Japan's national broadcasting station. Its diverse stable of artists work extensively with the concept of kawaii in a wide variety of media including animation, illustration, character design, and music production. 
Tokyo, Japan
Osamu Watanabe is known for elaborate paintings, sculptures, and installations that mimic sweet foods such as cakes decorated with candies and fruits. As a child, his mother taught in confectionery school, giving the young Watanabe an immersion in sweets that inspires him to this day.
Pasadena, California
Paul Frank is an internationally known artist whose bold, satirical designs for clothing and accessories have appeared in magazines, television shows, commercials, music videos, and motion pictures. Frank also creates fine art, which he describes as his character designs brought to life in soft sculptural form through sewing, carving, woodworking, and screen printing.
Orlando, Florida
Scott Scheidly's paintings blend uncanny elements to create darkly surreal worlds of their own. A recent sold-out exhibition called The Pinks examined what would happen if iconic figures like Adolf Hitler and Chewbacca were realistically rendered in bright pink hues.
Los Angeles, California
Simone Legno is the creative director and co-founder of tokidoki, an innovative line of apparel, handbags, cosmetics, and accessories. Tokidoki, which means "sometimes" in Japanese, has a worldwide following and has collaborated with numerous brands including LeSportsac, Marvel, Levi's, Smashbox cosmetics, and Xbox. Legno describes his brand's philosophy as "the hope that something magical will happen to us."
Portland, Oregon
Souther Salazar's artwork transports the viewer into a vibrant and endless world of overlapping narratives and dreamscapes—half-remembered, half-imagined places "where stories can develop and take on a life of their own." He often exhibits his collages, paintings, drawings, and sculptures in dense and frenzied installations that encourage exploration and discovery. 
Sheffield, United Kingdom
TADO is Mike and Katie, a husband-and-wife product design and illustration team. Launched in 2001, when the pair began to work together at university, TADO quickly became an established name through their unique style and humor. In addition to their commercial work, Mike and Katie also exhibit their artwork internationally.
San Diego, California
Yarns and Noble is the distinctive work of Geofrey Redd. Using wood scraps scavenged from the streets of San Diego as his canvases, Redd hammers whimsical images onto them using hundreds and sometimes even thousands of nails. He then "colors" the designs with dense layers of yarn.
Philadelphia, Pennsylvania
Yis Goodwin, who goes by the handle "Nosego," is a street artist with a passion for illustration and media arts. His colorful and highly detailed works have adorned walls throughout his native Philadelphia and have also been shown in galleries around the country.
North Hollywood, California
Born and raised in Japan, Yoskay Yamamoto moved to the United States at the age of 15. A self-trained illustrator, Yamamoto's artistic tastes expanded as he fell in love with the urban culture of the West Coast. Yamamoto's work blends the popular lowbrow imagery of his adopted home with more traditional and mythical Japanese elements.