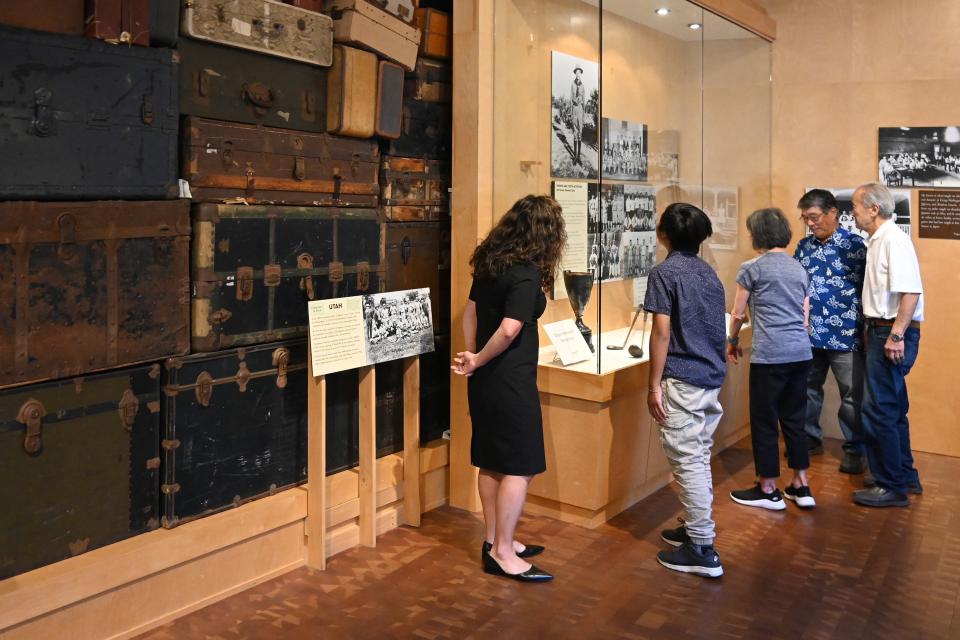 What will your legacy be?
Share your legacy with future generations and be a part of JANM's mission by including the Museum in your estate plans.
Your gift, no matter the size, will support areas of the Museum that mean the most to you and ensure that future generations will learn the lessons that you value now and into the future.
Create your legacy today!
Ways to Give
Discover 6 opportunities.
Legacy Society
Participate, preserve, and plan.
FAQ
Your questions, answered.
Make a Lasting Impact
Body
Discover how you can be a part of JANM's mission and support the understanding and appreciation of America's ethnic and cultural diversity through the Japanese American experience.
Make a Lasting Impact—Make a Planned Gift to JANM
Make a Lasting Impact—Make a Planned Gift to JANM
Ways to Make a Planned Gift
A charitable bequest is a popular and easy way to make a planned gift. 
By including JANM in your will or living trust you will help us promote understanding and appreciation of America's ethnic and cultural diversity by sharing the Japanese American experience for future generations.
Charitable bequests are fully deductible for estate tax purposes and allow you to make a future gift without affecting your assets during your lifetime.
You may indicate that JANM is to be the recipient of a specific amount, a percentage of your estate, or remainder amount after all your specific beneficiaries have received their assets. In addition to cash, you can give securities, real estate, art, and other forms of personal property. A bequest can be made for the general benefit of JANM or for the benefit of a particular area or program of interest.
If you have already drafted a will, your attorney may add JANM as a beneficiary through a simple amendment called a codicil. Similarly, a gift provision for JANM may be added to a revocable living trust.
Charitable Gift Annuities & Trusts
A JANM Charitable Gift Annuity can be a wonderful way to receive an additional source of dependable income, secure an income tax deduction, and make a gift that will benefit generations to come.
The benefits included compelling:
Increased Income: Assets like low-interest CDs and or low-yielding appreciated securities can be converted into an annuity paying a great rate.
Fixed Regular Payments: Your annuity payments will remain the same, no matter what happens to the financial markets. And, part of your annuity payment may be tax-free.
Income Tax Deduction: You will receive an immediate charitable deduction for a significant portion of your gift.
Creating an Important Legacy: Direct your gift to support the area or program closest to your heart.
With a charitable gift annuity, you transfer assets today that will be used in part by the Museum in the future. In the meantime, you will receive income payments for life. Many donors establish multiple annuities over time and take advantage of higher rates as they grow older.
Single Beneficiary
Selected Gift Annuity Rates
| | | | | | | |
| --- | --- | --- | --- | --- | --- | --- |
| Age | 65 | 70 | 75 | 80 | 85 | 90+ |
| Rate | 4.2% | 4.7% | 5.4% | 6.5% | 7.6% | 8.6% |
 
Rates for two beneficiaries differ.
Example: At age 75, you establish a charitable gift annuity with a $25,000 cash gift to JANM. Based upon the rate of 5.4%, you will receive income payments of $1,350 each year for the rest of your life. In addition, the gift provides you with a current income tax charitable deduction of approximately $11,071 and $1,123 of your annual payments will be tax-free for the next 15 years.
Gift annuities are easy to establish and can be created with as little as $5,000 for one person or $10,000 for a couple. JANM also offers deferred payment gift annuities, which can be an excellent way to supplement your retirement program in the future.
In addition to Charitable Gift Annuities, you may want to discuss the option of a Charitable Remainder Trust or Charitable Lead Trust with your financial advisor.
A Charitable Remainder Trust (CRT) is a type of trust that provides you and/or other beneficiaries with income for life or a term of years and then distributes the remaining assets to JANM. A tax deduction is available for an amount equal to the present value of what the museum will receive when the trust terminates.
Although a more complex undertaking than a charitable gift annuity, a CRT gives you the flexibility to customize it to meet your goals. You not only select the beneficiaries but also the trustees who manage the assets and in the income distribution rate. CRTs can provide a fixed payout (annuity trust) or a variable payout that fluctuates with the value of the trust assets (unitrust).
A Charitable Lead Trust (CLT) enables you to pass assets on to your heirs with significantly reduced gift or estate taxes. A CLT is an arrangement in which assets are transferred to a trust that pays an annual amount to JANM for a set number of years, with the assets in the trust ultimately passing on to another beneficiary, such as your children. Primarily created by those in higher estate tax brackets, the trust can pass its assets on to younger generations with significantly reduced gift or estate taxes.
IRA Charitable Rollovers—A Tax-Saving Way to Support JANM
If you are 70½ or older you can use your IRA to make charitable contributions to JANM and other charities of up to $100,000—without having to count the transfers as income for federal income tax purposes. This can be a wonderful opportunity to make a current gift to support a specific JANM program or area of interest within the museum.
Typically, an IRA withdrawal followed by a charitable contribution would have to be reported as income then deducted as a charitable gift. But with the IRA Charitable Rollover, distributions from an IRA made directly to JANM will be excluded from your income altogether. Furthermore, the transfer can count toward your required minimum distribution (RMD) for the year.
Don't let this tax-wise giving opportunity to give today pass you by. Your IRA custodian should have distribution forms you can use to initiate the transfer or feel free to contact us for assistance. 
Future IRA Gift Option
If you are interested in helping JANM in the future rather than right now, you may want to consider naming JANM as the beneficiary of your IRA or other retirement plan.  
By naming JANM as the beneficiary of these assets and leaving other less-taxed assets to your heirs you can continue to make withdrawals from your IRA during your lifetime and leave its remaining value to JANM to support the area of the Museum you love the most.
IRAs and retirement plans such as a 401(k) can be great assets to leave to JANM.
Naming the Museum as a beneficiary of your retirement plan is easy.  Simply contact your retirement plan administrator to obtain the appropriate beneficiary forms.
An option to consider is to name JANM as the beneficiary of some or all of your retirement plans and leave other, less-taxed assets to your loved ones.
Real estate can be contributed now as an outright gift or later as a testamentary gift. It is also an attractive asset when used to fund a charitable remainder trust to provide income to you or others.
Gifts of real estate include a:
House
Condominium
Vacation home
Apartment building
Commercial building
Farm
Land
With retained life estate arrangement, you may contribute your personal residence now but continue to reside there for the remainder of your lifetime. This gift enables you to continue to enjoy your home without diminishing your standard of living, and obtain an immediate charitable deduction for income tax purposes.
Life insurance is another way to make a gift to JANM.
By naming JANM the irrevocable beneficiary and owner of your life insurance policy, you can obtain an immediate income tax charitable deduction equivalent to either the policy's cash surrender value or replacement value. If additional premiums are due, you can deduct those payments as charitable contributions each year. Any benefit JANM receives from your insurance will be excluded from your taxable estate.
Body 1
Contact Us
We welcome your inquiries, and look forward to assisting you with a future gift through a means of planned giving that is right for you. Please join us!
For information about planned giving, please contact:
Japanese American National Museum
Attn: Development Department (Planned Giving)
100 N. Central Avenue
Los Angeles, CA 90012
Contact Nadiya Conner or John Esaki at:
Phone: 213.830.5646
E-mail: development@janm.org
FAQ
A planned gift is a way to make a gift to your charity of choice through thoughtful estate planning. It takes your needs and the needs of your loved ones into consideration while supporting a cause or charity that is meaningful to you.
What is the difference between a bequest and a beneficiary designation?
A bequest is a gift that you make through a will or trust. A beneficiary designation is a gift you make through a contract. 
Life insurance, investment accounts, and retirement plans are examples of assets that pass by contract. If you do not name a beneficiary of these contracts, the assets will go to your estate and pass by bequest.
When an asset passes through your estate, it is subject to probate, which can add costs and time delay to estate administration which is why it is important to complete and regularly review your beneficiary designation forms. 
You can make a gift to charity via a bequest or beneficiary designation form.
How can I make a planned gift to JANM?
The easiest way to make a planned gift is by designating JANM as a beneficiary in your will. Other options include designating JANM as a beneficiary of your retirement plan or life insurance policy. 
Your attorney or financial planner may have suggestions that are best suited to your unique needs.
How do I benefit from a planned gift?
A planned gift supports your favorite organization by creating future opportunities and advancing its mission, enabling you to make a much more significant impact than you may have thought possible. In addition to securing the organization's future, such a gift could benefit you financially by reducing your income and estate tax and increasing your cash flow.
 
How do my family and other loved ones benefit?
A planned gift can create potential savings on capital gains taxes or estate taxes, lessening the financial burden on your family and loved ones.
For instance, a planned gift can reduce your estate tax liability. The assets that you transfer to JANM remain outside of your taxable estate.
How does JANM benefit from a planned gift?
Your gift can make a significant impact on JANM now and/or in the future. You also have the option to direct your gift to support specific programming areas at JANM, such as exhibitions and education. The JANM Development Office staff can assist you with the designation and provide suggested language for your will or codicil to identify for the area(s) you would like to support.
Can I designate how I want my planned gift to be used?
You can specify your wishes through a Gift Agreement with JANM.
Creating a detailed will is critical to ensuring that your estate will continue to yield benefits to your family and to the organizations that are important to you in line with your wishes.
How do I name JANM in my will?
To name JANM as a beneficiary, please include the following language
Specific sum of money:
"I give to Japanese American National Museum, 100 N. Central Ave., Los Angeles, CA 90012, Federal Tax Identification Number 95-3966024 the sum of ___________________Dollars ($___________)."
Specific percentage:
"I give to Japanese American National Museum, 100 N. Central Ave., Los Angeles, CA 90012, Federal Tax Identification Number 95-3966024 ______% of __________________."
To make a specific bequest, please contact JANM Development Office Staff for further details and language.
How do I name JANM as a beneficiary in my retirement plan or life insurance policy?
Leaving your retirement plan or IRA (or a portion of it) to JANM is a tax-wise gift. Naming JANM as the recipient of your retirement plan after your lifetime (or after the death of your and your spouse's survivor) avoids all estate and income taxes on the plan assets. Similar benefits can apply when designating JANM as the beneficiary of your life insurance policy.
To make this gift, simply notify your plan or policy administrator of your wish to change the beneficiary. A "change of beneficiary" form may be required, and your spouse may need to sign consent to the change of designation. The tax ID to identify the JANM as a designated beneficiary is: 95-3966024.
If your spouse and children are currently the beneficiaries of your retirement plan or life insurance policy, you can continue to keep them as beneficiaries, and also include JANM as the beneficiary of a portion of your plan or policy. Upon your death, the plan administrator can "cash out" JANM's share without affecting your family's portion so that JANM and your heirs benefit from your financial planning and generosity.
For more information, please contact the JANM Development Office at development@janm.org or call 213.830.5646.