FOR IMMEDIATE RELEASE - August 28, 2018
PRESS CONTACTS:
Leslie Unger - lunger@janm.org - 213-830-5690
JAPANESE AMERICAN NATIONAL MUSEUM COLLECTIONS MANAGER SELECTED FOR SMITHSONIAN VISITING PROFESSIONALS PROGRAM
---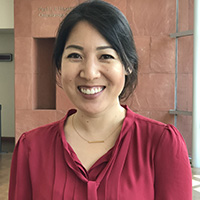 Los Angeles, CA—Kristen Hayashi, the Collections Manager at the Japanese American National Museum, has been selected for the Smithsonian Affiliations Visiting Professionals Program (VPP) for 2018. Along with nine other professionals from across the Smithsonian Affiliates network, Hayashi will spend two weeks in Washington, DC, exploring programmatic uses of digital technology with art collections.
With support from the Getty Foundation, the Visiting Professionals Program is designed to provide in-depth access to Smithsonian subject and technical experts, resources, and collections, allowing participants the time and support needed to tackle a pre-identified challenge for their organization, and equip them with tools and strategies to return home to effectively address the challenge. Hayashi will be seeking strategies for developing a work plan to effectively digitize JANM's extensive artwork holdings so that they can be well-presented to a broad online audience.
"Kristen is a tremendous asset to the museum and a valued member of our staff. I'm proud that she was selected to participate in this outstanding professional development opportunity that will help inform key decisions and actions JANM takes with our collection as we seek to make it more widely available through digital technology," said Ann Burroughs, President and CEO of JANM.
Hayashi will be in Washington October 29 through November 9, 2018. There will be presentations by Smithsonian staff, small group learning, site visits with deep dives into Smithsonian resources, problem solving exercises and other interactive learning activities.
Hayashi became the JANM Collections Manager in 2017. Prior to that she held a number of positions at the Natural History Museum of Los Angeles County. She earned her BA in American Studies from Occidental College and her MA in History, with a concentration in Museum Curatorship, from University of California, Riverside. She is currently a PhD candidate at UC Riverside as well as a graduate research assistant and a teaching assistant there.
# # #
NOW ON VIEW AT JANM:
hapa.me – 15 years of the hapa project
Through October 28, 2018
Artist Kip Fulbeck continues his project, begun in 2001, of photographing persons who identify as "hapa"—of mixed Asian/Pacific Islander descent—as a means of promoting awareness and positive acceptance of multiracial identity. As a follow-up to kip fulbeck: part asian, 100% hapa, his groundbreaking 2006 exhibition, hapa.me pairs the photographs and statements from that exhibition with contemporary portraits of the same individuals and newly written statements, showing not only their physical changes in the ensuing years, but also changes in their perspectives and outlooks on the world. In addition, hapa.me includes portraits of hundreds of new participants and an interactive section where, on select days, viewers can join the community by having their portrait taken and writing their own personal statement.
Common Ground: The Heart of Community
Ongoing
Incorporating hundreds of objects, documents, and photographs collected by JANM, this exhibition chronicles 130 years of Japanese American history, from the early days of the Issei pioneers through the World War II incarceration to the present. In commemoration of the 30th anniversary of the Civil Liberties Act of 1988, the final section of Common Ground has been reimagined to further emphasize the redress movement, the landmark passage of the Act, and its relevance today. Two pages of the original Civil Liberties Act will be on display through September 23, 2018, on loan from the National Archives.
About the Japanese American National Museum (JANM)
Established in 1985, the Japanese American National Museum promotes understanding and appreciation of America's ethnic and cultural diversity by sharing the Japanese American experience. Located in the historic Little Tokyo district of downtown Los Angeles, JANM is a hybrid institution that straddles traditional museum categories and strives to provide a voice for Japanese Americans as well as a forum that enables all people to explore their own heritage and culture. Since opening to the public, JANM has presented over 80 exhibitions onsite and traveled 20 of its exhibitions to locations around the world, including the Smithsonian Institution and the Ellis Island Museum in the United States, and several leading cultural museums in Japan and South America.
JANM is located at 100 N. Central Ave., Los Angeles. Museum hours are Tuesday, Wednesday, Friday, Saturday, and Sunday from 11 a.m. to 5 p.m. and Thursday from noon to 8 p.m. General admission is $12 adults, $6 students and seniors, free for members and children under age five. Admission is free to everyone on Thursdays from 5 p.m. to 8 p.m. and every third Thursday of the month from noon to 8 p.m. General admission prices and free admission times may not apply to specially ticketed exhibitions. Closed Monday, 4th of July, Thanksgiving, Christmas, and New Year's Day. For more information visit janm.org or call 213.625.0414.