FOR IMMEDIATE RELEASE - July 1, 2020
PRESS CONTACTS:
Joseph Duong - jduong@janm.org - 213-830-5690
On the Passing of Lawson Iichiro Sakai
---
Los Angeles, CA – It is with great sadness that the Japanese American National Museum acknowledges the passing of Lawson Iichiro Sakai, 96. He was a decorated member of the famed 442nd Regimental Combat Team and the founder of the Friends and Family Nisei Veterans (FFNV) group that organized annual get-togethers in Las Vegas and trips abroad for the Japanese American World War II veterans and their families.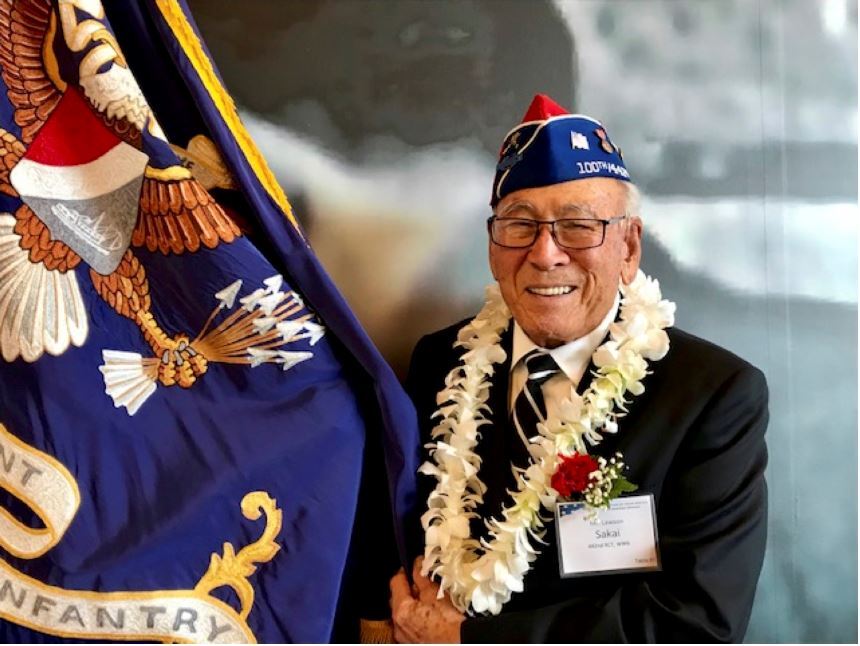 Lawson, who grew up in Montebello, CA, volunteered for the U.S. Army during World War II and trained with the 442nd at Camp Shelby with individuals such as Senator Daniel Inouye. He participated in the 442nd's most famous battle, the rescue of the "Lost Battalion" in France in 1944. Wounded more than once, Lawson was almost killed in this crucial battle. He eventually recovered and returned to America where he married Mineko Hirasaki and started his family.
Outwardly outgoing and fun-loving, Lawson acknowledged that he suffered from post-traumatic stress disorder (PTSD) from his war experiences. But he remained active with his veterans' gatherings, rode in this year's Rose Parade, and was often a spokesperson for the 442nd. He did numerous interviews over the years, one of which is shared on JANM's Discover Nikkei website.
In 2019, JANM, with the generous support of Japanese American Stories, collaborated with StoryFile and recorded 25 hours of interviews with Lawson in which he answered 800 questions. In the fall, through the use of StoryFile's artificial intelligence technology, visitors to JANM will be able to engage with an avatar of Lawson and hear his stories in his own voice. Thanks to individuals like Lawson, JANM and the United States have a greater understanding of the experiences of the Japanese American soldiers during World War II.
The leadership, staff, and volunteers of JANM wish to convey our deepest condolences to the family of Lawson Sakai and to thank him for his courage and heroism that inspired generations and enriched our community.
# # #