(96.601, 98.138, 99.63) Includes sixty-three oil paintings painted by artist Hisako Hibi at Tanforan Assembly Center in California and Topaz concentration camp in Utah from 1942 to 1945. Subjects include various daily activities, still lifes, and landscapes.
Born Hisako Shimizu in Fukui, Japan in 1907, Hibi came to the United States in 1920 with her parents. In 1925, when the rest of her family returned to Japan, she enrolled at the California School of Fine Arts, now the San Francisco Art Institute, where she met another Issei artist, George Matsusaburo Hibi (1886-1947) whom she married in 1930. During the next decade the Hibis individually exhibited in venues throughout the Bay Area, including the important annual exhibitions of the San Francisco Art Association.
During World War II, the Hibis, along with their two young children, were incarcerated in Tanforan Assembly Center and then Topaz Concentration Camp in Utah. At both Tanforan and Topaz, the Hibis became involved in the art school, founded by their friend and fellow artist, Chiura Obata. 
After the war the Hibis relocated to New York City. Tragically, George Hibi died shortly afterwards in 1947. In 1953, Hibi became a U.S. citizen. In 1954, she moved back to San Francisco where she remained until her death in 1991. Hibi exhibited widely in the Bay Area in the postwar years. In 1985, the San Francisco Arts Council selected her as Artist of the Year.
Related to this Collection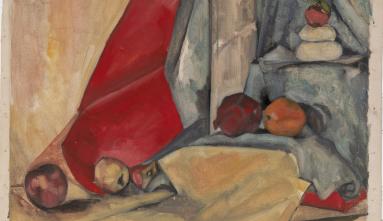 A Process of Reflection
Items in this collection were featured in the exhibition, A Process of Reflection: Paintings by Hisako Hibi, which was on display at JANM, July 27, 1999 – January 30, 2000.