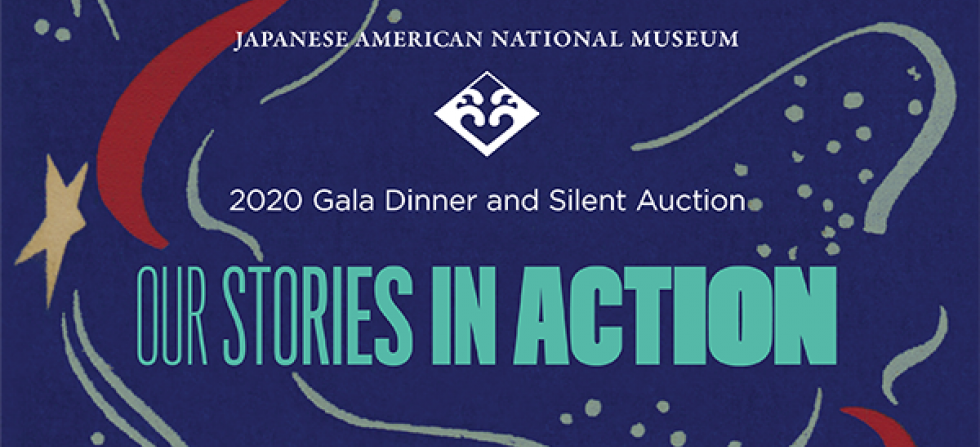 Virtual Gala Program
Body 1
The virtual program will stream starting at 5:30 p.m. (PDT) on Saturday, April 18, 2020. The expected duration will be approximately 50 minutes. Please return to this site or visit our YouTube channel to view the live stream video. You will need a computer or mobile device with internet connectivity to watch.
Tune in for remarks by JANM President and CEO Ann Burroughs and special guests, as well other program elements. The winner of the 2020 Lexus Opportunity Drawing will be announced.
If you experience difficulty accessing the program or participating in the online auction, please contact us at 213.830.5658. As this is our first time live streaming the Gala program, we apologize for any technical difficulties, delays, or disruptions you may experience. 
If you are unable to join us during the livestream broadcast, the Gala program video will be available for viewing afterwards on both this site and on YouTube.
Anchor Tag
ways-to-support
Anchor Tag
givesmart-help
GiveSmart Site Instructions
Body 1
Register
Follow these simple steps to register by mobile phone:
Text "janm2020" to 76278.
Follow the prompts from the texts received.
Once registered, click the blue link within the Welcome Text to access the campaign.
To register using a web browser, please refer to our PDF guide: Create a GiveSmart Account.
Please note that for security reasons, GiveSmart requires separate registrations for each event. So, even if you registered last year through the website or at the 2019 Gala Dinner, you will still need to register again for this event. 
Auction Bidding, Bid for Education, and Check-Out
For technical questions regarding the usage of the GiveSmart platform, please download our 2020 Gala GiveSmart Guide for instructions on registering, donating, and bidding. You can also watch the GiveSmart video below.
For all other questions, please contact our Development team at galadinner@janm.org.
2020 GALA FAQ
While we will no longer be holding an on-site auction and dinner program at the InterContinental Los Angeles Downtown on April 18, 2020 due to recommendations from the CDC, we will be holding a virtual Gala that you and your guests, friends, and family can all participate in from the comfort of your own home.
I had reserved a table/tickets to the Gala. What are my next steps?
If you have submitted payment for a table sponsorship or individual tickets, please let us know if you would like your support to count as a 100% tax-deductible donation to JANM, or the Bid For Education in particular. If you would like to withdraw your support, we completely understand, and will issue a refund to your original payment method. Please allow for 2–3 weeks for us to process your request at this time.
I had booked a flight/hotel to the Gala. How should I proceed with canceling any reservations?
We apologize for any inconvenience. Please contact your airline provider or hotel directly regarding canceling or receiving credit for your existing reservations.
How can I view the program while bidding on the online auction?
We encourage you to use at least two devices to stream the live gala program and bid in our online auction simultaneously, and recommend that you enable text notifications through GiveSmart for status updates regarding your bids.
I will be unavailable on April 18. How can I participate?
You will be able to make donations to the Bid For Education at any time before or after April 18 by visiting janm2020.givesmart.com.


You can place maximum bids on our online auction donations if you are unable to check on the status prior to the closing on April 18. If you have a maximum spending limit for an auction package, you can set an auto-bid that will automatically increase your bids against competitors until it reaches your maximum limit. If your maximum limit is outbid, you will be notified. For more information, check our Auction page.


You can still purchase Lexus Opportunity Drawing entries by mail or phone by April 10. The winner will be contacted the week following the program.
Can non-members participate?
All individuals are able to participate in watching our live program. We encourage you to share the invitation with your friends and family.


Please note the rules and regulations for our Lexus Opportunity Drawing (See complete rules).


You must be 18 years and older to bid on our online auction packages, and 21 years and older to bid on any alcohol-related auction package.
Are my contributions tax-deductible?
If you are an event sponsor or donating to the Bid For Education, your contribution is 100% tax-deductible.


Auction packages won above the fair market value are tax-deductible in the amount of the difference. For federal income tax purposes you may be able to deduct the portion of your purchase price that exceeds the item's fair market value (FMV), if you paid the excess with the intent to make a charitable contribution.


Please note that transaction fees and taxes associated with your contribution are not tax-deductible. For any additional questions, please consult your tax advisor.
Will I receive an acknowledgment letter for my tax records?
Acknowledgment letters and tax receipts will begin mailing the week following the virtual Gala program. Please allow for up to 2–3 weeks for processing. If you would like to request the acknowledgment by email, please contact us at galadinner@janm.org.
About the Japanese American National Museum
Body 1
The Japanese American National Museum was founded in 1985 and is currently housed in an 85,000-square-foot facility in the historic Little Tokyo neighborhood of downtown Los Angeles. The mission of JANM is to promote understanding and appreciation of America's ethnic and cultural diversity by sharing the Japanese American experience. It fulfills this mission in a variety of ways that include, but are not limited to, exhibitions; docent-led tours of its core exhibition for school groups; public programming that spotlights films and books; workshops; and community gatherings. The museum also stewards a permanent collection of over 100,000 individual artifacts.