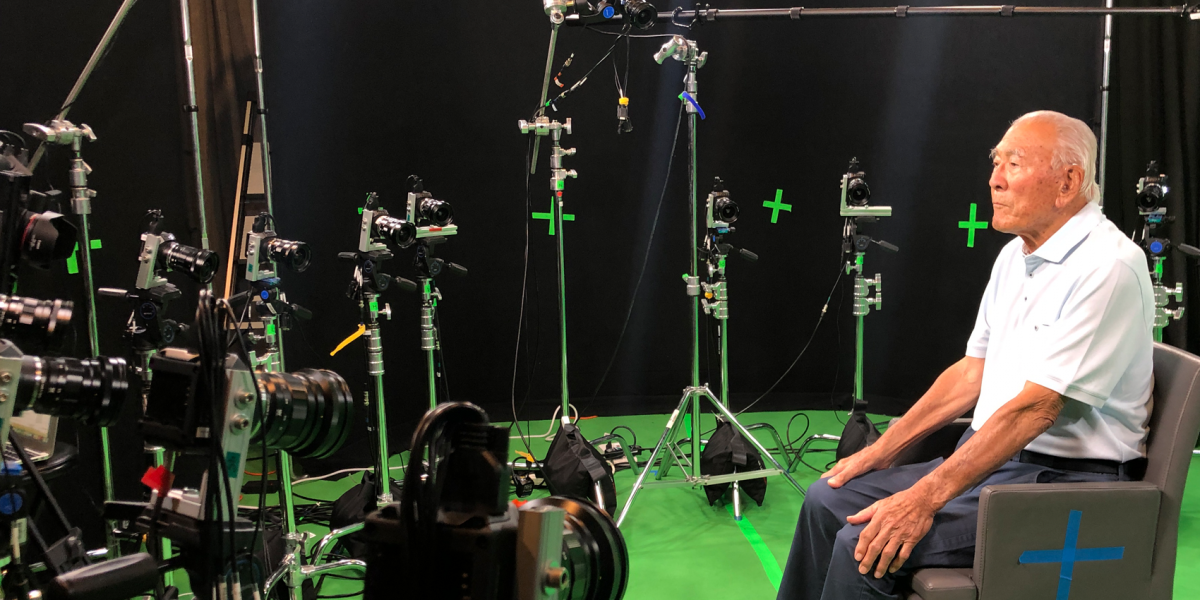 A powerful, interactive new exhibition uses groundbreaking storytelling technology to give visitors the experience of "talking" with World War II veteran Lawson Iichiro Sakai.
The exhibition was conceived and sponsored by the nonprofit Japanese American Stories using StoryFile, Inc. technology. The new exhibition is being featured on CBS on Sunday, November 28, 2021 at 10 p.m. (PST), in a special hour-long primetime edition of Sunday Morning titled "Forever Young: Searching For The Fountain Of Youth."
More than 1,000 questions were asked of Sakai over five days of filming. Capturing Sakai's oral history preserves a remarkable life: Sakai received four Purple Heart Medals and a Bronze Star Medal, having participated in all major campaigns of the 442nd RCT, including the liberation of Bruyeres, France; rescue of the "Lost Battalion" in France; and breaking of the Gothic Line in Italy. 
The interviews were filmed using StoryFile's "capture technology" of 27 different cameras, positioned around Sakai for a 360-degree view. This special filming technique will allow the video to be eventually projected as a holographic exhibition, once that technology becomes more accessible and affordable. Currently, the Sakai JANM exhibition is presented on a lifesize flatscreen. 
The StoryFile AI storytelling technology gives visitors the ability to engage with someone that is not actually present. It allows a visitor to see the interview subject consider a question, then come up with the answer, and reveal their emotion as they tell their story. 
Ask Lawson Sakai anything you like, but if you don't know where to start try asking:
Where do you live?
What do you remember about the bombing of Pearl Harbor?
What was life like after Pearl Harbor?
Were your parents scared after the attack on Pearl Harbor?
What camp did you and your family go to?
What was it like living in Colorado?
When did you enlist or were you drafted?
What was it like to lose fellow soldiers?
When you were young did you feel American?
Tell me about the smells of war.
If you could change one thing about the world what would it be?