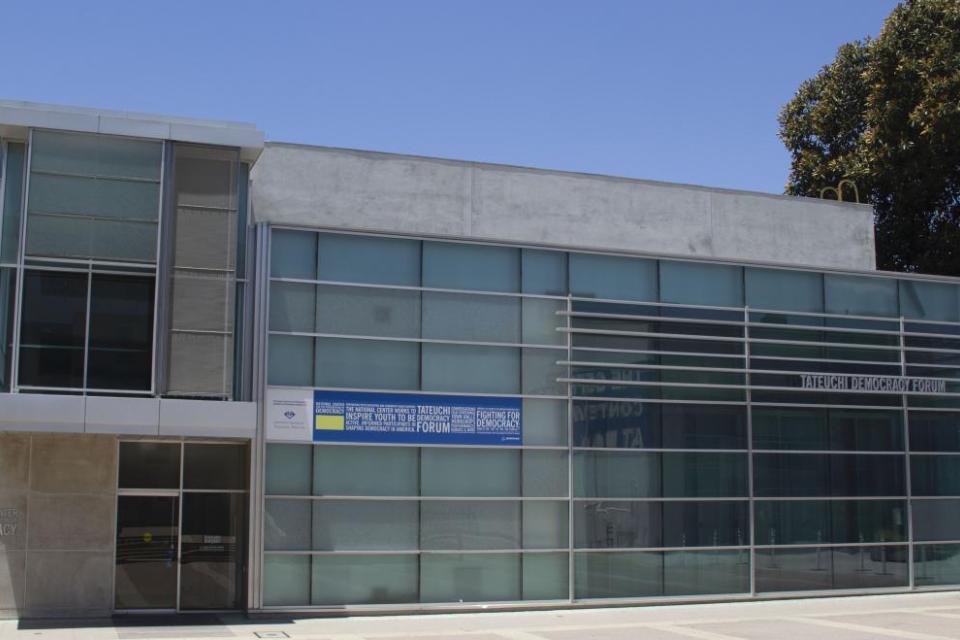 National Center for the Preservation of Democracy Fellowship
OPEN CALL FOR ARTISTS
The National Center for the Preservation of Democracy (NCPD) and Asian Americans Advancing Justice—Los Angeles (AAAJ-LA) invites applicants for its 2021/2022 fellowship program for two artists.
Dates
Opening: Monday, September 27
Closing: Extended to Friday, October 22
Fellowship starts December 2021
About
The National Center for the Preservation of Democracy artists fellowship program is a collaboration between the NCPD@JANM and AAAJ-LA funded by Artists At Work (AAW), a national initiative developed by THE OFFICE performing arts + film, with funding from The Andrew W. Mellon Foundation, with support from the Los Angeles County Department of Arts and Culture.
Duration
One-year fellowship with a salary of $37,000 and health benefits through THE OFFICE performing arts + film.
Purpose
With the recent increase in violence against Asians and Pacific Islanders, the fellowship will focus on the overarching theme of anti-racism. JANM and AAAJ-LA are asking artists to respond with art projects that address Anti-API hate. The artists will be asked to consider NCPD@JANM themes and how art and democracy are used to combat racism. Artists will be given creative freedom to develop innovative artistic strategies to engage API communities.
Seeking
Two artists who will work with both organizations in developing new artistic work(s) addressing racism and the current rise of anti-Asian sentiment. The artists will work with the organizations and their communities to develop works that address antiracism, anti-Asian hate, identity and inclusion.
Selection
The selection process seeks to identify candidates who will advance community issues around racism, inclusion, and anti-Asian hate through their art. A selection committee will consist of JANM and AAAJ-LA staff.
Eligibility
Emerging artist (more than five years of professional experience but less than 15 years).
Any artistic practice—visual arts, performing arts, literary arts, cultural practitioner.
Los Angeles County based (lived in Los Angeles County for five years).
Experience with community engagement and/or social practice.
Need for a living wage.
Familiar with, and has a history of, exploring issues of identity, inclusion, and racism, specifically with Asian and Pacific Islander communities in their aesthetic.
Capable of taking complex ideas of race and democracy into their work to develop a compelling art piece, or series, for public distribution intended to increase visibility and inclusion of Asian and Pacific Islanders as important members of society.
Organizations
National Center for the Preservation of Democracy at the Japanese American National Museum (NCPD@JANM). Located in the Little Tokyo Historic District of downtown Los Angeles, the NCPD@JANM will further reinforce JANM's mission and examine the rights, freedoms, and enduring fragility of American democracy through educational programming that includes exhibitions, media arts presentations, public programs, conferences, and civic dialogue/public forums. 
Asian Americans Advancing Justice—Los Angeles (AAAJ-LA) is the nation's largest legal and civil rights organization for Asian Americans, Native Hawaiians, and Pacific Islanders (AANHPI). Founded in 1983, AAAJ-LA serves more than 15,000 individuals and organizations every year. Through direct services, impact litigation, policy advocacy, leadership development, and capacity building, Advancing Justice—LA focuses on the most vulnerable members of Asian American and NHPI communities while also building a strong voice for civil rights and social justice.
Body 1
Press Release
SEPTEMBER 27, 2021
THE NATIONAL CENTER FOR THE PRESERVATION OF DEMOCRACY AT THE JAPANESE AMERICAN NATIONAL MUSEUM AND ASIAN AMERICANS ADVANCING JUSTICE-LOS ANGELES ANNOUNCE CALL FOR ARTISTS THAT WILL ADDRESS ANTI-ASIAN HATE AND RACISM
The National Center for the Preservation of Democracy at the Japanese American National Museum (NCPD@JANM) and Asian Americans Advancing Justice-Los Angeles (AAAJ-LA) have announced a call for two artists who will develop new art projects that will explore the theme of anti-Asian hate and racism.…