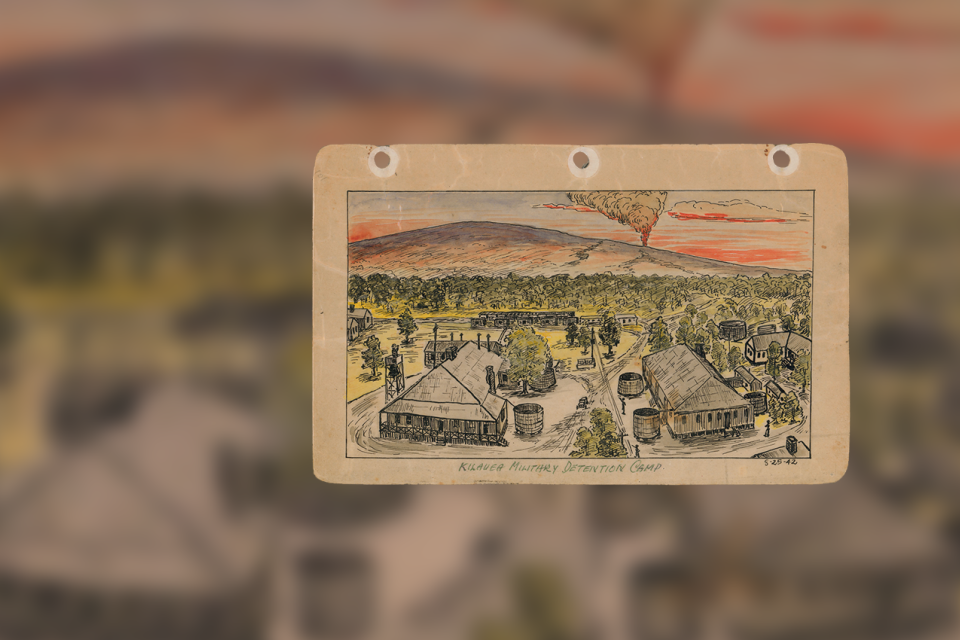 George Hoshida Collection
(96.117)(97.106) The online collection of George Hoshida (1907–1985) includes 260 drawings and watercolors drawn from his visual diary covering his incarceration for the duration of World War II in the Kilauea Military Camp and Sand Island in Hawai'i, in Justice Department internment camps at Lordsburg and Santa Fe, New Mexico, and in WRA camps in Jerome, Arkansas and Gila River, Arizona.
George Hoshida was born in 1907 in Kumamoto, Japan. He migrated with his family to Hilo, Hawai'i when he was four years old, and this is where Hoshida spent all of his childhood and adolescent years. He was involved with his Buddhist temple and with Judo, two things that would later cause him to be considered "potentially dangerous." Due to a mixture of World War II, of the bombing of Pearl Harbor and of Hoshida's "potentially dangerous" status, he was forcefully removed from his home and family and placed at Kilauea Military Camp in Hawai'i.
Hoshida's journey was extremely difficult, and he had to wait two full years before he could be reunited with his family at the War Relocation Authority concentration camp in Jerome, Arkansas. Hoshida was sent from Kilauea Military Camp in Hawai'i to the Justice Department camp in Fort Sam Houston, Texas. Next, he went to both the Justice Department camp in Lordsburg and the Justice Department camp in Santa Fe, New Mexico.
Throughout his time away from his family, Hoshida and his wife, Tamae, wrote letters to each other almost everyday. Hoshida kept busy by sketching, drawing, and painting pictures of his journey and observations. His pictures give us an idea of what the Justice Department camps were like, and of what the mainland concentration camps were like.
Related to this Collection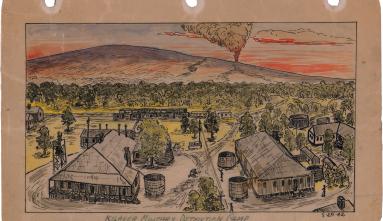 The Life and Work of George Hoshida Exhibition
Items in this collection were featured in the online exhibition The Life and Work of George Hoshida: A Japanese American's Journey (1997).