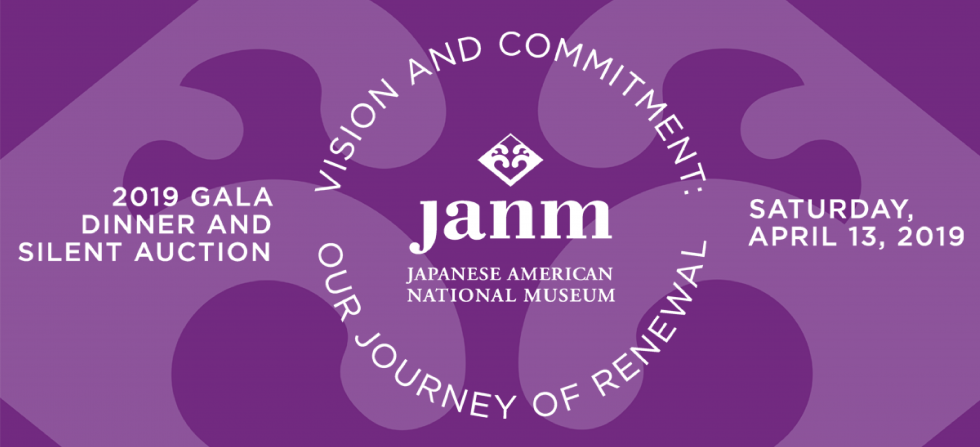 GALA DETAILS
5 p.m. Silent Auction and Reception
7 p.m. Dinner and Program
InterContinental Los Angeles Downtown
900 Wilshire Boulevard
Los Angeles,
CA,
90017
About the Japanese American National Museum
Body 1
The Japanese American National Museum was founded in 1985 and is currently housed in an 85,000-square-foot facility in the historic Little Tokyo neighborhood of downtown Los Angeles. The mission of JANM is to promote understanding and appreciation of America's ethnic and cultural diversity by sharing the Japanese American experience. It fulfills this mission in a variety of ways that include, but are not limited to, exhibitions; docent-led tours of its core exhibition for school groups; public programming that spotlights films and books; workshops; and community gatherings. The museum also stewards a permanent collection of over 100,000 individual artifacts.
About the Gala Dinner and Silent Auction
Body 1
JANM's annual Gala Dinner and Silent Auction is its largest fundraising event of the year and serves as a much-anticipated opportunity for people, especially those in the Japanese American community, to come together in support of an important institution and its wide-ranging work.
Over 1,000 guests attend this event and we hope you will be among them!
This year's Gala Dinner will be held at the InterContinental Los Angeles Downtown on Saturday, April 13, 2019. The evening will begin with a silent auction and cocktail reception, followed by dinner and a program in which we will pay tribute to our charter members and share highlights of the past twelve months. The featured speaker will be award-winning journalist Ann Curry. We will also pull the winning entry for our Lexus Opportunity Drawing.
A portion of the evening is dedicated to raising money for the museum's Bid for Education program, which supports bus transportation and museum admission for primary and secondary school students. Bid for Education funds also support K–12 educator workshops, the development of free printed and digital resources for educators, docent recruitment and training, and many other educational initiatives. Even if you cannot join us at the Gala, you can contribute to the Bid for Education online.
Gala Theme
Body 1
The Gala will pay tribute to its charter members—the first individuals and families to see and believe in the importance of the museum and its enduring role in our democratic society. Our vision and commitment have remained unwavering since our founding, and each new generation inspires us to further demonstrate our ongoing relevance in today's world.
Spotlighting the stories of charter members from across the nation, the Gala Dinner will remind attendees of just how bold and dedicated these individuals were, firmly believing in the value of a place before it even existed. The evening will also reaffirm that enthusiastic support for JANM continues today and will do so into the future as new generations engage with the museum and appreciate its values.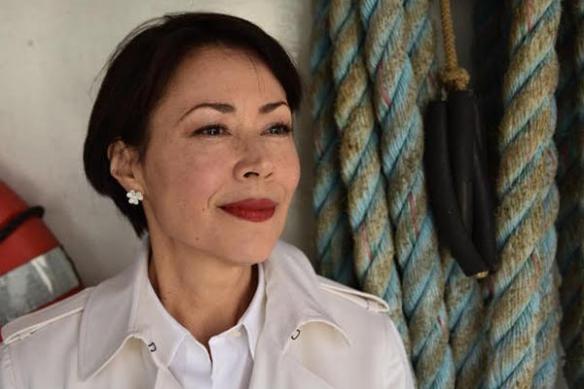 Featured Speaker
Ann Curry, a former NBC News anchor and international correspondent, has reported on conflicts and humanitarian disasters all over the world. She has conducted a long list of exclusive and news-breaking interviews with foreign leaders as well as US presidents, secretaries of the state, and first ladies. She also has reported and executive produced a twelve-hour documentary series about transformative world events for PBS and is the anchor and executive producer of an upcoming series crowdsourcing doctors worldwide to help undiagnosed patients.
In October 2018, as a featured writer for National Geographic Magazine, Curry wrote about the mass incarceration of people of Japanese ancestry during World War II and the racism and prejudice that gave rise to it. The article touched upon how she, as a teenager, first learned about the government's actions during the war and how racism had touched her family, especially her mother. Among the photographs that accompanied her article were several that are currently on view at JANM (through April 28, 2019) as part of Gambatte! Legacy of an Enduring Spirit, which pairs historical images of individuals who were forcibly removed with contemporary photos of the same people, or their direct descendants, taken by Pulitzer Prize winner Paul Kitagaki Jr.
Curry was honored by JANM in 1997 with its Award of Excellence. She has won seven national news Emmys and numerous Edward R. Murrow Awards, Gracie Allen Awards, and National Headliner Awards. She also has been honored by the NAACP and Women in Communications, and is the recipient of several humanitarian awards.
TICKETS
Body 1
Individual tickets and table sponsorships for the 2019 Gala Dinner and Silent Auction can be purchased online. All online purchases must be made March 29, 2019. While supplies last.
If you prefer to make your purchases by mail, you can view and download the complete Gala Dinner invitation and reply form. If you would like to sponsor a table of 10, please use the downloadable reply form. You can also make a contribution to our Bid for Education and purchase Lexus Opportunity Drawing tickets with this form. Reply forms must be received by March 29, 2019.
If you're not able to attend the Gala Dinner this year, you can still purchase entries for a chance to win a 2019 Lexus RX 350L. Download the 2019 Lexus Opportunity Drawing flyer and mail in its reply form with your payment by Friday, April 5, 2019. The winner does not need to be present at the Gala Dinner when the winning entry is pulled.
Parking
Valet parking at the InterContinental Los Angeles Downtown (900 Wilshire Boulevard): $22 + tax (gratuity not included)
Self parking at FIGat7th garage (945 W. 8th Street): $7
Download a map for directions to hotel valet drop-off and parking garage.
Room rates
Limited rooms are available at the InterContinental Los Angeles Downtown. The Miyako Hotel is located in Little Tokyo, down the street from the museum. For a special discounted rate, use this link: Japanese American National Museum Supporters Rate. You may also try the DoubleTree by Hilton Hotel Los Angeles Downtown. Please note that the availability of rooms at all hotels is limited and subject to sell out.
Air Travel
American Airlines is the official airline of the Japanese American National Museum. AA flies daily from LAX to Haneda and Narita airports in Japan. Check AA.com for more information.