In conjunction with the exhibition, Year of the Rabbit: Stan Sakai's Usagi Yojimbo (July 9 – October 30, 2011), a gathering of artists (new and old friends of the Museum) worked their creative magic on Frank Kozik's Happy Labbit toy.
Check out the photos below to view the various artists' interpretations.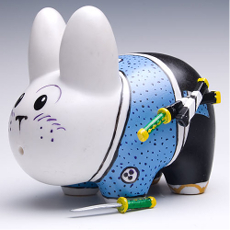 Usagi Yojimbo
Pasadena, CA
Stan Sakai is best known as the artist creator of Usagi Yojimbo, a ronin rabbit character based on a 16th century samurai.
Spray paint and acrylic, 4.5"H.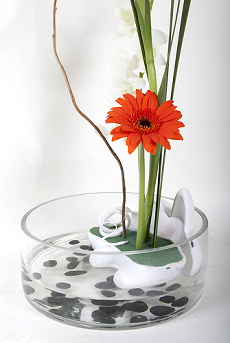 More than the Sum of Our Parts
Santa Barbara, CA
Kip Fulbeck has spoken and exhibited his award-winning films, performance, and photography throughout the world, including PBS, the Whitney Museum of American Art Biennial, Singapore International Film Festival, Locarno International Film Festival, Los Angeles County Museum of Art, Bonn Videonale, the National Conference on Race in Higher Education, and the Honolulu Contemporary Arts Museum.
His exhibition kip fulbeck: part asian, 100% hapa appeared at JANM in 2006 and has been traveling the country since. Kip's second exhibition, Mixed: Portraits of Multiracial Kids opened at the Museum in 2010.
Glass, wood, stone, water, florist foam, living flora, and Labbit, 4.5"H.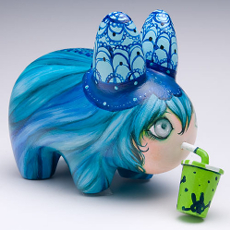 Radioactive Puffin Juice
Vancouver, BC, Canada
Canadian-Italian artist Camilla d'Errico has participated in two custom shows at JANM. Her unique style continues to be in demand and her client list includes Dark Horse Comics, Image Comics, Random House, Tokyopop, Hasbro, Disney, Sanrio, Neil Gaiman, and she also works with video game and movie companies on character development. Her own characters and properties, Tanpopo and Helmetgirls, are loved by fans and followers and now inspire Cosplay costumes.
Acrylic 4.5"H.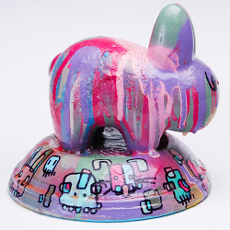 Shinoda's Labbit
Los Angeles, CA
Mike Shinoda is a musician, record producer, and artist best known for his vocal and musical endeavors with his band Linkin Park. Shinoda also oversees the packaging, print, and online art for the band. He is also involved in other projects including Fort Minor, Music For Relief, and Projekt Revolution. The proceeds from the sale of his Labbit went to Music for Relief/Japan Relief and JANM.
Shinoda has presented two painting exhibitions at JANM: Glorious Excess (Born) in 2008, and Glorious Excess (Dies) in 2009—two chapters in his series of paintings and digital art exploring society's obsession with celebrity culture, consumer addiction, and fascination with excess.
Spray paint, acrylic, and ink, 6"H.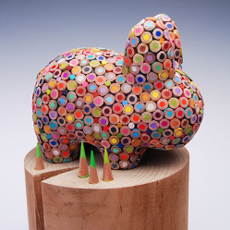 Stumped
Fredericksburg, VA
higashi glaser is the creative team behind Zolo Toys and the designers of our Origami Kaeru mascot. The team was honored at the JANM's 2006 Annual Gala Dinner for their contributions to the creative mainstream of American design.
Prismacolor and wood, 9.5"H.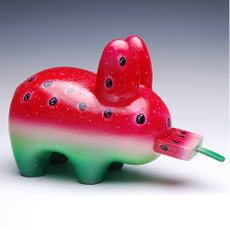 Watermelon Labbit
Santa Fe, NM
Born sometime between the Korean War and the Bay of Pigs in the city of Los Angeles, Joel Nakamura is a graduate of the world-renowned Art Center College of Design in Pasadena where he later became an instructor.
Nakamura, his wife Kathleen, and their two children live about 10 minutes south of Santa Fe Plaza. His work has been featured in newspapers and magazines across the United States. He has been the subject of numerous one-man shows, with his home gallery Hahn-Ross on Canyon Road in Santa Fe. His Monster t-shirt and digital prints have been featured in the JANM Store, and this is his third custom toy show at the Museum.
Polymer, 4.5"H.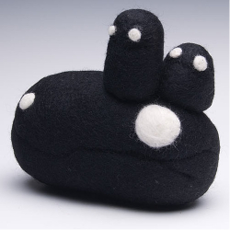 3 Rocs Rabbit
Vancouver, BC, Canada
For Dacosta!—who is originally from Barbados in the West Indies and currently lives in Canada—the artistic styles of modern Japan were more than just an interest when he was growing up—they were an education.
Dacosta! created the DCTO (Dreams Come True Object) which was the basis of the Museum's first custom toy show, Dreams to Dreams (2008). His work was also included in the Custom Kokeshi show in 2009. He continues to design toys and apps through his company Chocolate Soop. This is the artist's plushy interpretation of the Labbit.
Wool felt, 4.5"H.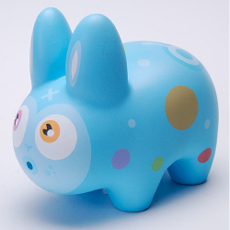 Bulles
Vancouver, BC, Canada
Every aspect of Pilon's art is carefully computer drawn and then meticulously painted in acrylic layers, to give them a sharp, print-like synthetic quality. Pilon has worked in magazine design for over 15 years as a designer and illustrator. His commercial clients include IKEA, Walgreens, the Sierra Club, and Virgin.
Acrylic, 4.5"H.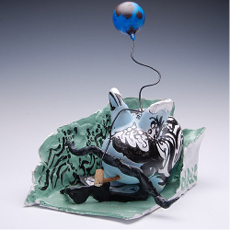 Year of the Tsunami
Los Angeles, CA
Artist Stuart Rapeport participated in the Dreams to Dreams custom show at JANM (2008). His sculptures have appeared at Future Studio Gallery and numerous Southland art venues.
Acrylic, 4.5"H.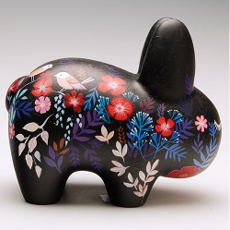 Untitled
Columbus, OH
Self-proclaimed full-time mother, part-time artist and illustrator, Aline Yamada's work appeared in the Custom Kokeshi show at JANM in 2009.
Acrylic, 4.5"H.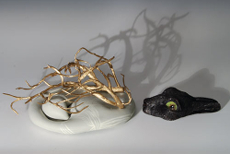 The Black Rabbit of Inlé
Catherine Brooks
Richmond, VA
Brooks has a BFA in Fine Arts from the Pratt Institute of Art and Design in Brooklyn, NY and completed a residency at Campus Hanoi in Vietnam. She has shown regularly in galleries over the past six years. One of the highlights of her resume include participating in the Custom Kokeshi show at JANM, and solo shows at The Proposition Gallery in NYC and Thinkspace Gallery in Los Angeles. Her work as been sold at Scope London, Miami, New York, and Basel.
This comes in two pieces: the original Labbit has been melted to death and entwined by golden branches made of Sculpey. The Black Rabbit of Inlé (hand sculpted from Sculpey) is rising from the underworld to carry the Labbit's spirit to the afterlife.
Sculpey, 4.5"H.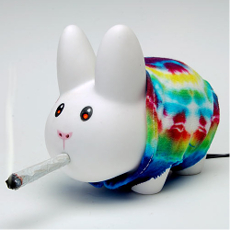 Smokin Smorkin Labbit
Marilyn Frandsen and Tim Kummerow
Los Angeles, CA
Marilyn Frandsen owns and operates the design studio in Culver City that currently produces the incredibly over-the-top, uber-designed packaging for Fox's The Simpsons™ DVDs, among other properties. Tim Kummerow's illustration work have appeared in many books. Their work was featured in the Dreams to Dreams custom show at JANM (2008).
The Labbit has red eyes that light up as he "lights up." A mechanism similar to those used in model train smokestacks resides inside the Labbit. Watch a video of the Smokin Smorkin Labbit.
Mixed Media, 4.5"H.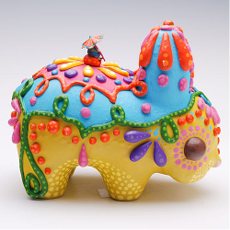 Pooka
San Diego, CA
Artist and designer Christina Conway curated the custom Kokeshi section of the Kokeshi: From Folk Art to Art Toy exhibition held at JANM in 2009. The 2009 show was a follow-up to her 2007 show at the Subtext Gallery in San Diego. Her most recent curatorial project was an artists' ema show that raised money for Japan disaster relief.
Acrylic and Sculpey, 4.5"H.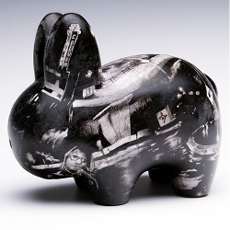 Black
Los Angeles, CA
Transplanted from Maui to California, artist Edwin Ushiro's creative work has appeared in multiple venues and genres. He has worked as a production designer, visual consultant, art director, storyboard artist, and concept designer for clients such as NBCUniversal, Sony Pictures, Dunhill Ltd., Mitsubishi, Disney Creative Development, and many more. His fine art paintings have been exhibited in numerous Southern California galleries.
Ushiro participated in the Custom Kokeshi Show at the Museum in 2009.
Sumi-e ink and pen, 4.5"H.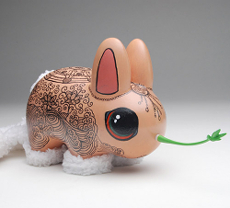 Untitled
Emi Motokawa
Los Angeles, CA
Motokawa—A.K.A. Emi M—was born in Tokyo, Japan, and moved to the U.S. at the age of seven. Her painting work has been described as "Pop Spiritual Bliss," incorporating her belief in Buddhist concepts into her work. She uses "big-eyed" characters because she believes the eyes are the window to the soul.
Motokawa's Krokeshi sculptures were part of the exhibition, Kokeshi: From Folk Art to Art Toy, at JANM in 2009.
Fabric and acrylic, 4.5"H.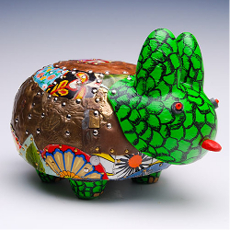 Aesop—Turtle and the Hare
James E. Watts
San Diego, CA
A self-taught artist raised in National City, CA, his family was the only Japanese household in a Hispanic neighborhood where the Japanese Christian Church provided their only source of Japanese culture.
Watts creates paintings and sculptures that emphasize the retelling of stories and myths from around the world. His spectacular wood and metal kokeshi sculptures appeared in the exhibition, Kokeshi: From Folk Art to Art Toy.
Wood, plastic, and metal, 4.5"H.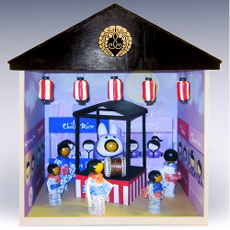 Oban 2011
Kathy Yoshihara
San Gabriel, CA
A mixed media artist with a background in graphic design, Yoshihara studied painting, sculpture, and graphic arts at the University of California, Los Angeles.
A large, chance purchase of gourds inspired her to incorporate them into her ceramic work. The gourds suggested heads and the resulting kokeshi were a natural reflection of Yoshihara's own cultural heritage. It was this work that landed her in the exhibition, Kokeshi: From Folk Art to Art Toy and the JANM Store.
Mixed media, 16"W x 19"H x 12"D.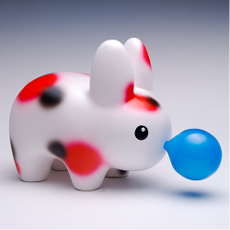 Untitled
Tokyo, Japan
Koji Harmon is based in Tokyo, Japan. He grew up in Los Angeles with Japanese toys such as Microman, Robocon, Ultraman, and Kamen Rider. His work ranges from zines, photography, and plush figures to hand painted soft vinyl figures.
Harmon has published a photo book, and his work has been shown at art shows throughout Japan and America. He has also contributed various toy related articles to magazines such as Pencil Fight and Super7. Currently, he is focusing his attention on toys and custom figures.
Paint, 4.5"H.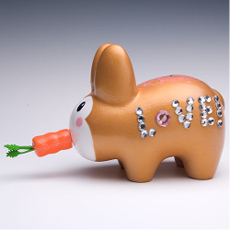 Love Bunny!
Namiko Sonobe
Tokyo, Japan
Sonobe is a Tokyo-based illustrator who loves the world of retro, fairy tale, cute, and pop! She has recently started to take part in group shows in the U.S.
Acrylic and rhinestone, 4.5"H.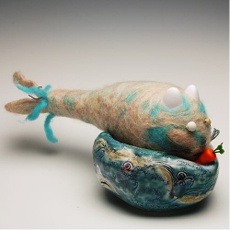 Gefelte Fish Bunny
Los Angeles, CA
Bagish, a local Silverlake potter, has been strongly influenced by Japanese sensitivity to form and function. She spent six years in Kanazawa, Japan studying pottery, flower arrangement, calligraphy, and basket weaving. Her work has been exhibited in numerous shows and galleries in California, Oregon, Pennsylvania, Washington, and Japan.
Felt, beads, cotton thread, and porcelain with glass inlay, 4.5"H.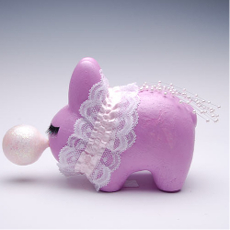 Lovely Dolly
Tulip
Tokyo, Japan
Tulip is a Japanese character designer. Her "kawaii" characters are available as iPhone apps. Her work is starting to appear in groups shows such as Beauty and the Kaiju in the U.S.
Mixed media, 4.5"H.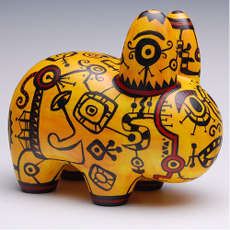 Kin Usagi Ko
BEVL
Stevenson Ranch, CA
BEVL (Beverly Laxa) is a graphic designer, illustrator, photographer, and world traveler and adventurer. Born and raised in the Valley in Los Angeles, most of her influences in her art come from her travels.
This labbit was inspired by pre-Colombian designs from South America. She received her BA in Art at Cal State University Northridge.
Acrylic, 4.5"H.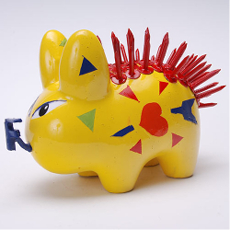 Punk Labbit
Kunio Ohashi
Los Angeles, CA
Kunio Ohashi departed from neon, his medium of choice, to create his Labbit. Ohashi studied neon design and techniques and started working as a neon designer for commercial and residential projects, such as neon light accents on buildings, before moving into making art from neon. He has even worked on restoration projects such as the Atomic Café sign in JANM's collection.
Mixed media, 4.5"H.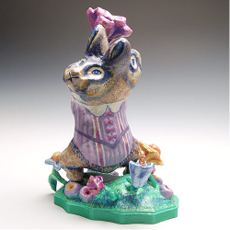 Double Happiness
Melissa Kojima
Los Angeles, CA
Melissa Kojima is a Los Angeles based illustrator, fine artist, designer, and mixed media sculptress. She is also known as Artist in LA LA Land because she creates crazy, witty, strange, surreal art in the insane metropolis, Los Angeles, and also is inspired by it.
Using acrylic paint, India ink, collage, mixed media, and papier mache, she creates images and sculptures that are disturbing, funny, bizarre, and peculiar. She particularly loves illustrating monsters, caricatures, aliens, tentacles, multiple faced people, giant insects, robots, and anything scary, odd, or ugly.
Mixed media, 10.5"H.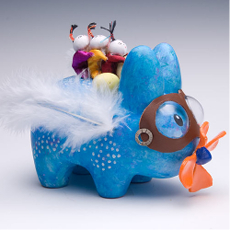 Air Labbit
Donna Ikkanda
Los Angeles, CA
Growing up in West Los Angeles, this Sansei artist studied Fine Arts at UCLA in the late 1960s and early '70s, but her greatest artistic influences can be drawn within her own cultural background. "No matter what the subject matter, traditional Japanese art always combines all these elements in a way which is simultaneously dynamic, graceful, rich, deep, clean, and pure. It's a very strong visual tradition." Ikkanda's zodiac animal t-shirts and digital prints have become a tradition in the JANM Store.
Mixed media, 4.5".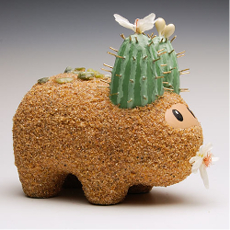 Desert Bloom
Donna Ikkanda
Los Angeles, CA
Growing up in West Los Angeles, this Sansei artist studied Fine Arts at UCLA in the late 1960s and early '70s, but her greatest artistic influences can be drawn within her own cultural background. "No matter what the subject matter, traditional Japanese art always combines all these elements in a way which is simultaneously dynamic, graceful, rich, deep, clean, and pure. It's a very strong visual tradition." Ikkanda's zodiac animal t-shirts and digital prints have become a tradition in the JANM Store.
Mixed media, 4.5".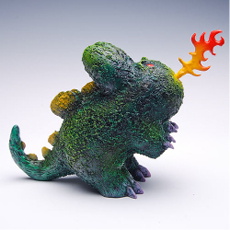 Labbit-zilla
San Francisco, CA
Artist Mark Nagata started as a collector of early vinyl toys from Japan (his private holdings include the largest Ultraman collection in the world). As an illustrator his work appeared in advertsing for IBM, Genentech, Scholastic Books, Harper Collins, Activision, DC Comics, Galoob Toys, Lucasfilms, Hasbro Toys, and a series of 40 cover paintings for R.L. Stine's Goosebumps book series.
Nagata combined his passion for toys and his background in commercial art to co-found Super 7 Magazine, a stylish publication dedicated to Japanese toy culture. Through Super 7, Nagata had his first experience in designing toys based on classic Japanese character toys. After four years of producing the magazine, Nagata started Max Toy Co., which produces its own toys, both licensed and original. Nagata was part of the Dreams to Dreams custom show at JANM in 2008.
Acrylics, 4.5"H.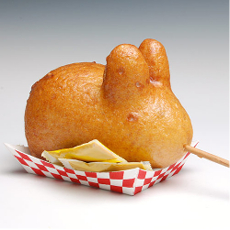 My Fair Labbit
Emil Dora
Los Angeles, CA
One half of the art team of eggscissors (who created a custom kokeshi for JANM's Kokeshi show in 2009), Dora has created his Labbit in the medium of his current artistic exploration of county fair art. This piece lends credence to the folkloric adage, "You can deep-fry anything!" This is an actual Labbit that has been dipped in corn dog batter and fried.
Batter, paper, mustard, wood, and Labbit, 4.5"H.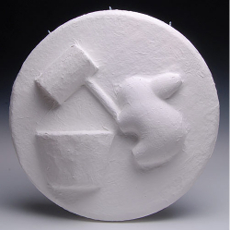 Labbit in the Moon
Qris Yamashita
Los Angeles, CA
Yamashita is well known in the community for her superb graphic design skills and spirited taiko drumming. Her most recent contributions to the JANM Store include the package design for the Store's Generation Teas. She is also a featured artist in the Drawing the Line exhibition at JANM.
Mixed media, 11.5"H.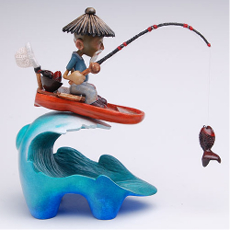 When Love is Deep, Much Can Be Accomplished
Lou Pimentel
Brooklyn, NY
Lou Pimentel is a multidisciplinary artist born in Santo Domingo but raised in New York City, his current home base. Pimentel earned his BA in Illustration at the School of Visual Arts in NYC. His work combines the classic painting techniques of the old masters with the indelible influence of street and pop-art. Pimentel's work has appeared in two previous custom shows at JANM.
This piece is ingeniously created in four separate parts, each held together by hidden magnets in the sculpture. The boat and man are separate pieces. The fish is also separate and attaches to the line with a magnet!
Oil, vinyl, epoxy clay, and wood, 4.5"H.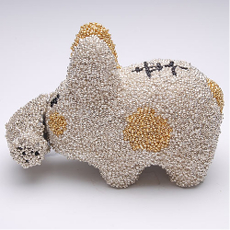 Rucky Labbit
Los Angeles, CA
Designer Amy Inouye is the driving force behind Future Studio, a graphic design company, specializing in book design. By night (once a month, on Second Saturdays), it's Future Studio Gallery, showing an ever-changing variety of visual art in conjunction with the Northeast Los Angeles Gallery Night.
The gallery is also host to Chicken Boy, the Statue of Liberty of Los Angeles, who roosts on the roof. Inouye's Chicken Boy made an appearance in the Dreams to Dreams custom show at JANM (2008). (The Labbit is accessorized with a matching beaded gas mask.)
Beads, 4.5"H.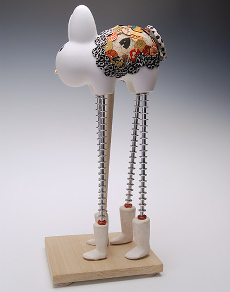 Hybrid
Santa Barbara, CA
Georganne Alex has shown her beautiful textile accessories in the JANM Store for many years. Her bags, woven and constructed with vintage kimono fabrics and silks, have been a staple for design-savvy customers.
Mixed media, 13.5"H.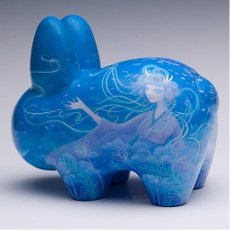 Change: Goddess of the Moon
San Diego, CA
Harmony Gong was one of the many talented newcomers whose work was featured in the Custom Kokeshi show at JANM in 2009. Her work has since appeared at the Gallery Nucleus and JapanLA.
Acrylic, 4.5"H.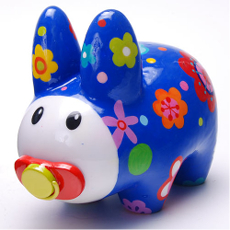 Labbit Onesie
Los Angeles, CA
De Leon has a personal passion for the art and design of Japan, and as a principal designer for Alexander Henry Fabrics, has incorporated many elements of Japanese designs into her textile patterns. Her work appeared in Kokeshi: From Folk Art to Art Toy at JANM (2009). Her fabric designs appear on many products sold in the JANM Store.
Acrylic, 4.5"H.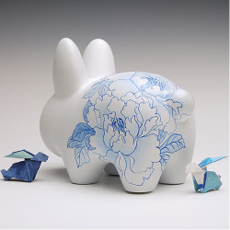 Usa Maru
Los Angeles, CA
Born and raised in Toba, Japan, Yoskay Yamamoto moved to the United States at the age of 15. A self-trained illustrator, Yamamoto's artistic tastes expanded as he fell in love with the urban culture of the West coast. Yamamoto discovered a way to fuse the two different cultural backgrounds together into his work. He nostalgically blends pop iconic characters from his new Western home with traditional and mythical Japanese elements, balancing his Asian heritage with urban pop art.
Yamamoto's vinyl toy work is a recent addition to the JANM Store, and he was also part of the Custom Kokeshi show in 2009.
Mixed media, 4.5"H.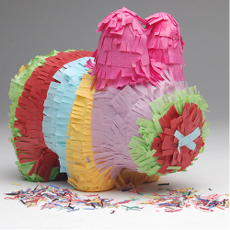 Labbit Pinata
Alexandra Gjurasic
Gulf Breeze, FL
Rather than exploiting the similarities of mass-produced objects, Gjurasic emphasizes the variety and richness in multitude through her kokeshi inspired paintings and collages. Her paintings appeared in Kokeshi: From Folk Art to Art Toy (2009) and her hand-painted cards and digital prints are sold in the JANM Store.
Tissue paper and vintage confetti, 4.5"H.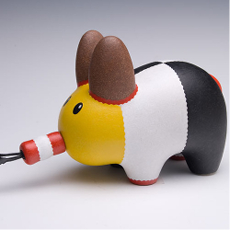 Black, White and Other
Colorado Springs, CO
A Nisei born in New York City and raised in Boulder, Colorado, Kasahara has been using Japanese iconic imagery in her work off and on since 2002. Her paintings appeared in Kokeshi: From Folk Art to Art Toy (2009). Kokeshi have significance as representative of self-portraiture or as a stand-in for Japanese or Asian women in general. Her paintings are explorations of identity, combining memory, autobiographical experiences, and observations into personal and contemporary contexts.
Oil, 4.5"H.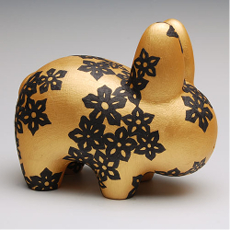 Kikyou
Ambre Aki Gonzales
Los Angeles, CA
After completing her art degree at UCSB, Gonzales spent time traveling and living in Japan and Australia. While in Japan, Gonzales worked with paper artist Kyoko Ibe, where she learned traditional Japanese techniques for fabricating byoubu art screens as well as aspects of Japanese papermaking.
Her new works use print and book arts to explore the role of "craft," "low art," and the "handmade" in the digital-driven 21st century. These works include pochoir (hand-colored stencil) prints that are inspired by street art, woodblock prints, and a complicated love of nature, city life, video games, and sartorial indulgences.
Hand-cut unryu washi and acrylic paint, 4.5"H.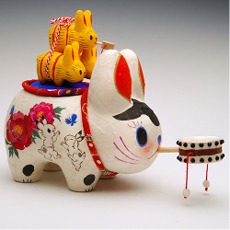 Usagi Harico
Tokyo, Japan
Trained as a graphic artist, Konatsu is also highly-skilled in the traditional styles of Japanese sumi-e painting. She has managed to enmesh the traditional style with contemporary pop themes in a way that transcends the usual Japanese superflat graphics.
Konatsu's work has appeared both in the U.S. and Spain. She has also illustrated many Japanese children's books.
Japanese traditional paper and mixed media, 6.5"H.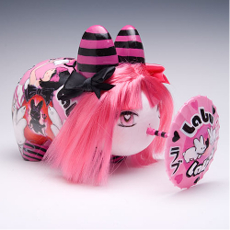 Harajuku Labu Labu Labbit
mekanikku
Los Angeles, CA
mekanikku is a Los Angeles-based artist and designer inspired by fashion, Asian pop culture, and DIY crafts.
Acrylic and found objects, 4.5"H.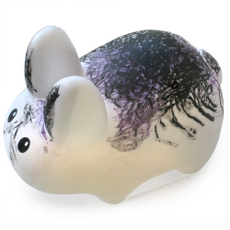 Untitled
New York, NY
Jimmy Tsutomu Mirikitani is an 91-year-old artist who was born in Sacramento, California in 1920 and raised in Hiroshima, Japan. At age 18, he returned to the United States to pursue a career in art and escape the growing militarism in Japan.
"Make art not war" is Jimmy Mirikitani's motto. His life is profiled in the award-winning documentary The Cats of Mirikitani. In it unfolds a tale of an artist who, after being incarcerated at Tule Lake during the war, lives on the fringes of society, often homeless, until the events of September 11 connect him with a filmmaker who unravels his past. Both the DVD and Mirikitani's prints have been a staple at the JANM Store.
Ballpoint pen, 4.5"H.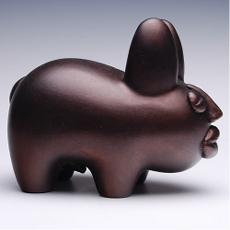 Ron
Zakka
Honolulu, HI
Born and raised in Hawaii, Zakka is a self-described fine artist, illustrator, world traveler, avid toy collector, and creator of the urban toy, Miao and Mousubi.
Mixed media, 4.5"H.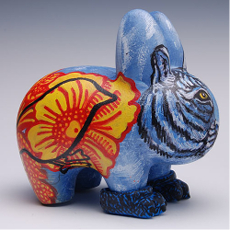 The Japanese Birds Project Wearing a Tiger Mask
Denver, CO
Varno, originally from New York, is a Denver-based artist whose paintings in acrylic and oil are regularly exhibited in galleries in Denver and San Diego. She is also a Master Teaching Artist at the Red Rocks Community College. She is currently organizing The Japan Birds Project to help children who suffered from the recent disasters in Japan.
Mixed media, 4.5"H.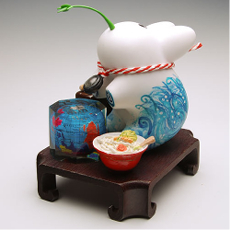 Save Home
Betty Wan Hamada
Los Angeles, CA
An alumnus of Otis Art College, Brooks College, and UC Santa Barbara, Hamada lived, worked, and exhibited her art in Australia, but is now based in her home town of Los Angeles.
She worked several years for the Los Angeles Cultural Affairs as well as the Pacific Asia Museum. She has served on the board of the Arroyo Arts Collective since 2000 and operated the Acorn Gallery. Her mixed media works are influenced by artists such as Betye Saar, Alexis Smith, and Joseph Cornell.
Acrylic and mixed media, 4.5"H.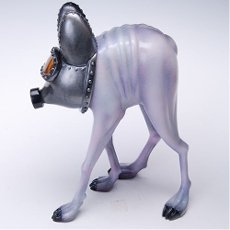 Mutant Labbit Wandering Through the Aftermath
David Kawano
Los Angeles, CA
Sculptor David Kawano, founder of U1Toy Arts Company, has collaborated with graffiti and street artists to create a unique line of toy sculptures called "Letters from LA" which are 3D graffiti sculptures. Kawano spent 15 years as a sculptor in the world of action figures before embarking on his own enterprise.
Epoxy and acrylic, 8.5"H.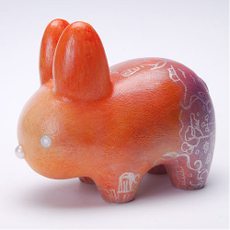 Home
Los Angeles, CA
Shiho Nakaza is a Los Angeles-based graphic artist and illustrator who provides print and packaging production services and create custom graphics for apparel, textiles, publications, and products.
Acrylic, plastic pearl, and poster paint, 4.5"H.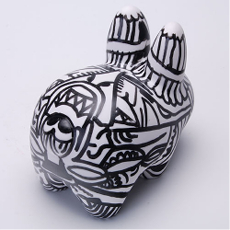 Untitled
Bendow
Beverly Hills, CA
Bendow's first images appeared on canvas—tennis shoes, that is—in venues such as Deborah Page Gallery, before he was out of high school. He has been a supporter of the Museum since he first visited in 2000 to see the Allen Say exhibition.
Acrylic, 4.5"H.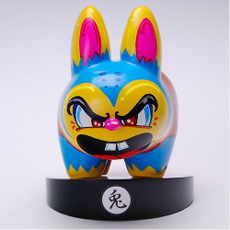 Hyperactive Shaolin Rabbit
Los Angeles, CA
Jerome Lu was born in Mountain View and raised in the Bay Area by a family of wild monkeys. Even when he was a small chimp, they could see that he believed every crayon in the box had magical powers, and he would transform blank pages into colorful, fantastic worlds filled with monkeys, ninjas, robots, and all his craziest dreams.
His wild monkey relations soon recognized his artistic talent and nurtured it with a diet of Skittles and Corn Nuts. They made sure his art education included Saturday morning cartoons and ABC After School Specials. Now that Jerome has grown up to be a big monkey, they are quite proud that his childhood creativity has never diminished. In fact, it has grown, and he is working on his biggest art project to date: constructing a 20-story ultimate monkey ninja robot.
Acrylic and marker, 4.5"H.