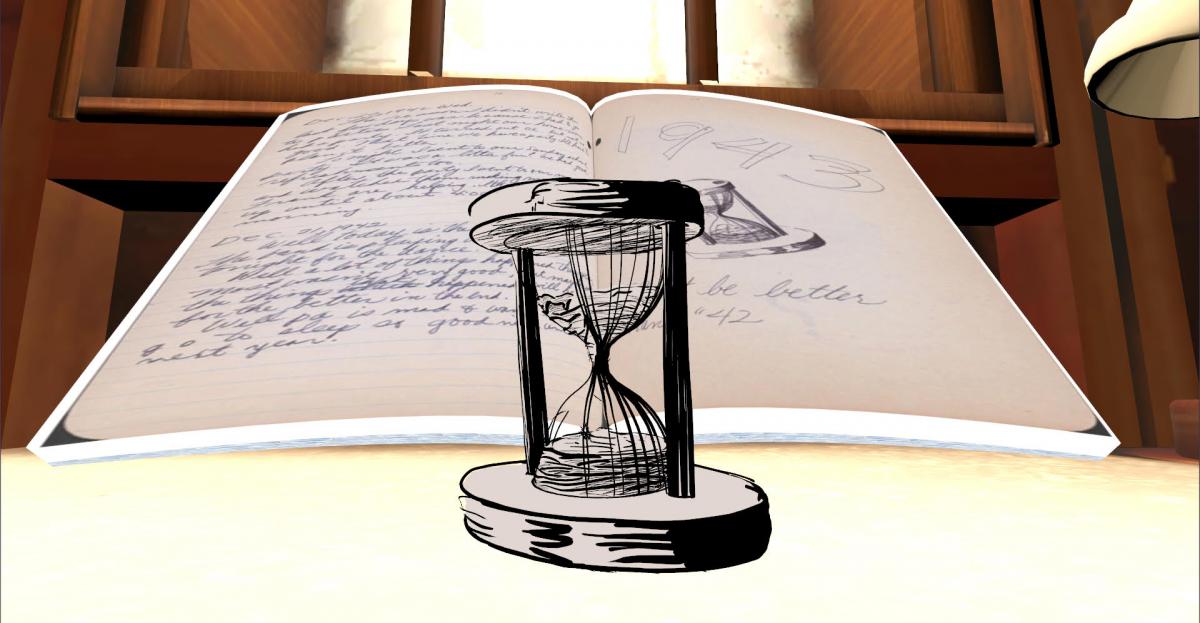 A Life in Pieces: The Diary and Letters of Stanley Hayami debuted June 9 at the Tribeca Festival 2021 and brings to life the diary and letters of a Los Angeles teenager whose Japanese American family was imprisoned by the U.S government during World War II.
The exhibition at JANM features three versions of this video:
a 360-degree, interactive video that was created from the virtual reality (VR) film and can be viewed on a smartphone or mobile device (above)
a non-interactive version that can be viewed in the Terasaki Orientation Theater on the Museum's first floor. 
the original Virtual Reality (VR) version that can be viewed with VR goggles. Time slots are limited, reservations recommended. (See below)
All videos were created by Nonny de la Peña of Emblematic Group, a producer of virtual, augmented, and mixed reality; and Sharon Yamato in collaboration with JANM. (See cast and credits below)
VIRTUAL REALITY (VR) TICKETS
Virtual Reality (VR) is a three-dimensional (3-D) immersive audio visual experience in which a person can interact within an artificial 3-D environment using electronic devices, such as special goggles. 
This experience creates an immersive virtual reality audio visual experience. Some people may experience nausea, disorientation, vertigo, seizures, motion sickness, general discomfort, headaches, eye strain, anxiety, or other physical, mental, or health-related issues and symptoms.
Time slots for the A Life in Pieces VR video experience are limited. Advance, timed reservations are recommended. 
Timed slots are available every Saturday, limited to two slots every 30 minutes. 
Reservations are released one month in advance.
Please arrive 10 minutes before your reservation. The last reservation is at 4:30 p.m. 
The VR experience total time is 30 minutes.
Visitors who are age 14 and under MUST HAVE adult or guardian signed consent.
Use by individuals under the age of 14 is not advised.
Each individual (adult or child) must make a reservation and sign a disclaimer to use the VR goggles.  
Tickets no longer available.
Cast & Credits
PROJECT CREATOR
Nonny de la Peña, PhD
PRODUCER
Dan Brower
LEAD ENGINEER
Chaitanya Shah
ART DIRECTOR
Charlie Park
KEY COLLABORATOR
Sharon Yamato
QUILL ANIMATOR
Haley Tomaszewski
TECHNICAL DIRECTOR
Jonathan Yomayuza
CAST
Kurt Kanazawa, Nobuaki Shimamoto, Sachiyo K, Kristen Hayashi, Kawai Akiona, Jesse McBride
Nonny de la Peña, the "Godmother of virtual reality" and head of Emblematic Group, uses cutting-edge technologies to tell stories—both fictional and news-based—that create intense, empathic engagement on the part of viewers. She pioneered walk-around virtual reality, now known as the field of immersive journalism, with the first ever VR documentary, Hunger in Los Angeles, which premiered at the Sundance Film Festival in 2012. Moreover, Use of Force, her immersive documentary experience that puts the viewer on scene when migrant Anastasio Hernandez Rojas was killed by border patrol on the U.S./Mexico border in 2010, was the first ever virtual reality piece showcased at a Tribeca Film Festival in 2014. 
Sharon Yamato is a writer/filmmaker who wrote, produced, and directed Out of Infamy: Michi Nishiura Weglyn; A Flicker in Eternity, based on the diary and letters of WWII veteran Stanley Hayami; and Moving Walls, a story about what happened to the barracks at the Heart Mountain concentration camp. She is the author of the accompanying book, Moving Walls: Preserving the Barracks of America's Concentration Camps, and co-author of Jive Bomber: A Sentimental Journey, a memoir of Bruce T. Kaji, the founding president of the Japanese American National Museum. She is currently writing and directing a documentary on civil rights activist and attorney Wayne Collins, who helped restore U.S. citizenship to more than 5,000 Japanese American renunciants during WWII. 
Kurt Kanazawa is a Los Angeles native. A Juilliard School, Columbia University, and Harvard-Westlake graduate, Kurt plays the title role of Stanley Hayami in A Life in Pieces: The Diary and Letters of Stanley Hayami. Kurt's first acting gig was on the Italian drama series Provaci ancora Prof! (Rai 1) while living in Milan. He has also appeared on Grey's Anatomy. Formerly, he was an award-winning opera singer featured in The New York Times and Time Magazine. Kurt is fluent in five languages (English, Japanese, French, Italian, and Spanish) and has also worked as a narrator or director on 50+ audiobook titles. Notably, Kurt's grandmother, Shimeji Ryusaki Kanazawa, is known as "The Florence Nightingale of Hawaii" for her efforts during WWII.
Sponsored by:
U.S. Department of the Interior, National Park Service, Japanese American Confinement Sites Grant Program
The California Civil Liberties Public Education Program
Additional support provided by:
The Henri and Tomoye Takahashi Charitable Foundation
Department of Cultural Affairs, City of Los Angeles
California Humanities
The Kosasa Foundation
Pasadena Arts Alliance
Media Sponsor:

Sponsored by:
U.S. Department of the Interior, National Park Service, Japanese American Confinement Sites Grant Program
The California Civil Liberties Public Education Program
Additional support provided by:
The Henri and Tomoye Takahashi Charitable Foundation
Department of Cultural Affairs, City of Los Angeles
California Humanities
The Kosasa Foundation
Pasadena Arts Alliance
Media Sponsor: